A list of the current, top sustainable shoe designers.
Beyond Skin, Brighton, U.K.: Ethical, organic, vegan and vegetarian. Made in Alicante, Spain.
Bourgeois Boheme, London, U.K.: Animal-friendly, vegan, ethically sourced faux leather and natural materials.
Calleen Cordero, Los Angeles, CA: Handmade by artisans, vegetable-tanned leather.
Cholesburys, England:Hand made in England, over 60% of components are recycled or up cycled, low Co2 production and new leather (the sandal insole) is vegetable tanned.
Coclico, New York, NY: Vegetable-tanned leather, ethically made by artisans in Spain.
Cri de Coeur, New York, NY: Vegan, recycled plastics, biodegradable low-VOC eco-PU, organic cotton, hemp, reclaimed wood, ethically made.
Earth Sandals, Waltham, MA: "The original wellness shoe."
ECCO, Denmark: Innovative materials, devoted to sustainable manufacturing.
Elizabeth Katzman, Detroit, MI: Cruelty-free, vegan, member of 1% For the Planet, donated portion of sales to animal-rights organizations.
El Naturalista, Spain: Made by artisans, vegetable tanned leather, recycled and natural rubber outsoles, recycled insoles, manufactured following a strict Eco-Policy.
Form & Fauna, Mill Valley, CA: Biodegradable synthetic, organic cotton, hemp, vintage fabrics, scrap wood heels, water-based glues, handcrafted in the USA.
Kailia, Italy/United States: Vegetarian, cruelty-free, water-based glues, polyurethane soles, vegetable-dyed linings, organic linen/cotton, recycled materials, handmade in small European family owned factories.
Love is Mighty, New York, NY: Vegan, crafted by indigenous artisans.
Melissa, Brazil: Designer collaborations, natural, recyclable plastic, socially and environmentally responsible company.
Mohop, Chicago, Illinois: Made in the USA, sustainably sourced woods and components.
Naya, St. Louis: Vegetable-tanned leathers and linings, natural or recycled content fabrics, water-based cements, boxes made with 80% recycled paper pulp, soy-based inks and water-based glue.
Neuaura, Manhattan, NY: Made from quality and, whenever possible, sustainable materials. In addition, a portion of Neuaura's production is made at a sustainable factory in Brazil and every year the brand donates 5% of their annual net proceeds to charities that preserve and protect the environment.
Nina Z, New York, NY: Uses wood grown according to EU standards so that every step taken supports forest regeneration, tanned hides harvested from European cows raised according to the strictest EU standards, rubber soles made from recycled rubber.
Novacas, New York: Animal-friendly, environmentally-friendly, and worker-friendly products, 100% PVC-free, ethically manufactured in Portugal at worker-friendly factories according to labor standards set forth by the European Union.
OAT Shoes, The Netherlands: Biodegradable, grows flowers, all-natural non-toxic materials.

Olsen Haus, New York, Miami: Vegan, recycled and natural materials.
Osborn, Brooklyn, New York: Each shoe is hand made and woven by artisans in Guatemala, recycled and natural materials.
Patagonia, Ventura, California: Vegan, recycled materials, bluesign Standard, Common Threads Initiative, Our Common Water Campaign

Rachel Comey, New York, NY: Ethically hand-made in Peru.

Swedish Hasbeens, Sweden: Made with sustainable materials like vegetable tanned chrome-free leathers, natural rubber soles and real cork.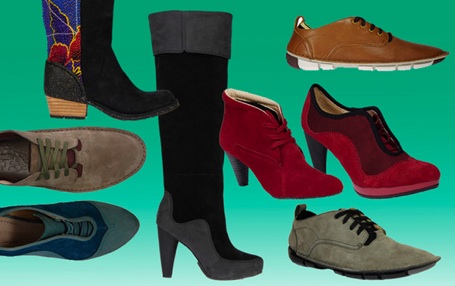 Terraplana, New York, NY: Made from environmentally sustainable materials like recycled rubber, vegetable tanned leathers, and recycled fabrics, artisan techniques fused with modern technology.
Did we miss someone? Email amy@ecosalon.com with your tip!
ALSO CHECK OUT:
The Ultimate List of Conscious Fashion Designers (From A-Z)
The Ultimate List of Sustainable Handbag Designers (From A-Z)
Top Image: Calleen Cordero