All over America, people are rediscovering the bicycle, and thanks to city-wide bike sharing programs, they don't have to buy a bike to join in the fun.
The United States is overweight, suffocating in pollution, and mired in traffic jams. Civic leaders struggle with high-tech solutions for these problems, all the while, a simple, cheap solution is right under their noses: the bicycle.
Bike sharing, a popular type of collaborative consumption, aims to reintroduce urban residents to the beauty and convenience of the bicycle. These programs allow anyone, tourist or native, to borrow a bike for temporary use. Most city bike sharing programs  encourage people to join for a monthly membership fee, and then pay a certain hourly fee for trips longer than 30 or 60 minutes. The idea is to keep people out of their cars and cabs for short-distance trips, and all over America, it's working.
1. Washington D.C.
One of the first city-wide bike sharing programs in the nation, Washington D.C.'s Capital Bikeshare launched in 2010 with 1,100 bikes and 110 stations. In just a few short years, response has been so positive that the program has expanded rapidly. Capital Bikeshare now makes more than 1,800 bicycles available to commuters via 200+ stations across Washington, D.C., Arlington, VA, and Alexandria, VA. The program reports more than 300,000 members and at least 250,000 trips by bicycle each month.
2. Minneapolis
Formed through the Twin Cities Bike Share Project, Nice Ride Minnesota has been permanently changing the way people experience and perceive Minneapolis for nearly three years. A yearly membership only costs $65 and gives members access to 1,550 bikes located at 170 stations spread around Minneapolis and Saint Paul. According to Nice Ride, local commuters have taken more than 700,000 rides on Nice Ride bikes in 2013 alone.
3. Denver
Also founded in 2010, Denver B-cycle was the first large-scale municipal bike sharing system in the United States. All rides under 3o minutes long are free, so long as you're a B-cycle member. The program started with 500 bikes and 50 stations, but just this year, 31 new stations were added, nearly doubling the number of bikes available to Denver residents and visitors.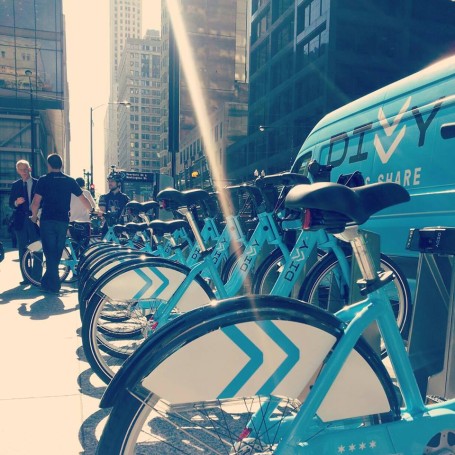 4. Chicago
The Windy City is the latest American metropolis to launch a bike sharing program. In late June, just as Chicagoans were celebrating the Stanley Cup win, Divvy Bikes became available for the first time. With nearly with 4,000 bikes and 400 stations spread out across the city, Chicago's program is definitely one of the most ambitious. Divvy is available for use 24 hours a day, 365 days a year. And by providing twice as many docking points as bicycles, the program ensures that an available dock is always available for returning bikes.
5. New York City
Also debuting in 2013 was the long-anticipated New York City bike sharing program. Called Citi Bike (thanks to corporate sponsor Citi Bank) the program boasts well over 4,000 bicycles and 300 stations, although plans call for a target number of 10,000 bikes across the city. The stations are solar-powered and modular to allow for easy installation. Each station consists of a variable number of docking ports for the bikes, plus a touchscreen kiosk for the purchase of Access Passes, and a map of local bike lanes, other Citi Bike stations, and places to buy a helmet.
Images: ejchang, Capital Bikeshare, Nice Ride Minnesota, denverjeffrey, Divvy Bikes, Citi Bike