Tour de Fashion's "Ready to Ride" bikes are available to ride now and onward through New York Fashion Week.
With Fashion Week upon us here in New York City, stylish men and women wanting to make way through the streets of the city in anything but a cab or underground are able to tap into something a lot more fun: decorated bikes by some of the world's top designers.
The Fashion Center Business Improvement District is bringing the glamor, excitement and fun of Fashion Week to the streets of the Garment District with Tour de Fashion – a free, 'ready-to-ride' bicycle event including thirty bicycles, creatively customized by New York's top designers. Bikes decorated by Doo-Ri Chung, Diane Von Furstenberg, Betsey Johnson, Nanette Lepore, Isaac Mizrahi and some of our sustainable favorites like RESTORE Clothing and Gretchen Jones will be available during Fashion Week September 8-15.
The Tour de Fashion bicycle fleet, purchased by the Fashion Center from Bowery Lane Bicycles, are handmade in New York City and will be available at tented bike stations located on the Broadway Plazas at 40th Street. Interested in buying one of the stylish cycles? Bids started today for post-fashion week purchase. Get on it by going here to Charity Buzz.
Had it not downpoured for the kickoff bike ride, you would've seen me proudly riding a bike from RESTORE but instead, we all huddled under tents in the Fashion District.
Check out who we saw.
(Above, Barbara Randall, Fashion Center BID Director)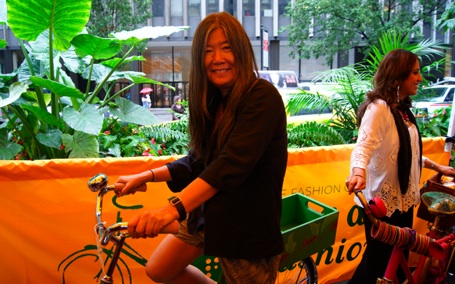 Designer, Yeohlee Teng on her Cutter Ant bike

The Fashion Center's bike (above left) and below, bike designer Emily Saunders
Designer, Emily Saunders
Designer, Sarah Canner, Bowery Lane Bicycles owner, Patrick Bernard, and RESTORE'S Anthony Lilore
Nicole Miller's stylish ride
Designer Betsey Johnson rocks her bike with roses and VIP passes
The winner for best helmet? Betsey Johnson
Rebecca Minkoff gets inspired with studs
Gretchen Jones' Talisman bike channeling Patti Smith and Don Juan
Feather extensions with KAELEN
Nanette Lepore ties a bow on it
Nanette Lepore and Carlos Falchi
Images: Amy DuFault