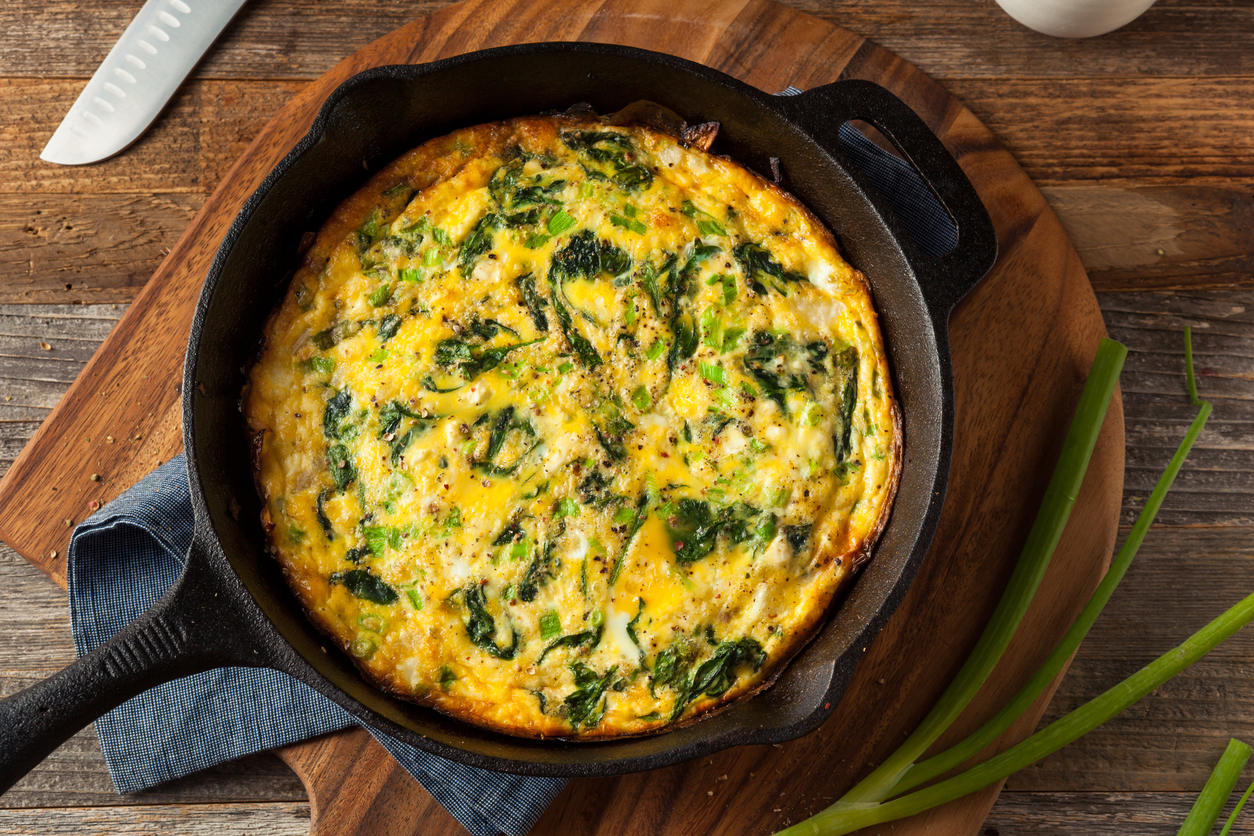 Come winter, many of us gravitate toward heavier, denser foods. We look for dishes that keep us grounded and warm but often reach for the less than ideal options to satisfy this need for comfort. You don't need extra fat and calories just to get that hearty touch to your meals. This vegan quiche recipe is testament to just that! It's filled with winter greens (in both the filling and crust!) and uses tofu to replicate the texture and taste of the usual egg base.
What You'll Need
This crust is unlike your regular white flour and butter quiche crust. Instead, its foundation is a combination of gluten-free flour and quinoa that is then loaded with both spinach and broccolini, making it uniquely light, green, and nutritious! Instead of eggs and/or butter to hold the crust together, ground chia seeds make for a worthy alternative.
For the filling, you'll need to purchase firm tofu, to which you'll be adding even more greens as well as "cheesy" nutritional yeast. Luckily, no extra preparation for the tofu is required prior to using it in this recipe.
Winter Greens Vegan and Gluten-Free Quiche Recipe
Serves 4-6
Ingredients
For the crust
1 handful baby spinach
1 bunch broccolini's stems, chopped
2 tablespoons chia seeds, ground
1/4 teaspoon baking powder
1/2 cup nutritional yeast
1/4 cup gluten-free flour
1/4 cup cashew butter
1 1/2 cups cooked quinoa
For the filling
400 grams extra firm tofu
1 bunch broccolini's florets, chopped
2 large handfuls of kale, chopped
1/4 cup water
1 cup nutritional yeast
1/2 teaspoon sea salt
1/4 teaspoon black pepper
Directions
Preheat the oven to 350 degrees Fahrenheit. Lightly grease a 10-inch pie dish.
For the crust, add the spinach and broccolini stems to a food processor. Process until broken down. Then add in the chia seeds, baking powder, nutritional yeast, gluten-free flour, and cashew butter. Blend until well combined. Transfer the mixture to a bowl, and use a spatula to stir in the cooked quinoa.
Press the mixture into the pie dish, pressing firmly against the bottom and slightly up the sides of the pan to form a crust.
For the filling, add all of the ingredients except the broccolini florets to the food processor or blender and blend until smooth. Spread the mixture atop the crust and top with the broccolini florets.
Bake for 25 to 30 minutes, or until golden-brown and a toothpick comes out of the center clean.
Related on EcoSalon
Crustless Corn and Zucchini Quiche Recipe
Traditional Quiche Recipe Gets a Vegan and Gluten-Free Makeover
Vegetarian? Why Cheese is Not Eco-Friendly or Humane