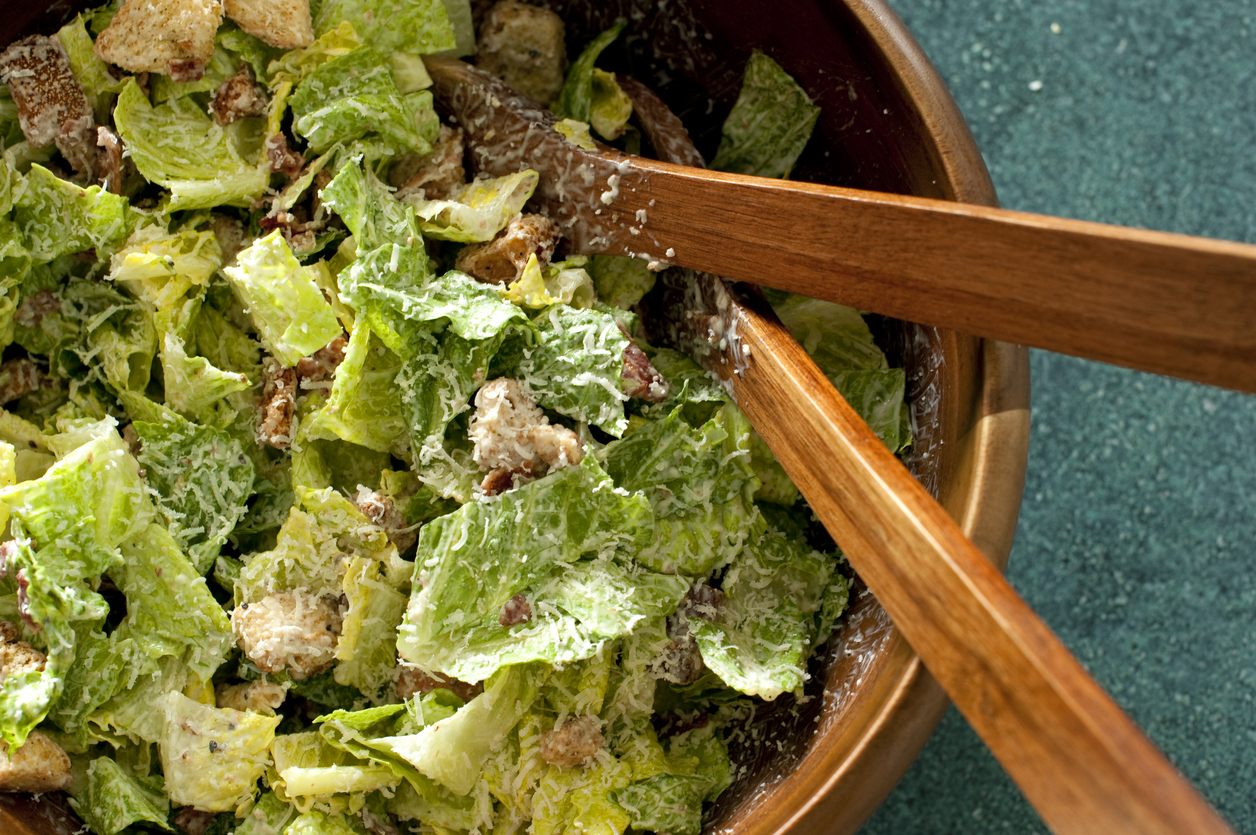 Feast on this vegan Caesar salad recipe and forget that you're filling up on greens. It's that delicious!
It's hard enough to get your family (and yourself) to eat enough greens, so why go the extra healthy mile by compromising on the most delicious part, aka the dressing? This recipe for a vegan Caesar salad doesn't cut corners in the name of health – it magnifies them in the name of flavor. The modifications just happen to be healthier.
In a regular Caesar salad, there are Parmesan cheese and croutons atop romaine lettuce, which is then dressed with an egg, oil, and anchovy mixture — the traditional Caesar salad dressing. Often, chicken is part of the mix (fyi: this recipe doesn't try to replace the chicken – it just nixes it altogether).
If you're using a store-bought creamy Caesar salad dressing, the ingredients list is a lot more suspect, with add-ins such as soy, sugar, sodium lactate, phosphoric acid, whey, and preservatives.
The truth is, you don't need dairy to accomplish a creamy texture and thick, filling dressing consistency. In fact, you only need some tried-and-true plant-based ingredients to get the job done. As for the other Caesar salad features, consider those open for variation.
Vegan Caesar Salad Recipe
Serves 6
Ingredients
2 heads romaine lettuce, rinsed, dried, and chopped
2 tablespoons Dijon mustard
2 tablespoons nutritional yeast
2 tablespoons ground almonds
4 garlic cloves, minced
1/4 cup water
2 tablespoons lemon juice
1/2 tablespoon soy sauce
1 tablespoon olive oil
Kosher salt and freshly-ground black pepper to taste
1/4 teaspoon white pepper
Optional: Gluten-free croutons
Optional: Daiya Mozzarella Style Shreds
Directions
In a blender, add the mustard, nutritional yeast, ground almonds, garlic cloves, water, lemon juice, soy sauce, and olive oil. Blend until smooth. Season the mixture with salt, pepper, and white pepper and blend for another few seconds.
In a large bowl, add the chopped romaine lettuce and drizzle it with the Caesar salad dressing. Add in the croutons and Daiya mozzarella cheese shreds. Use tongs to toss and fold the salad together so that all of the romaine leaves are evenly coated with the dressing.
Serve and enjoy!
Related on EcoSalon
Cold Pasta Salad Recipe with Green Beans, Peppers, and Feta
Winter Salad with Persimmons and Spiced Pecans
Spring Pear Salad Recipe with Feta and Pistachio