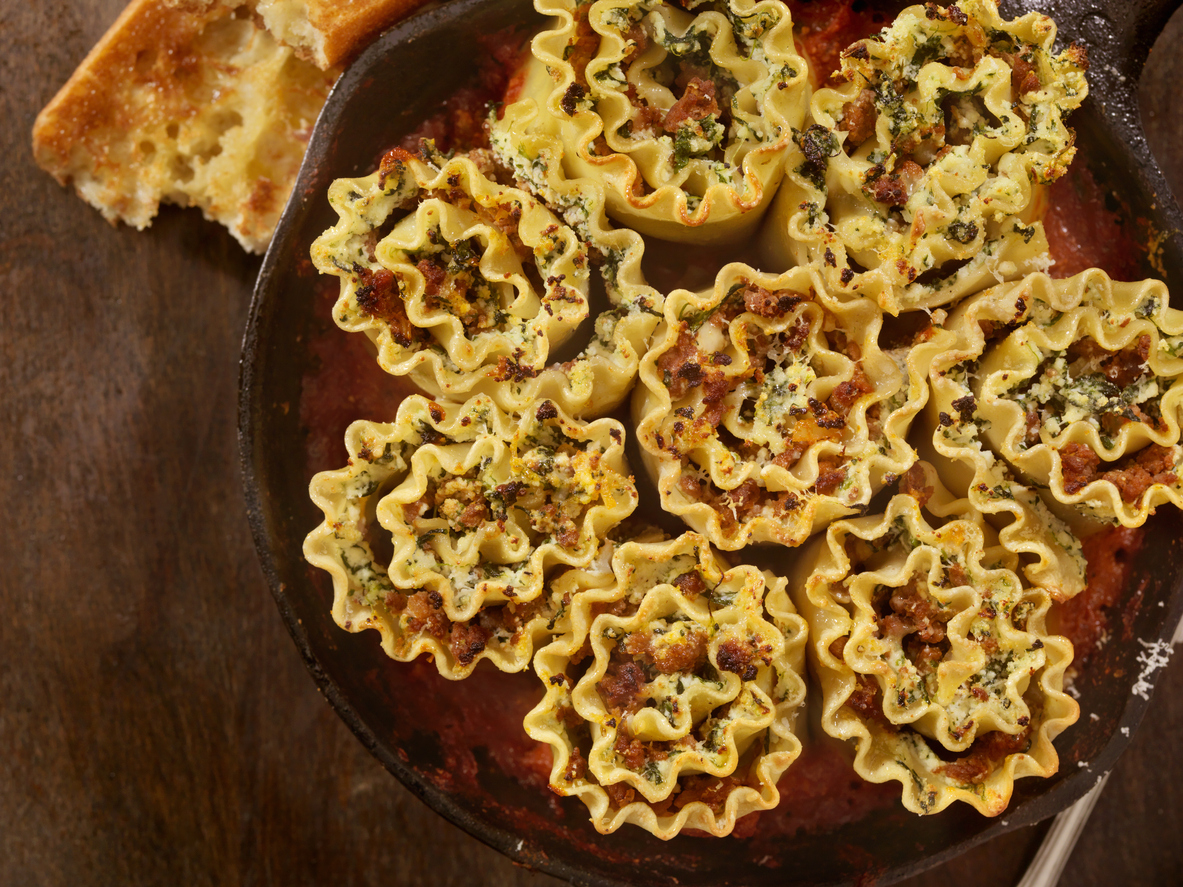 Rotolo isn't widely known outside Italy, but its flavors are quite recognizable. "Rotolo" translates to "scroll", "roll", or "coil", and it is traditionally made with a fresh pasta sheet that is spread with a spinach and ricotta filling and rolled up to create a roulade. It is then wrapped in a tea towel, poached, sliced, and served with a sauce. Yeah, my thoughts exactly: too much work! But don't fret, there's a way around the hassle.
The trick is to get creative and cut corners, but only in the ways that don't stint on taste and quality. The following rotolo recipe simplifies the process and then goes a few steps further by turning vegan and including unique, festive ingredients that challenge the palate and satisfy the gut all in one go.
What You'll Need
Usually, a rotolo recipe calls for a ricotta cheese base for the stuffing. In this recipe, we sub in chestnuts for the cheese. Chestnuts are most popularly available in their shells, so you'll have to crack each one open prior to weighing and using them in the recipe. Chestnuts will blend into a cheese (with the help of water) a lot like cashews take on a creamy consistency when blended.
For the lasagna sheets, simply purchase the largest size you can find. The larger the sheets, the more rotolo you'll likely get out of them.
Chestnut Rotolo Recipe
Serves 4
Ingredients
250 grams chestnuts
1 1/4 cups water
6 tablespoons olive oil
1 large red onion, diced
1/4 teaspoon salt
2 garlic cloves, minced
1 teaspoon fresh rosemary leaves
1/8 teaspoon nutmeg
1/8 teaspoon white pepper
2 tablespoons soy sauce
1/2 cup white wine
1 cup water
8 large dried lasagna sheets
1/4 cup panko breadcrumbs
2 fresh sage leaves, finely chopped
Directions
Preheat the oven to 350 degrees Fahrenheit.
In a food processor, add the shelled chestnuts and pulse until crumbly. Add in 1/4 cup of water and blend until smooth like a cream. Set aside.
In a skillet over medium-high heat, add two tablespoons of olive oil, shallots, and salt. Stir while frying for about two to three minutes. Add in two tablespoons of oil, minced garlic, rosemary, nutmeg, white pepper, and chestnut purée. Continue to cook while occasionally stirring. After two minutes, stir in the soy sauce and cook for another two minutes. Stir in the wine and one cup of water. Bring the mixture to a boil and then reduce heat to a simmer. Let the mixture simmer for five to ten minutes, then set it aside.
Bring a pot of salted water to a boil and prepare a bowl of ice water. Boil the lasagna sheets for two minutes and transfer each immediately to the bowl of ice water after removing from boiling water. This step stops the cooking process and makes the lasagna sheets easier to handle.
Lay the lasagna sheets out on a clean surface. On the bottom one-third of each sheet, spoon in about one to two tablespoons of the chestnut sauce. Roll up, around, and up to the top of the lasagna sheet. Cut the lasagna sheet in halves of thirds and place the rolls, pasta cut-side up, in a pie dish. Repeat with the remaining seven sheets. Pour the remaining sauce over the top of the rolls.
In a small bowl, mix together the breadcrumbs, sage leaves, and two tablespoons of olive oil until they form a crumbly paste. Distribute it evenly across the top of pasta-filled pie dish.
Bake for 20 minutes. Remove the dish from the oven and let sit at room temperature for 10 to 15 minutes before serving. Enjoy!
Related on EcoSalon
Luscious Amalfi Coast Pasta Recipe with Lemon Sauce
A Recipe for Fresh Summery Tomato Pasta
Beet Pesto Recipe for Hot Pink Pasta