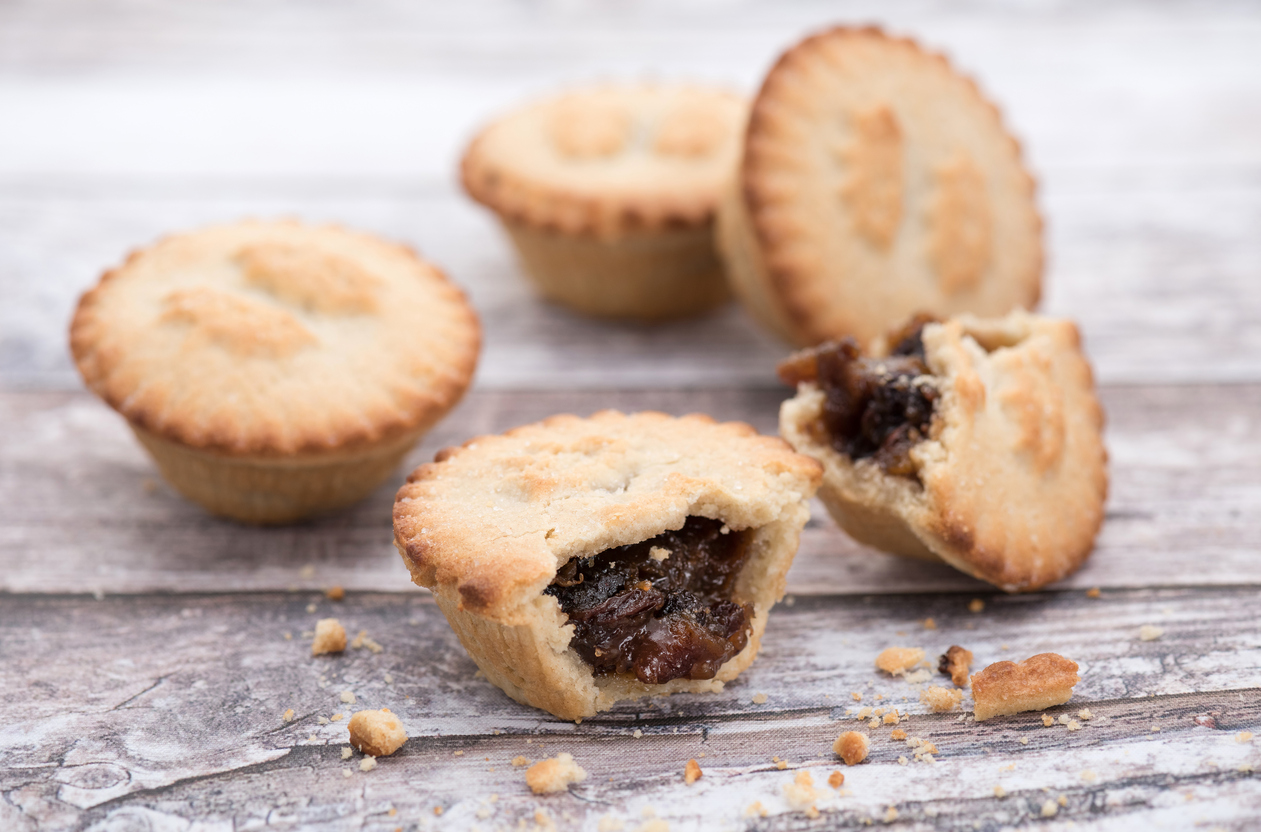 Despite its namesake, mince pies are not a savory, meat-based dish. Instead, they're sweet, light, and full of delicious comforting holiday flavors.
Mince pies originated in the UK, where they are traditionally served during the Christmas season. The pastry dessert gets its moniker from its ingredients, which are a mixture of dried fruit and spices, or "mincemeat".
A traditional mince pie recipe includes brown and white sugars, white flour, butter, and eggs – not exactly the recipe to get your started on your best going-into-the-new-year figure. Since we all tend to veer off the track of our otherwise more conscious (or nah?) diets once we venture into the holiday season, it helps to have a few dishes that balance our excessiveness with a touch of healthy! And for vegans everywhere: you don't have to miss out! Here's a vegan, wheat and refined sugar-free revamp of the traditional mince pies recipe! It packs incredible flavor without weighing you down.
Nosh on them during Christmas, and even all-year round, as a fragrant, filling, animal-friendly dessert. Enjoy!
Vegan Mince Pies Recipe
Serves 8-10
Ingredients
For the crust
2 cups desiccated coconut
2 tablespoons coconut flour
1 cup cashews
1/4 cup coconut oil
1/4 cup raw maple syrup
Juice of two lemons
Pinch of salt
1 teaspoon vanilla extract
Water, as needed
For the filling
1/2 cup sultanas
1/2 cup dried figs
1/4 cup currants
1/4 cup freshly-squeezed orange juice
1 tablespoon maple syrup
1/4 teaspoon cinnamon
1/8 teaspoon nutmeg
Pine of salt
For the icing
1 cup cashews
Juice of one lemon
1 tablespoon coconut butter
2 tablespoons maple syrup
2 tablespoons water
1 teaspoon vanilla extract
Pinch of salt
Directions
For the crust, add all of the ingredients, except the water to a food processor and blend until the mixture begins to clump together in a ball. Add one tablespoon of water at a time to help the process. Store the dough in the refrigerator for an hour to become firm. About 10 minutes before the hour is up, preheat the oven to 350 degrees Fahrenheit. Use coconut oil to lightly grease a muffin tin.
Press the dough into the muffin tins, lining the bottom and up the sides of each mold, creating a crust. Bake for 20 to 25 minutes, or until the crust is ever so lightly brown.
For the filling, add all of the ingredients to a food processor and blend until the mixture forms a paste. Set aside.
For the icing, add all of the ingredients to a food processor and blend until smooth.
To assemble, delicately remove the crusts from the muffin tin and fill each with an equal amount of the paste and finish each mince pie with a dollop of the icing.
Related on EcoSalon
5 Delicious Pumpkin Recipes that Go Beyond Pumpkin
Move Over Apple, this Vegan Pear Pie Recipe is Everything
Raw Vegan Lemon Custard Blackberry Pie Recipe