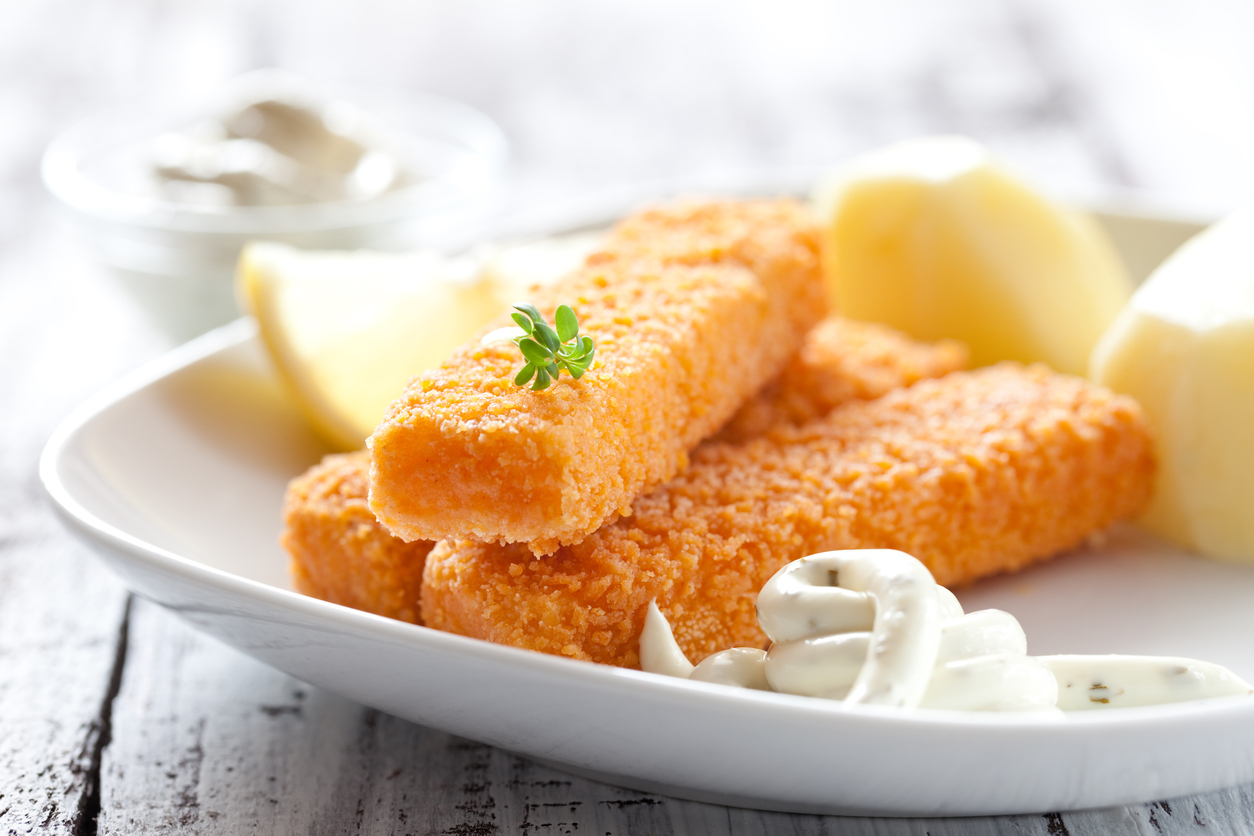 When you're vegan, finger foods can feel limited. Sure, there are chips and dips and French fries, but what about the good stuff?
You know what I'm talking about: the dense and decadent finger foods, the ones that are crispy on the outside, soft on the inside? Well, this vegan tofu fish sticks recipe makes for a finger food to feel good about. Spiced to perfection and then fried to heavenly, they're vegan indulgence that'll transform your appetizer game from guilt to good gawd!
Tofu is unique in that it is inherently dense and satiating – I don't need to overeat it to feel full or cook it in a complex way to make it filling. It's versatile and healthy, making it an excellent choice for any meal. The problem: I don't like tofu.
Now, why would I be presenting this tofu fish sticks recipe if I don't particularly enjoy tofu? Because, this recipe results in fish sticks that are seasoned and cooked just the right way, so that the tofu doesn't stand out like a sore thumb – the flavors are married so well and the textures so much on point that the experience is wholly "fish sticks" and not "tofu trying to be fish sticks." And, I can definitely get on board for that.
If you're like me, you hold the popular assumption that all mainstream tofu comes from genetically modified and heavily-sprayed with herbicides soy. This is actually a myth, but you still have to be vigilant about your sources. GMO-free tofu brands exist, especially when you opt for organic tofu.
Now, back to the "fish" sticks. This tofu fish sticks recipe will appeal to your and all your guests' palates (they're fried, after all). Pair them with your favorite vegan dipping sauce, such as a vegan white cheese party dip, vegan mayonnaise, or marinara sauce.
Vegan Tofu Fish Sticks Recipe
Serves two
Ingredients
14 ounces extra firm tofu
½ cup rice flakes
1 teaspoon sea salt
1 teaspoon black pepper
¼ teaspoon red pepper flakes
1 teaspoon garlic powder
1 teaspoon sweet paprika
½ cup cornstarch
½ cups bread crumbs
Vegetable oil for frying
Directions
Slice the tofu into fish stick-sized pieces. Place them on a few layers of paper towels and cover with a few more layers of paper towels. Place something flat and heavy on top of them (like a cast iron skillet) to help squeeze out the excess water from the tofu. Let the tofu sit as such for at least 30 minutes. Once they have drained adequately and are dry, season them liberally with one-half teaspoon each of salt and black pepper.
In a food processor, pulse together the rice flour, bread crumbs, remaining sea salt, remaining black pepper, red pepper flakes, garlic powder, and paprika. In a small bowl, mix the cornstarch into one-fourth cup of water and set aside.
Heat the oil in a frying pan. Dip each tofu stick into the corn starch batter and then the rice flake and bread crumb mixture. Make sure each side is well coated. Delicately drop each fish stick into the oil and let cook on each side for a few minutes on each side, or until golden brown. Use a slotted spoon to remove the fish sticks from the frying pan and transfer them to a plate covered with paper towels to help absorb excess oil.
Serve immediately and enjoy!
Related EcoSalon
Fish Have Friends, Study Finds (So Go Vegan and Stop Eating Them)
Sard-In: The 'It" food in France is a tiny, Sustainable Fish
Mackerel: The Ethically Correct Fish