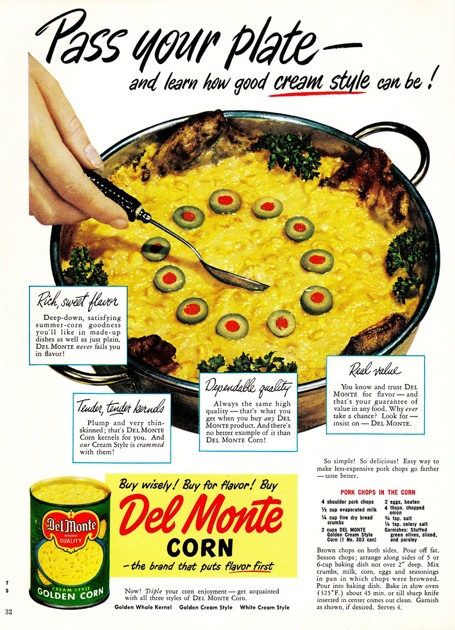 Instead of being flavored with pork fat, let your modern day creamed corn sing the praises of coconut milk.
Back in 1951, Del Monte had a lot to say about its Creamy Style Golden Corn. It promised "plump" and "thin-skinned" kernels "crammed" into each can, and if that weren't seducing enough, the ad's complementary recipe involved the addition of pork chops, eggs, bread crumbs, and evaporated milk. Swoon!
The sliced pepper arrangement and strange presentation aside, the flavors in this recipe have really got it going on. Pork fat and creamy corn? Nothing you necessarily want to say no to, but if there were one health-conscious cell in our body, it would be meeting its demise right about now.
Come 2012, and we no longer just eat with our gut in mind, but rather with a more discerning eye towards nutrition. Luckily, a lighter, more modern version of this dish is actually much easier to prepare. The decadence remains intact, but the result is an entirely plant-based meal that puts flavor and health on the same pedestal. Enjoy!
Coconut Cream Corn
Serves 2
Ingredients:
2 cups frozen corn kernels
1 can (15 ounces) coconut milk
1/4 teaspoon sea salt
1/4 teaspoon black pepper
1/4 teaspoon red pepper flakes
1 tablespoon chopped scallions
Handful of parsley, chopped
Directions:
In a saucepan over medium heat, bring the corn, which does not need to be thawed, and the coconut milk to a simmer. Season with salt and pepper. Continue to cook until the coconut milk has largely evaporated. This will take about 15 minutes.
Once the mixture has reached desired consistency, mix in the parsley, red pepper flakes, and scallions.
Enjoy as a side-dish or snack. It can be eaten hot or cold.
Bon Appetit!
There is nothing quite like flipping through the pages of grandmother's faded cookbooks in all their imperfect glory – the worn edges, the rampant sauce stains and the cluttered pencil marks. With their casseroles, ham dishes and affinity for elaborate presentation, the Betty Crocker and the Joy of Cooking cookbooks provide a glimpse of food before it all became so much more complicated.  At EcoSalon, we love good vintage inspiration, even when it comes to food. Welcome to Vintage Revamp, where we take old and classic recipes and refresh them with a modern-day twist.
Photo Credit: Hey, My Mom Used to Make That, Aylin Erman
Aylin Erman currently resides in Istanbul and is creator of plant-based recipe website GlowKitchen.