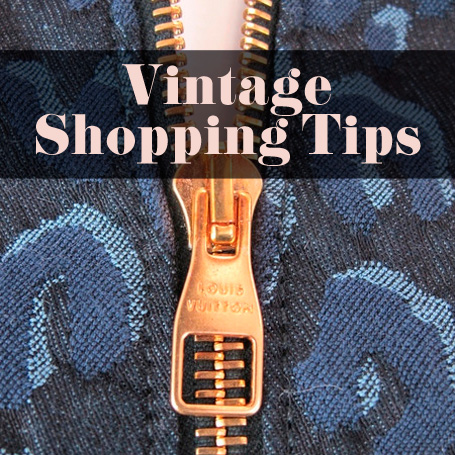 Be a better vintage shopper. Luxury resale industry veteran Amanda Jungman shares tips and tricks that will turn you into a savvy vintage shopping pro in no time.
Shopping vintage is a great way to be consciously stylish without breaking the bank. However, anyone who has ever ventured into a vintage store knows that finding pre-loved treasures is not always easy.
We asked luxury resale industry veteran Amanda Jungman, owner of Socialite Auctions, to share some tips and tricks that will turn you into a vintage shopping pro in no time.
First of all, where does one start? "Large cities tend to have the best selection of high end designer lines," says Jungman, "but you can often find good vintage pieces in smaller cities as well."

When buying investment pieces, it's important to know details that ensure the item's authenticity.
What about the Internet? "There are more sites than ever selling pre-owned goods online. eBay is the largest marketplace and a great site for scoring deals. Etsy is a good resource for vintage, but do your research before purchasing brands like Chanel and Hermes [as there are lots of fakes out there]."
To avoid being sold counterfeit items, Jung recommends learning the basics about the pre-owned luxury items you are shopping for, such as how certain designers stamp their pieces. Chanel, for example, uses hologram stickers in all of their handbags (with exception for some vintage bags). "Since you may not be able to touch the items," she says, "carefully review all the photos and ask questions. It helps if you know what to look for so refer to help guides online for brands like Chanel and Hermes. The PurseForum is a great source for help with authenticating items, and I offer a guide for deciphering Hermes date stamps on my blog." Buy from a trusted source — look at store reviews and customer feedback and always read the store's policies to make sure they guarantee their items are 100 percent authentic and offer a hassle-free money back guarantee.

Always check labels for signs of authenticity
If you are buying high-end vintage online, it's important to know your size before investing in a pricey piece. Before shopping for shoes, Jungman suggests that you spend a day at a high-end department store trying on Manolo Blahniks and Christian Louboutins for size. With clothing, it's all about your measurements. Some items may have been altered and the only way to be sure that something will fit is to compare it to your own measurements. Another important thing to note is that a size 8 from the 1950s will not fit a size 8 today, as sizing has been adjusted for a, shall we say, growing population.
Shopping vintage is a great way to get more bang for your buck. "You can find many items marked up to 90 percent off retail," Jungman says. "For rare items such as vintage Chanel handbags, you can expect to pay close to today's retail cost if the item is in pristine condition."

Shopping for vintage Manolos online? Visit a department store to make sure you know your size.
So what about haggling, is that ever OK? Sometimes, Jungman says, but do your research and be armed with information such as the retail and sale price of the item before offering a lower price than the seller is asking. "A tactful way to ask for a discount," she says, "is to simply ask 'What is your best price?' Sites such as eBay have sellers that list items with 'best offer.' This is a great way to find good deals."
Resale is also a good way to make some money. Timeless investment pieces will always have a good resale value if properly cared for. If you're looking to sell something, make sure to bring it into the consignment store looking as fabulous as possible (wash or dry clean and iron garments and wipe the insoles and lining of shoes with antibacterial wipes), this will always bring you a better price. When selling online, take flattering, well-lit photos of the garment from all angles. Make sure to include any labels and distinct details as close-ups, but also any flaws — it's important to honestly represent the item.

In the market for a vintage Chanel suit? Make sure to check the measurements as the item may have been altered.
To be sure to find the best stuff, visit your favorite resale stores often since new pieces are added daily and good ones tend to sell quickly. You'll also have to be both spontaneous and calculated at the same time. It's good to make a wish list of items you want but "since there is usually only one of each item," Jungman says, adding "You'll need to be prepared to purchase something on the spot because you may not find it again."
Sign up for your favorite vintage and consignment stores' mailing list to be sure that you're always up to date on what's currently in store.
Happy vintage shopping.
Images courtesy of Socialite Auctions