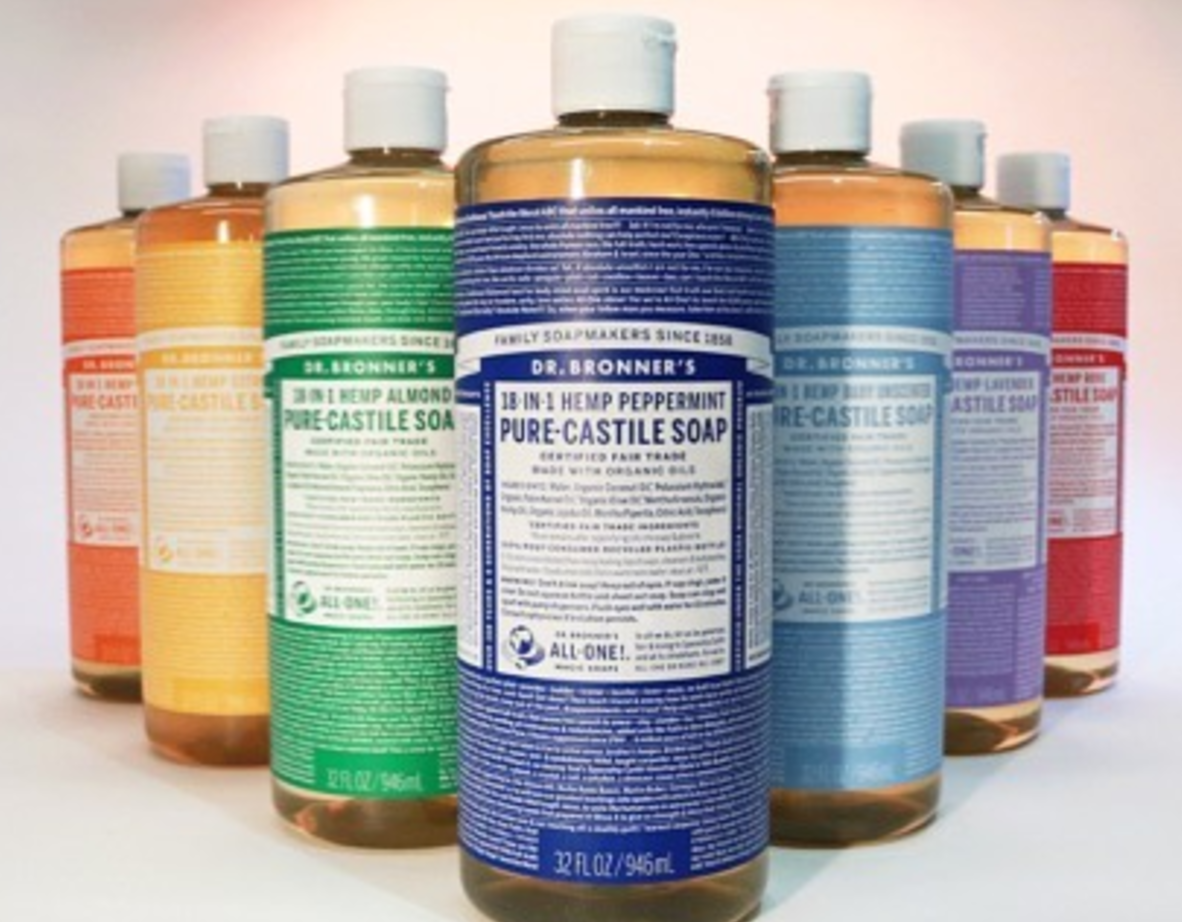 Dr. Bronner's is known for its iconic soap — you know the one in the big bottle with the writing all over it that smells like you're standing inside a peppermint field. The family-owned company also makes fantastic bath and body products full of organic and fair trade ingredients without any of the chemical nasties. And they're also staunch activists and have been since the company was founded by Emil Bronner 1948 as a platform for his "All-One" message of peace and unity.
Following in their grandfather's footsteps, David and Michael Bronner now run the company with a myriad of missions attached to it. The Bronner family is outspoken in support of fair trade, organic, non-GMO, and vegan causes, as well as hemp, and now, marijuana legislation.
Hemp, the non-psychoactive sister plant to marijuana, plays a huge role in Dr. Bronner's soaps. Hemp oil is emollient, moisturizing, and a much healthier alternative to petroleum-based mineral oils. And while it's not an ingredient in any of the company's products like hemp is, marijuana has scores of health benefits that the company says deserve to be accessible to everyone. It shouldn't be too surprising that Dr. Bronner's is advocating for ethical and organic marijuana standards.
David Bronner, Dr. Bronner's Cosmic Engagement Officer, is a longtime supporter of pro-marijuana legislation. In 2016, he was named the Cannabis Activist of the Year by the Seattle Hempfest. In 2012, he was arrested outside the White House for campaigning against legislation that makes hemp growing in the U.S. illegal.
In early June, Dr. Bronner's  announced that it's the primary seed-round funder of the Cannabis Certification Council, a nonprofit venture out of Denver and Portland, Oregon. Dr. Bronner's will give $125,000 in initial funding, and continuing financial and logistical support, Denverite reports.
"The council plans to certify whether participating companies are growing marijuana in line with organic standards, and also whether workers are receiving livable wages, among other factors."
The end product will result in a label that's printed on the packaging of certified products.
We recently caught up with David Bronner about the company's stance on recreational marijuana, and why the business supports crafting organic certification for the industry, and ethical farming standards, too.
EcoSalon: Tell us about why Dr. Bronner's supports medical and recreational marijuana.
David Bronner: Because we think marijuana should be legal for medical and recreational use. Many responsible adults use cannabis safely as medicine to manage and treat illness and disease. For example, marijuana is often used in place of more addictive and harmful opiates, and other pharmaceuticals.
It's time to end the outdated policy of cannabis prohibition. It shreds productive citizens' lives and families for no good reason and disproportionately affects people of color. This diverts resources from real crimes.
EcoSalon: How can the marijuana industry become ethical and organic, and more importantly, how can it stay that way?
David Bronner: We think certification is the first step. So, that's why we are providing seed funding and counsel to the Cannabis Certification Council (CCC). The Council will independently certify cannabis products as "organically grown" and "fairly produced".
Producers that are certified will receive seals for marketing products. The CCC will serve the cannabis industry as an independent, non-profit body. The CCC also will uphold clear and achievable, but robust standards. A third-party will conduct certification to ensure integrity.
EcoSalon: Could you also tell us how the company supports the re-commercialization of industrial hemp?
David Bronner: We support the re-commercialization of industrial hemp farming in the United States. America is the only major industrialized nation that prohibits domestic hemp cultivation. The same failed drug policy that has vilified marijuana has also denied American agriculture the benefit of one of the Earth's most versatile and sustainable crops.
Hemp requires few herbicides or insecticides to grow. So, it does well in organic farming systems. The plant is grown in rotation with corn and soy. Also, hemp aerates soil and controls weed and pest pressure. Hemp fiber can replace virgin timber pulp in paper, glass fibers in construction and automotive composites, and pesticide-intensive cotton in textiles, too. And hemp is an excellent ingredient in body care. It's high in omega-3 and omega-6 essential fatty acids. Also, Hemp oil makes our soap lather smoother and makes it less drying.
EcoSalon: We love that Bronner's is discussing the most important aspects of the marijuana industry: who decides it's ethically grown and organic. So, why does this matter?
David Bronner: Because the company is committed to making high-quality, socially and environmentally responsible products. And we want to implement that ethos in the cannabis industry.
And Dr. Bronner's has always been an activist company. So, that's why we're supporting that same activist spirit today. And it is our company mission to continue to use the business to fight for and financially support causes we believe in. Those causes include regenerative agriculture, fair trade, animal advocacy, industrial hemp and drug policy reform, and living wages. So, that's why we're the "fighting soap company". And Dr. Bronner's employees are committed to the causes we fight for.
Interview edited for length and clarity.
Related on EcoSalon
Dr. Bronner's Soap Envisions a Clean Future for MDMA-Assisted PTSD Treatment
Dr. Bronner's Soap Company Only Wants Good Things for 'Spaceship Earth'
Dr. Bronner's Magic Toothpaste? All-One for Healthy Teeth