Zero waste fashion designers step up the aesthetics to be more pleasing for the masses.

Zero Waste Pattern Design seems at first glance to deal unashamedly with only the front end of the fashion cycle, with the theory going that if the designer agonizes over eliminating waste then consumers only need worry about what to do with the garments when they don't want them any more. But it is much more than just a matter of asking "Have I used ALL of that piece of cloth?" as doing only this would potentially result in garments that no one would want to purchase.
With zero waste pattern design, and indeed all sustainable fashion, aesthetics cannot be at the expense of the environment, just as much as the environment cannot be at the expense of aesthetics. There must exist a harmony between both, and thankfully many sustainable designers have found it.
It is a strange thing however, that many of the worlds zero waste designers come from two such apparently different parts of the world, New York or Australasia. Australiasian designers who explore these ideas include Material By Product, Mark Liu, Timo Rissanen and Julia Lumsden. There are a number of New York based designers who use zero waste fashion design philosophies in their work, notably the iconic Yeohlee Teng.
I spoke to last year and this year's Ecco Domani Fashion Foundation winners Tara St James and Titania Inglis this past week, fresh out of their New York Fashion Week shows. Here's what they had to say.
Mark Liu

What is your sustainable fashion philosophy and how were you motivated to take your work in this direction?
Titania Inglis: My philosophy came from my mother, who taught me from a young age that it was better to buy a few beautiful pieces of clothing than lots and lots of not-so-great clothes. With the end goal of a small wardrobe in mind, I try to make clothes that are versatile and can often be worn in multiple ways; that feature high-quality, long-lasting fabrics and finishing; and that are both of the moment and yet well-proportioned and classic enough to wear for years to come.
Tara St James: To date I haven't focused on one single sustainability philosophy, instead I try to examine several aspects of ethical design to evaluate which are a good fit for my brand and which are not.  For example my very first collection, entitled The Square Project, was a study in zero waste pattermaking, while of course using all overstock or sustainable textiles, and to this day I still implement a lot of zero waste in my designs.  I also work very closely with artisan weavers and knitters through Source4Style and other outlets. And I produce about 90% of my garments in New York City.
Ironically I was steered towards sustainability in 2004 when I started my previous brand Covet and was sourcing new textiles in China where I found a bamboo jersey I loved. I say ironically because I no longer work with either bamboo or China, but it opened my eyes to the concept of ethical sourcing, and that's when I started researching different textiles and production methods. There has been tremendous change since then, I'll say that.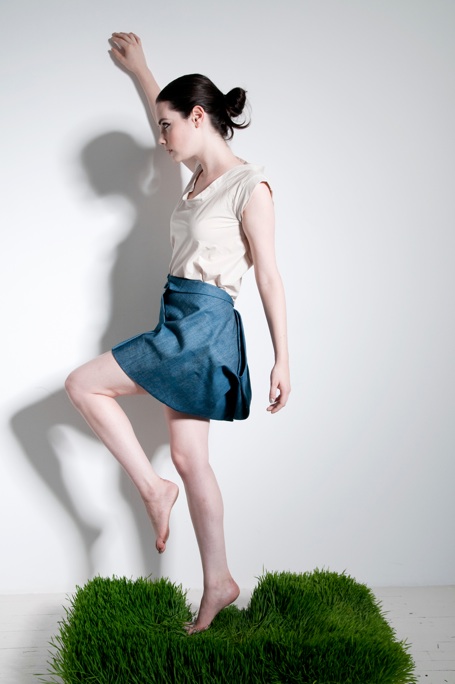 Titania Inglis, Spring 12
How do you incorporate this waste reduction/elimination philosophy into your design and/or production processes?
Titania Inglis: Again, I believe strongly that classic, beautifully made clothes are the best antidote to waste. That said, with an eye to cradle-to-grave sustainability, I recycle all of my fabric scraps and try whenever possible to cut smaller pieces from existing scraps; try to choose 100% cotton and 100% wool fabrics that are easily recycled; and recommend on the care labels that garments be aired out often and washed less, both to save on water and to ensure that they last longer.
As far as zero-waste pattern making goes, my Spring/Summer 2011 collection was based around that technique, and I approached it both through bias cutting and origami folding, creating two origami-pleated bustle skirts and a bias top and dress that were cut from simple shapes that could be interlocked on the marker to eliminate fabric waste. Because there was a tiny bit of fabric that wasn't used in the pieces, I called it my "Almost Zero" collection. Some of the pieces have since reappeared in successive collections, with the bias T-shirt becoming one of my signature pieces.
Tara St James: I've found it much easier to reduce waste on an individual level and less so when larger production quantities come into the picture. If I'm designing, cutting and sewing something myself, I can easily control how the garment is made, but to scale both the design and pattern to include different sizes and fabrications has been a challenge, although not an insurmountable one.
Tara St James, Spring 12
How do your customers respond to your ethical goals and resulting products – how strongly do you market your products as ethical?
Titania Inglis: While I do offer information about my philosophy and production methods on my website, I choose to market the line first and foremost as a fashion line, leaving the ethical standards as an added benefit. Clothing is a unique product in that it's meant to be worn, so the look of it, the fabric choice, and the fit come first when a woman is shopping. If she loves a piece and will wear it forever, that's far more environmentally sound than if she buys it for its ethical production methods and then leaves it in the back of her closet because she hates the look.
Tara St James: I don't actively market my brand as ethical, I want my customers to buy the clothing first because they love it, and they usually only find out the sustainability of the brand after they've spoken to the shop owner or done some research on the brand.  However there is a rising population of shoppers who seek out ethical fashion and want to support local designers. With them I'm happy to be as open sourced and transparent as possible. After all, the story behind the clothing is my means of creating a dialogue with my customer. I don't want that dialogue to end when they've made their purchase.
How do you see yourself improving on your current practices – what's in the future for your company?
Titania Inglis: The biggest challenge is always fabric sourcing. I'm constantly on the lookout for beautiful new organic or sustainably produced fabrics; I've traveled to London and Tokyo for sourcing, and found amazing materials there. This season I sourced a gorgeous vegetable-tanned leather from France, and I'm dying to make handbags or shoes from it as soon as I find the right collaborator.
Tara St James: I would like to start researching more technical and recycled synthetic textiles. I love using natural fibres such as hand woven cottons, wools and silks, but when I examine the water consumption for some of these fibres, it's difficult to ignore the reality and is pushing me towards longer lasting, more versatile textiles such as recycled polyester, which can also be printed by companies like AirDye, who I worked with on my Spring 12 collection.