Just a few cherished gems from America's golden age of architecture and design.
Mid-Century modern is very hot right now. Television's Mad Men explains the trend in part; houses were most certainly built better then; as such, preservationists rally around them. Yet, sadly, many mid-century homes are considered "on the edge" and in danger of demolition.
Indeed, two of the homes on our list of iconic modernist masterpieces have fallen victim to time and the bulldozer (razed in the name of McMansions, perhaps?), but this is not meant to be a pity party for a bygone era – the golden age of American architecture and design.
We spend so much time talking up all things Scandinavian design, therefore consider this list a celebration of American creativity and ingenuity at its best, when it happened to be at its strongest: circa early 1930s to the mid-60s/early 70s.
While we maintain that cement isn't such a terrible building block after all, there's something to be said about glass, steel, geometry and case study houses.
Falling Water
Frank Lloyd Wright's masterpiece is by far the most recognizable and iconic home on our list. Built for the Kaufmann family in Western Pennsylvania, it is now a National Historic Landmark.
The Philip Johnson Glass House
Considered an essay in minimalism, in terms of structure, geometry, proportion, transparency and reflection. It is also an example of one of the earliest uses of glass and steel in home design.
The Miller House
Heralded by Travel + Leisure as "America's most significant modernist house," this mid-century home by Eero Saarinen was commissioned by American industrialist, philanthropist, and architecture patron J. Irwin Miller in 1953. It is now owned by the Indianapolis Museum of Art.
The Kaufman House
A Palm Springs, California architectural vanguard by Richard Neutra. Built in 1946.
The Farnsworth House
The Farnsworth House near Plan, Illinois was built by Ludwig Mies van der Rohe in 1951. It remains one of the most famous examples of modernist domestic architecture. It is now owned and operated by the National Trust for Historic Preservation.
Gwathmey Residence and Studio
The first residential project by Charles Gwathey, built for his parents. Their budget was a modest one, even in 1965, at $35,000. Described by Arch Daily as a "volumetric interpenetration of solids and materials…to create functional voids," the residence and studio cemented Gwathmey's reputation as one of America's most sought after starchitects.
The Eames House, a.k.a. Case Study House #8
This was one of about two dozen homes between the mid-1940s and the early 1960s as part of The Case Study House Program. Lived in by Charles and Ray Eames, they wanted a home that, according to the Eames Foundation, "would make no demands for itself, and would serve as a background for, as Charles would say, "'life in work and with nature as a shock absorber.'"
The VDL Research House
Richard Neutra designed this Silver Lake, CA house in 1933. The glass house featured rooftop and balcony gardens, but after a fire destroyed most of the original structure Neutra added two floors and a solarium.
The Eduardo Catalano House
Built by the young Argentinian architect for his own use in 1954, this Raleigh, North Carolina home has since been razed to the ground. In its day, it was praised by none other than Frank Lloyd Wright himself.
Craig Ellwood's Daphne House
Commissioned for the Daphne's in the late 50s after the couple tried unsuccessfully to work with Frank Lloyd Wright.
Bruce Goff's Ford House
Architect Bruce Goff was praised by Frank Lloyd Wright for being one of the few creative American architects and built this circular residence in Aurora, Ill for $64,000.
The Lovell House
Another Richard Neutra design, this one preceding the mid-century modern movement by a few years (this dates from 1927 to 1929). This Los Angeles home was among of the first steel-frame houses in the U.S. featuring balconies suspended by thin steel cables.
George Masumoto's Lipman Residence
Located in Richmond, Virginia, this classic split-level was built in 1957.
The Ultimate House of 1963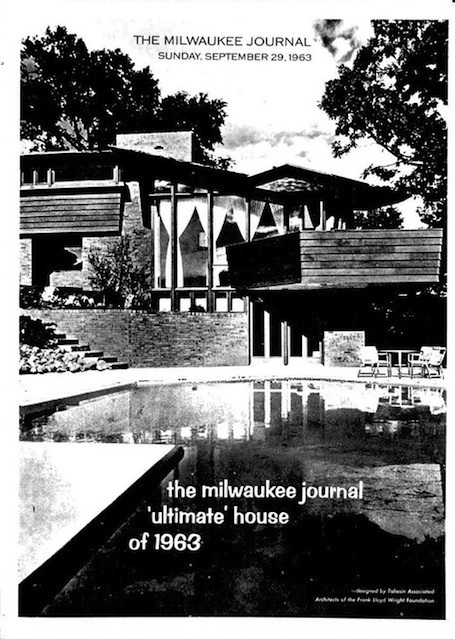 Designed by Wright's legacy firm Taliesin Associated Architects, this was deemed the Ultimate in modern luxury.

The Bowman Residence

Designed in the late 1950s by Paul Hayden Kirk.
The Volsky House
When this was being built in the mid-1960s, neighbors wrote a letter of protest citing its "sheer grossness" and worry regarding "a definite though incalculable loss of property values." Upon completion, Life Magazine featured a 6 page article on it, celebrating the shameless modernity of it all. Designed by Charles Haertling.
The Chamberlain House
Or more aptly, man pad. It was built in 1971 in Bel-Air with significant input from Wilt, the Stilt himself. Original features included a gold-lined hot tub, a retractable mirrored ceiling and a wrap-around pool.
The Stahl House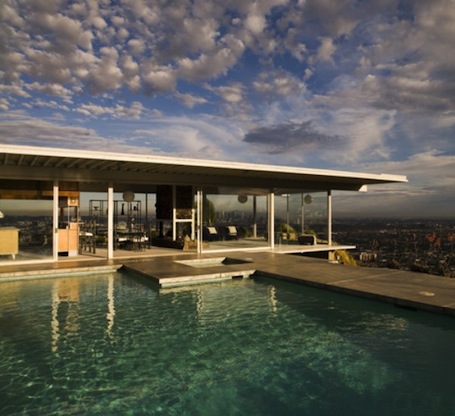 Also known as Case Study House #22, Pierre Koenig designed this modernist house in the Hollywood Hills.
The Hayes Residence
Built in 1956 for the first Chevy dealer in Dallas, TX. Designed by Harold E. Prinz and LeVere Brooks.
Rudolph's Westport Home
Another modernist treasure that has since been demolished, this one in Westport, CT. It was designed by Paul Rudolph and while a well publicized anti-demolition campaign sought to save it, this photo is all that remains from another fine example of America's golden age of mid-century design and architecture.
Images: The Stahl House; Phil Romans; Melody Kramer; The Miller House & Garden; The New York Times; Jet Set Modern; Mid-Century Architecture; HGTV; 7D7 Studio (Omar); HGTV; University of Washington; Mid-Century Architecture; Atomix; Mid-Century Architecture/via LIFE Archives; Mid-Century Architecture/Flickr; The New York Times