Recycling is always an option, as are these 12 ways of reusing a bottle.
We've written about recycled glass before, like the upcycled tumbler from The Bottle Mill and other born-again vessels. Given the amount of time we spend trolling the net for inventive eco design, we feel that it bears further mentioning: a good bottle, of vino especially, always gets better with age and reuse.
These chic tumblers are made from wine-bottles past. From The Green Glass Co., a set of 4 for $35.
We've all got some sort of bottle trick going on in our kitchens, but consider swiping two coats of chalkboard paint across them to keep your pantry unique and organized.
Over one million recycled glass bottles went into constructing the Wat Pa Maha Chedi Kaew Temple in Thailand.
This green Cabernet Sauvignon bottle has been melted and molted into an olive and cheese plate. A respectable house-warming gift for $15.
Why light up a tree with so many empty wine bottles from Thanksgiving dinner in your recycling bin? DIY blog Wit & Whistle makes drilling a string of Christmas lights into a bottle easy.
These antiqued mercury glass bottles were once beer bottles. A tea light holder was inserted as was an iron wire loop at the opening for hanging. From Roost Decor for $26
Twine, hanging bottles, flowers. What you get when you combine all three is a lifetime's worth of style points.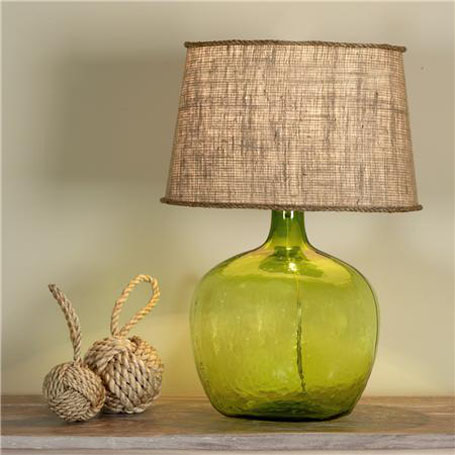 This table lamp from Shades of Light, $225, is made from a demijohn jug, which was used to brew wine and beer.
Good old Martha is always full of something, in this case secrets – and a very creative way to send out well-wishes, messages and invitations. Within each apothecary-style bottle (for our purposes, make that a sampling from a hotel mini-bar or your last trans-Atlantic flight) is a weathered piece of paper, which got that look by being dipped in tea. That clever Martha.
Handmade wine bottle vases from Nashville's Arrington vineyards are rustic, yet graceful. A perfect way to display silk or fresh flowers and herbs. From Great Bottles of Fire for $45.
Also from Great Balls of Fire, the Tiki torch ($55) gives ambiance to any backyard space. Add citronella during warmer months for friendly bug repelling.
A Vanilla Hazelnut soy candle burned in a recycled wine bottle. When you're finished, you can melt another candle inside or use as a drinking glass. From Kintique, made from 100% U.S. farmed soy wax (a renewable alternative to paraffin) for $30.
ALSO CHECK OUT:
How to Make Earrings Out of Bike Tubes
Decorate Your House with Wall Stencils
DIY Leather Candle Wrap and Bracelet
Images: The Little Branch; Elle Décor; Green Upgrader; Berm Design; Musings via Wine Delights;; Caron Designs, LLC;Wit & Whistle; The Inglenook Decor; Shades of Light; Martha Stewart; Jessica Loren; Great Balls of Fire; Kintique