Step up your game with these ah-mazing Christmas gift wrapping ideas.
I've gotten into this terrible habit of putting so much thought into my Christmas gifts that I gas out when it comes time to wrap them. Seriously, it's like my fam rips the wrapping paper off so quickly not because they're excited about their gift, but because of how awful it looks.
Well, no more. Here are 16 gift wrapping ideas to help you kick things up a notch (or in my case, seven):
1. Make gift boxes from cereal boxes
By making gift boxes out of your empty cereal boxes, not only will you save some serious coin, but you'll be able to get your recycle on.
2. Color code your gifts
If you're anything like me, when you're shopping for your Christmas gift fixins, for whatever reason gift tags always seem to slip your mind. Assign each of your family members and friends their own wrapping paper color or design and skip the tags all together. (You know, just don't forget which color belongs to who.)
3. Wrap a two-toned gift
Whether you're wrapping a box that's wider than your wrapping paper or are running low on gift wrap in general, who says gifts can only be wrapped in one paper? Use two different styles of wrapping paper for a snazzy two-toned effect. And if you cover the seam with ribbon, it'll look like you did it on purpose. (Wink wink. Nudge nudge.)
4. Use holiday-themed tote bags
"Wrap" your gifts in reusable tote bags. There are so many adorable Christmas-themed totes, you just might go overboard.
5. Create a gift pouch
This gift pouch tutorial from One Kings Lane is perfect for those tiny gifts that are impossible to wrap. (The page also includes a tutorial on how to wrap super awkward gifts you'll lurv.)
6. Use double-sided tape
Not only does double-sided tape save oodles of time, but no matter the gift wrapping ideas you decide on, it'll make your gifts look ah-mazing.
7. Make your own Christmas crackers
Attach one to each of your gifts for that extra special finishing touch:

Image: duitang.com
8. Decorate coffee cans
As far as artsy fartsy gift wrapping ideas go, this one takes the (coffee) cake: Repurpose coffee cans by using them to "wrap" awkwardly shaped gifts. Paint them gold, red or green, go to town with Christmas stencils, or wrap funky fabric around them. The sky's the limit.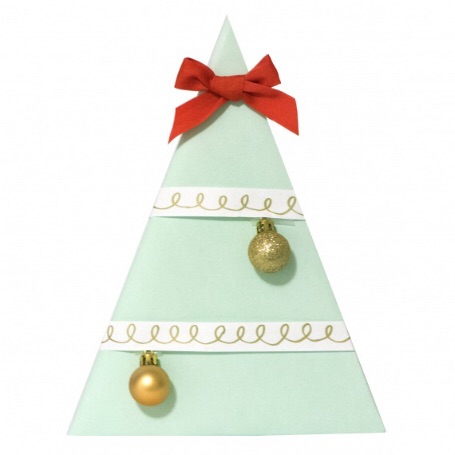 Image: MarthaStewart.com
9. Who says gifts need to be square?
Wrap that special someone's gift like an itty bitty Christmas tree! Get the DIY here.
10. Make adorable bows from old magazines
Or paper bags. Or old newspapers. Or fabric scraps. Get the DIY here.
11. Wrap in fabric
Chic, no?

Image: evermine

Image: Handmade Charlotte
12. Accessorize a larger gift with a mini-gift
Attach a small gift to the ribbon of a larger gift, such as cookie cutters or a sentimental trinket.

Image: RealSimple.com
13. If corners aren't your thang, don't wrap the sides of the box
Pack your gifts in crisp, white boxes, then wrap them in a simple band of paper (or fabric) and finish off with matching ribbon. Minimal yet bold.
14. Go rustic
Kraft paper. Twine. Mistletoe. Bam.
15. Make a box tower
Especially useful for delivering gifts to someone, stack their (perfectly wrapped) presents from largest to smallest, then wrap a wide ribbon around them (like so). Top off with a fabulous, cascading bow.
16. Host a holiday wrapping party
Have each of your friends pop by with one roll of gift wrap each (and the gifts they need to wrap, of course). Swap wrapping paper and techniques so all of your gifts looks spectacular.
What are your favorite gift wrapping ideas?
Related on EcoSalon
11 Simple Ways to Make Extra Money for the Holidays
15 Vegan Gifts to Buy This Holiday Season
Slacker Shopper? Last Minute Gifts You'll Get in Time
Image: mac9416