This year, put as much love into labeling your gift as you did buying it. 
Gift tags are one of those things we think about after wrapping a gift and we generally whip up with some leftover wrapping paper, scribbling something uninspiring on it. That, or we run out and buy the first stack of snowman labels we can get our hands on at the eleventh hour.
This year, vow to be a better gift giver by putting as much love into your labeling as you do into your shopping. Here are some simple ways to add some personality to your gift and amaze your loved ones with your DIY prowess.
When you're at the Christmas tree lot, pick up the leftover slices from the trunks and paint them using poster or acrylic paint. While you're at it, grab all you can: they work just as well for birthdays, too. Drill a hole into it for the ribbon and use a sharpie on the back for the "to" and "from."
Family and friends photo tags are a win win. Print out pictures of the people you love on the receiving end of your list and glue the images on shipping tags.
Go old school with your photos using embarrassing high school pictures and accidental shots of friends with their eyes closed.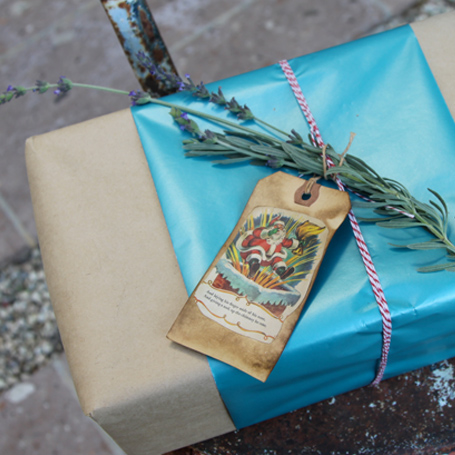 Tea stained tags are a little more work, but worth it. Brew up some strong tea with two or three tea bags. Throw your tags and tea in a shallow baking dish or plastic container and leave for a few hours. You can keep them overnight for a darker look. Pull them out to dry and start designing.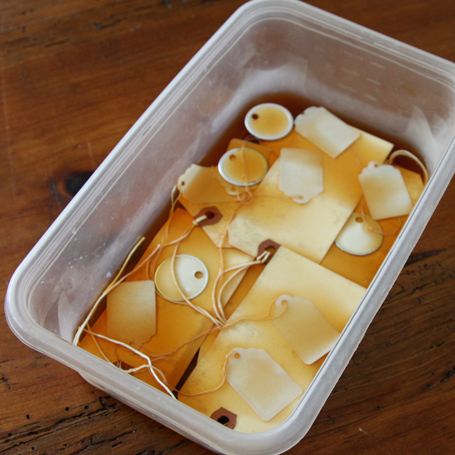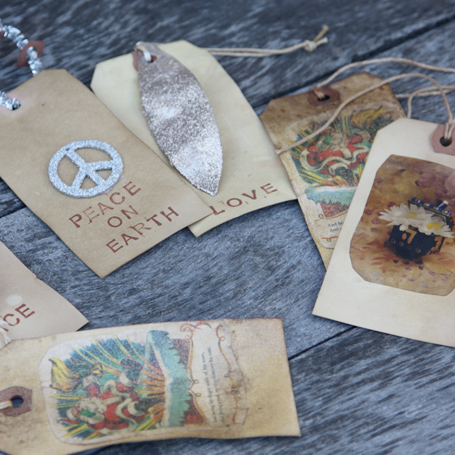 You can put just about anything on these and they look great. I chose old ornaments and glittery leaves from holiday decor.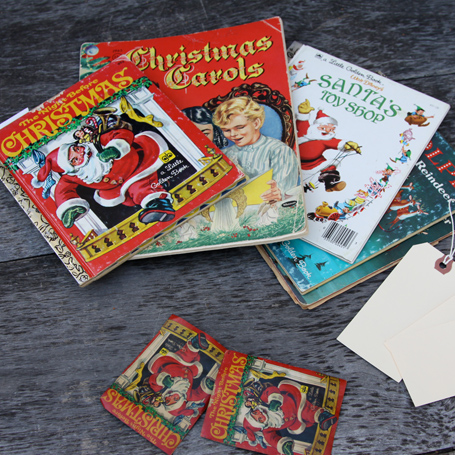 Also try photocopied  illustrations from vintage books and wallpaper, like these found at the flea market for a song.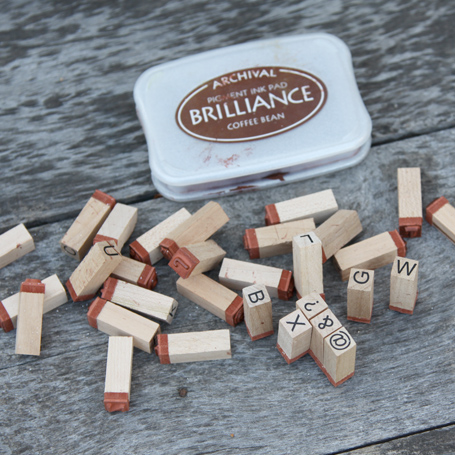 Finally stamp words on your gift tags with letter stamps from the craft store, the funkier the better. Even if your gift is received like a lump of coal, at the very least, it will look good.
ALSO CHECK OUT:
5 DIY Alternatives to Holiday Gift Wrap
11 DIY Alternatives to Traditional Christmas Trees
The Perfect DIY Gift: Mason Jar Photo Candles