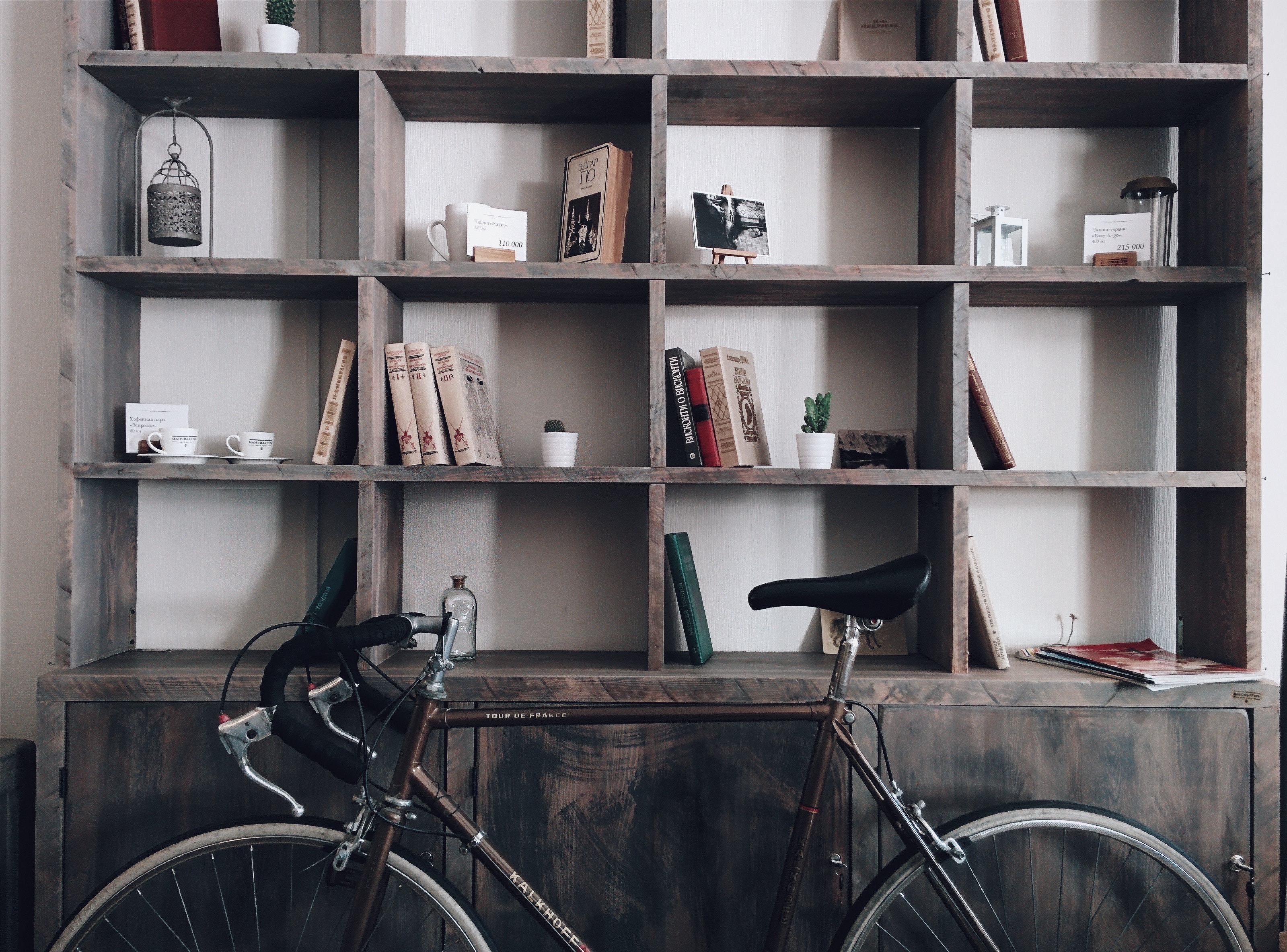 The need for storage is about as important as the need for life-sustaining essentials, like a glass of wine and dark chocolate, because without them, things start to get chaotic pretty damn quick. And we all know that a messy house plus a messy emotional state don't pair well. With that in mind, I set out to find you some awesome storage solutions, and the results are flexible, modern, innovative pieces that you'll be using for years to come.
Plus, thanks to the flexibility these storage solutions offer, you'll not only get the added benefit of configuring the modular pieces to fit your needs, but you'll be less likely to trash them because of the adaptability they offer. You might start with these in your bathroom, but then find they're more suited for your closet. And that's the beauty of it all–you get to decide, when, where, and how they're used.
1. Sky Shelves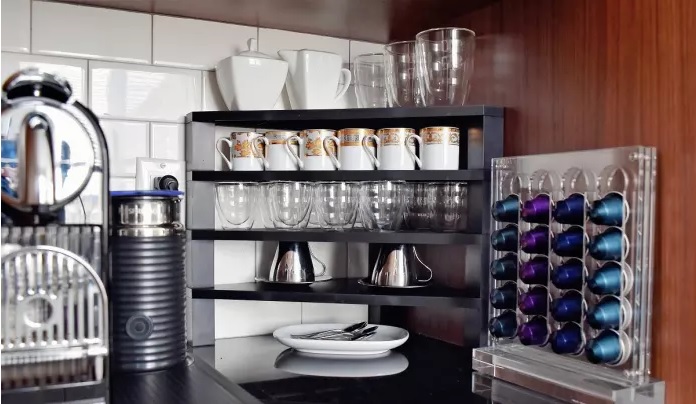 After moving into their apartment and quickly running out of space for their kitchen essentials, like cups, plates, and spices, Joseph Mroue and ​Audrey Brackley ventured out to find an organizing and storage solution to meet their needs. Unfortunately, that didn't exist for them at the time, so they put their heads together and created the Sky Shelves concept and product.
"Most products like this are very inflexible," said Mroue and Brackley, "They serve one purpose only, and come in one size and one shape." Pointing out that, "Once the customer's needs slightly change, such as their items or space, they soon realize they have outgrown the usefulness of the product and are forced to throw them out."  
Sky Shelves feature a "no tools, no screws" approach that makes assembly a breeze for the customer, come in both magnetized and non-magnetized forms, and feature endless combination possibilities. Furthermore, Mroue and Brackley stand by the product's flexibility. "Sky Shelves are so versatile, you are bound to find another use for them," they told EcoSalon, "and if by miracle you cannot, you can always dismount them and store them efficiently." Attractive and functional, you can use them in your bathroom, office, kitchen, closet, and more!
2. Record Roots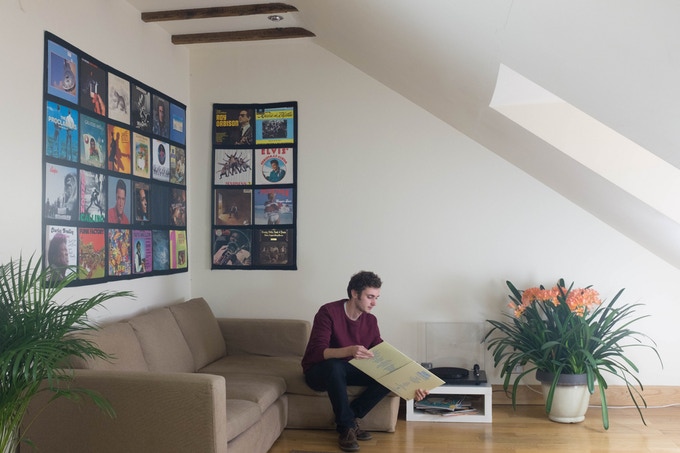 A specialized storage system, this particular type is especially for vinyls (although, you may be able to display square art prints in these, too), and allows the user access to the albums themselves, contrary to typical displays or crates that leave your vinyls inaccessible or cover art not visible.
Created by Felix Kenchington, Record Roots believes records are "fundamentally for listening to," he says. "They offer a unique listening experience, with unparalleled analogue sound but that's not all. Each vinyl comes with a protective sleeve with often meticulously designed album art to compliment the sound. We can't really appreciate the artwork when the record is stored in a traditional record crate so we've designed a product which enables you to display your vinyl collection on your wall."
The lightweight canvas straps and protective covers are adhered to your walls using damage-free self-adhesive velcro, or screws, depending on your needs. One unit will display eight records, but you can expand the frames by adding additional zippered units. You can configure these any way you wish and listen to your vinyls whenever you want!
3. SINCE 1984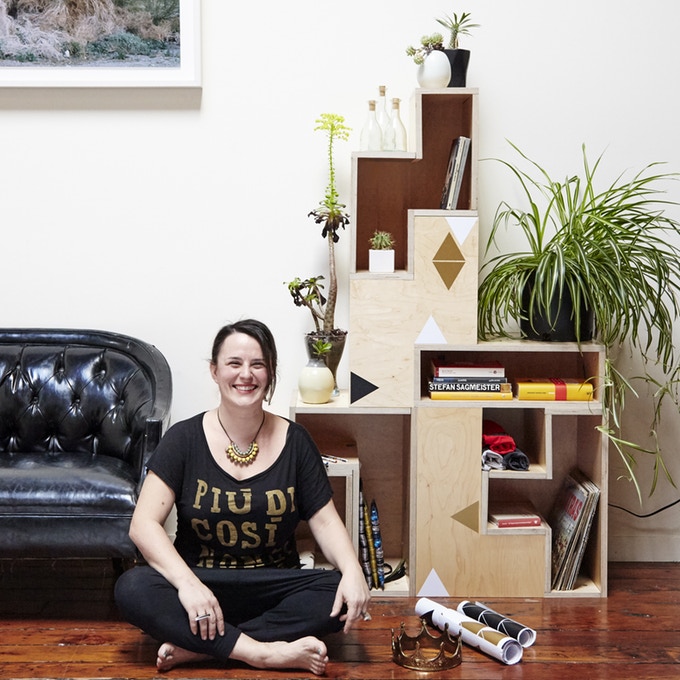 Inspired by a vintage video game (hint: I'm 99.9 percent sure it's tetris), these modular and oh-so-flexible storage pieces serve multiple purposes throughout the home. Lightweight, portable, attractive, and easy to assemble (a phillips head screwdriver is all you need), these pieces are the key to completing your storage puzzle.  
Created by Serena Zanello, these quirky and modern units can be configured in multiple ways, and seriously put the fun in functional. "Since 1984 brings people together because everyone can be their own personal designer," Zanello says. "Imagine your friends come over and you need a dining table. With two hands and two minutes, you can have one. You'll never have to buy furniture you don't need again."
Whether you prefer natural wood, or one of the color options–white, black, red, or green–there's a look to fit your taste. Not only that, but Since 1984 can be further customized by you with some paint, a cushion, or one of the vinyl stickers offered to create truly unique pieces for your home or office. One trip to the website will demonstrate just how adaptable these storage pieces really are.
4. Gather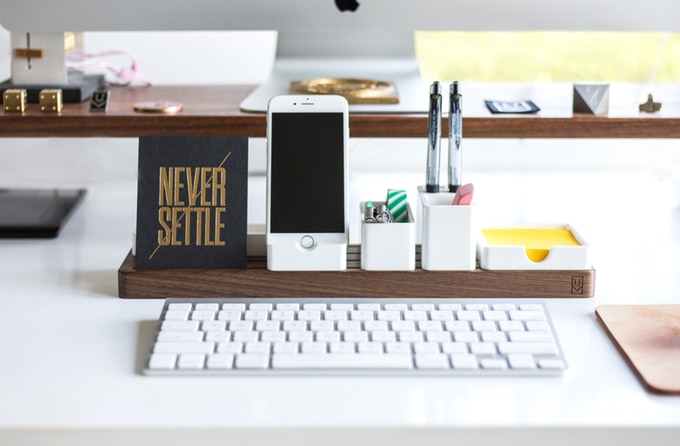 Whether you work from an office, from your home, or both, the need for desktop organization is always apparent. Clutter from a day's work has a way of sneaking up on you, and there aren't many attractive, all-in-one designs to keep things where they belong. Fortunately, Jeff Sheldon has felt your pain and set out to create a solution called Gather.
"Gather adapts to your workspace and workflow to make sure the tools you need are always within reach." Aesthetically attractive, and flexible in design, it's described as a "modular home for your essentials, thoughtfully designed to help you cut through the clutter." Able to be configured in hundreds of ways, this is a tool that was designed to be highly adaptable to the user's needs.
The gridded track systems allows items to be placed and rotated along the base, and other expansion pieces may be added to the back or sides through magnetization. And, if that's not cool enough, you can also combine two full sets and completely expand the organizer.
Related on EcoSalon
8 Ways to Declutter Your Home and Organize Bulky Items
Have a Happy Home: the Psychology of Interior Design
The 5 Best User-Friendly Interior Design Apps