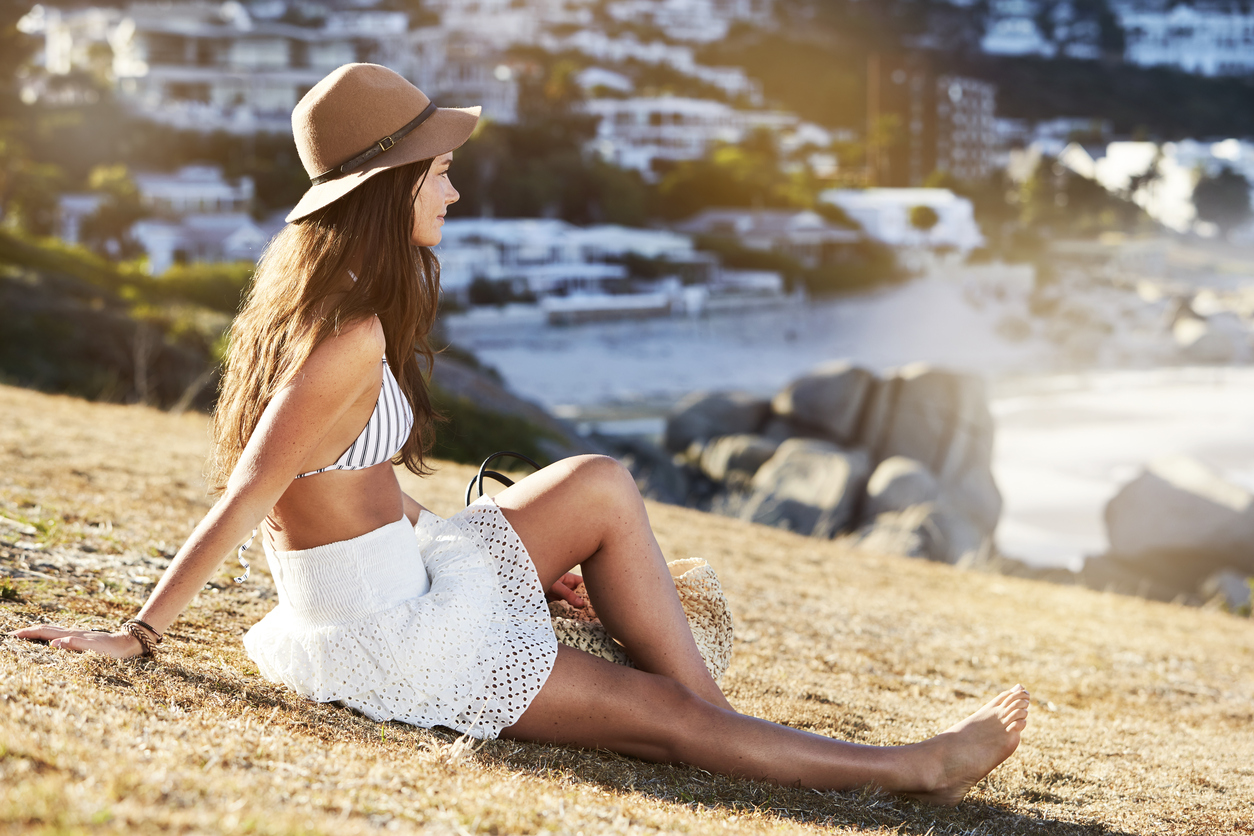 Summer is a great time to bring out your light and airy crochet pieces. Not only are they fashionable, but they'll definitely keep you cool!
Since at least the 1800s, crochet has been an integral part of fashion history. Chunky, delicate, or somewhere in between, the hand-done technique is still not entirely mechanized. Today, we have a wide variety of crochet looks to choose from — tops, accessories, swimwear, and even shorts can all be created from a hook and some thread. However, we can probably all agree that the modern crochet pieces of late have come a long way since grandma's afghan-esque sweaters (shudder).
While you might normally think of crochet as a hygge concept left for those cold winter days, we'd like to show a few of our favorite picks that are lightweight and absolutely perfect for summer.   
1. Cream Crop Top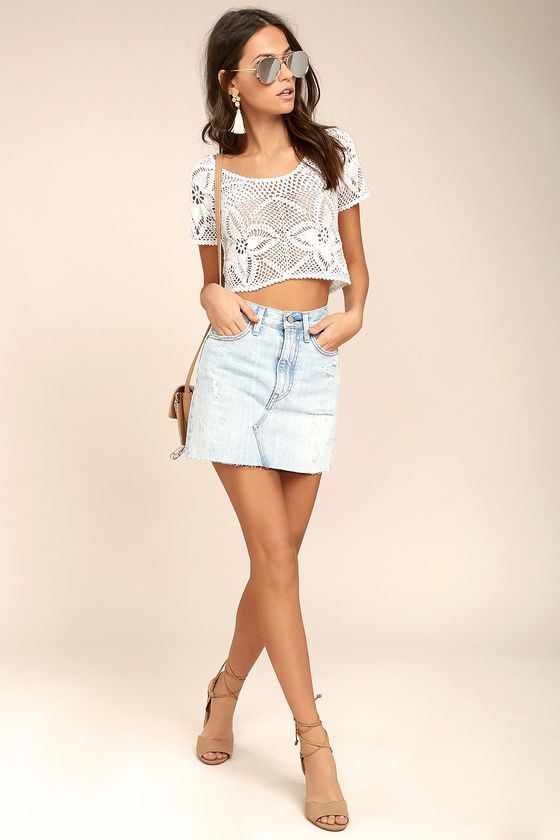 When you're feeling fun and flirty, this is the top to wear. The sheer, unlined crop is right on trend and would make the perfect layering piece. Throw it on over a swimsuit and shorts, a bikini top, bralette, or even a strappy tank. Have fun with color, whether in accessories or hue of your underpinnings, since this top is a neutral cream. Pair with shorts, high-waisted jeans, or skirts. Strappy sandals and lots of thin layering necklaces would be great finishing touches. Priced at $54.95.
2. Olive Crochet Kimono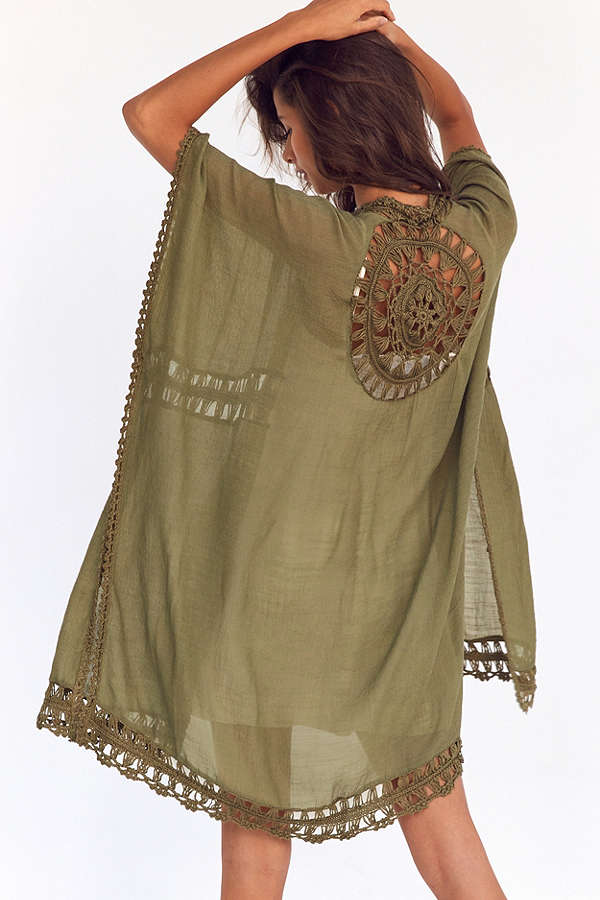 Kimonos are a wardrobe must-have, especially when wanting to channel a cool boho vibe. Plus, you'll look as spectacular coming as you do going, thanks to the intricate statement medallion on the back. Pieces like this olive green version are perfect for layering, and because of the rich hue, this could even be worn in early fall over long sleeve tops. For now though, layer with crops, shorts, swimwear, dresses, jeans, and more. Continue the bohemian trend with a wide-brim hat and your lucky ankle bracelet. Priced at $69.
3. White Mini Dress
Totally adorable and perfect for brunching with your girlfriends, this white mini dress is a Free People exclusive and features lots of beautiful crochet work. Like the most delicate lace doilies have been transformed into a beautiful summer frock, this look is one that's sure to be eye-catching. Try it out with a pretty pair of flats and your trusty cross-body bag, or opt for something different and style the dress as a tunic over flared jeans and platform shoes. Don't forget a shoulder-grazing pair of earrings for added drama. Priced at $168.
4. Shorts and Top Set
Who doesn't love a good co-ord? Similar to a romper, but with more flexibility, these two pieces can be worn in tandem, as intended, or as separates with other items from your closet. The black and white crochet creates a striking contrast with an almost horizontal stripe effect. Great for vacationing or just doing some shopping around town, you can have fun with this outfit. Dress it up or down with shoes and accessories, as well as your choice of separates. The top would be great paired with skinny black jeans, and the shorts would be cute teamed up with a form-fitting crop top. Priced at $56.
5. Boho Maxi Skirt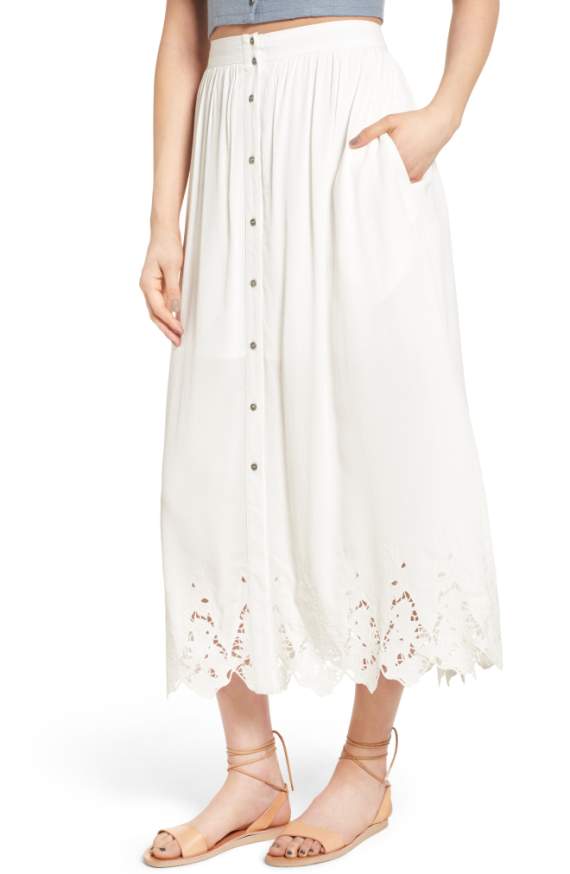 Simple, yet beautiful, and sure to be a favorite in your rotation, this laid-back maxi skirt features open-work crochet along the hem, button detailing, and a lining that hits above the knee under the semi-sheer top layer. Great with a cute crop, tucked in tank, or a loose fitting top, this maxi is versatile. Plus, you can keep it around for a bit even after summer's over and pair with ankle booties and sweaters. In the meantime, opt for lace-up flats, a wide-brim hat, and a cool and comfy top that accentuates the cut of the skirt. Priced at $85.   
*Disclaimer: Help support EcoSalon! Our site is dedicated to helping people live a conscious lifestyle. We've provided some affiliate links above in case you wish to purchase any of these products.
Related on EcoSalon
7 Surprising Ways Clothing Affects Your Life (Not Just Your Look)
11 Must-Wear Spring Sandals That are Also Vegan
5 Looks Inspired by Sea Glass: Friday Finds