A busy life means pulling double-duty from time to time, so when you have athletic wear that can do the same, it's definitely a point for the home team.
Thanks to these luxury activewear makers, you can look your best without ever skipping the gym, that tennis match, or a yoga class. Each hand-picked piece is designed to help you look put together, whether you're jetting from Pilates to your kid's preschool, or going from kickboxing to brunch, they're all winners in our book.
1. Blue Circle Jumper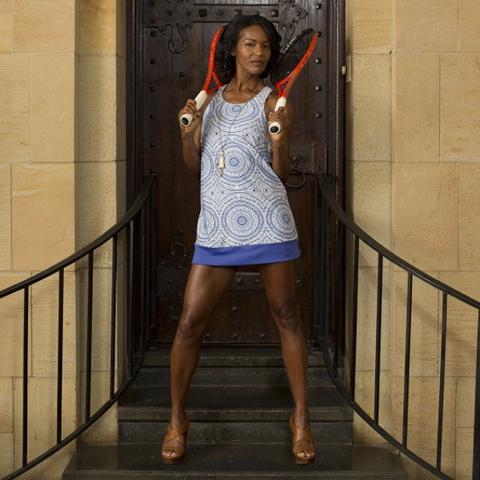 Considered both modern and couture, Kucheza Tennis's line of athletic wear includes several double-duty dresses. Designed with you in mind, these minis are intended to enhance your good looks on and off the court. Plus, the garments are hand-sewn using luxury fabrics in the United States. This particular jumper is the loveliest shade of blue and features a very current print that's perfect for pairing with sneakers and your go-to wristbands, just as well as a pair of wedges and an armful of bangle bracelets. Definitely a love-love, regardless of your score. Priced at $200.
2. Preppy Varsity Top
If Tommy Hilfiger and the sport of racing had a baby, this is what their kids would look like. Partly preppy, partly sporty, and partly tomboyish, the line of striking athleticwear from P.E Nation is a nod to grade school phys. ed., sans the sound of that annoying whistle. The double-duty coordinates are so well thought out, you could essentially mix and match among nearly all of their pieces. This particular top is one of the most versatile. Pair it with one of their statement sports bras for a sweat session, then toss it on with a pair of skinnies and heels for a preppy cocktail look. Priced at $79.      
3. Lace-Up Hoodie
This lace-up hoodie from luxe activewear company ALALA is gym-ready thanks to its water repellent fabric and flattering cut. You'll definitely want to wear this top on arm day, or any day for that matter, since its versatile styling can be paired with leggings or jeans. Layer it over other tops during cooler months, or wear it solo in the summer. Either way, this year-round top will add a touch of cozy-chic style to anything you pair it with. Priced at $145.
4. Snake Print Legging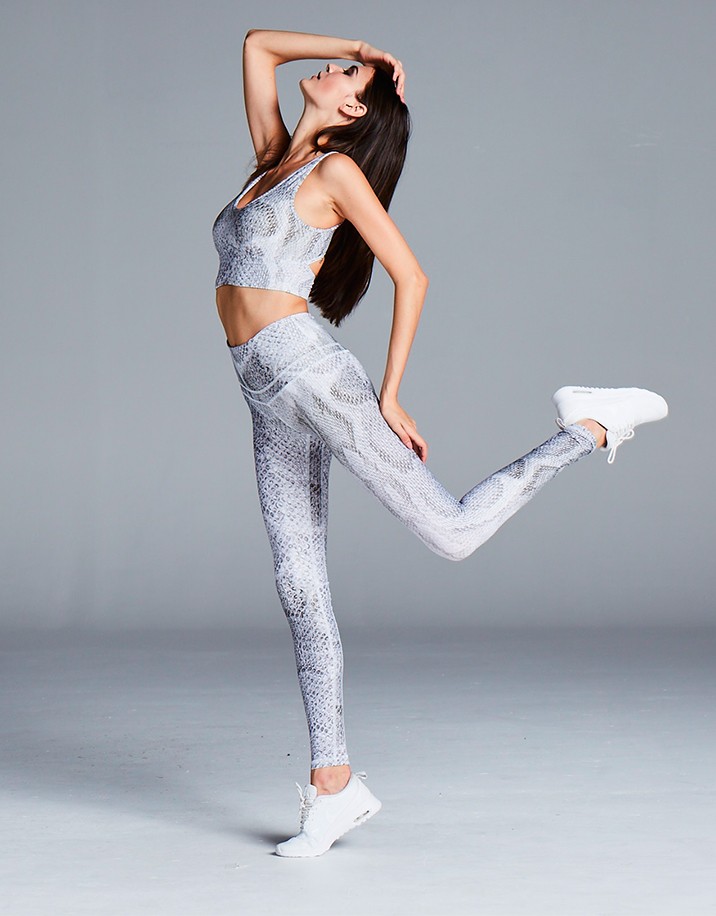 Yessssss, girl! These snakeskin print leggings from purveyor of luxury athletic wear Varley are the perfect addition to a fitness wardrobe that will be pulling double duty. Designed for running and training, with sweat-wicking properties, and anti-pilling and quick-dry fabric, these exotic pants are perfect for pumping iron and for bumping hips with your girls at your favorite karaoke joint. You could easily throw them on with a sports bra and a tank for the gym, a sweater and sneakers at the farmers market, and then with a pair of heels and a sexy top for a night out. No one will ever know they're actually athletic wear! Priced at $110.
5. Mesh Crop Top
Looking for that wear-everywhere-all-summer-long kinda sportswear? Then this Alo top is the one for you! Choose to show some skin by pairing it with a crop top or sports bra and your favorite leggings, or cover up a bit more and wear a full-length tank. This mesh pullover will take you from workout to weekend in a snap, and will probably become your new favorite go-to shirt for all of your regular activities. Dress it up or down, and definitely wear it out. Priced at $72.
*Disclaimer: Help support EcoSalon! Our site is dedicated to helping people live a conscious lifestyle. We've provided some affiliate links above in case you wish to purchase any of these products.
Related on EcoSalon
7 Surprising Ways Clothing Affects Your Life (Not Just Your Look)
11 Must-Wear Spring Sandals That are Also Vegan
5 Looks Inspired by Sea Glass: Friday Finds