Winter white is smokin' hot for the season, and we're going to show you a few of our favorites, plus share the deets on how to style these beautiful pieces together.
Fashion is full of rules — rules that should be immediately broken. As for one of its most notorious, avoiding white after Labor Day, we're getting ready to blow that completely out of the water. When it comes to wearing winter white, some recommend staying away from lace, lightweight pieces, and other items that scream spring and summer. However, even those can be pulled off when styled well. Although this post will focus on the warmer, easily discernible winter duds, we still suggest taking those risks and showing off your fashion-honing skills.
1. Dreamy White Poncho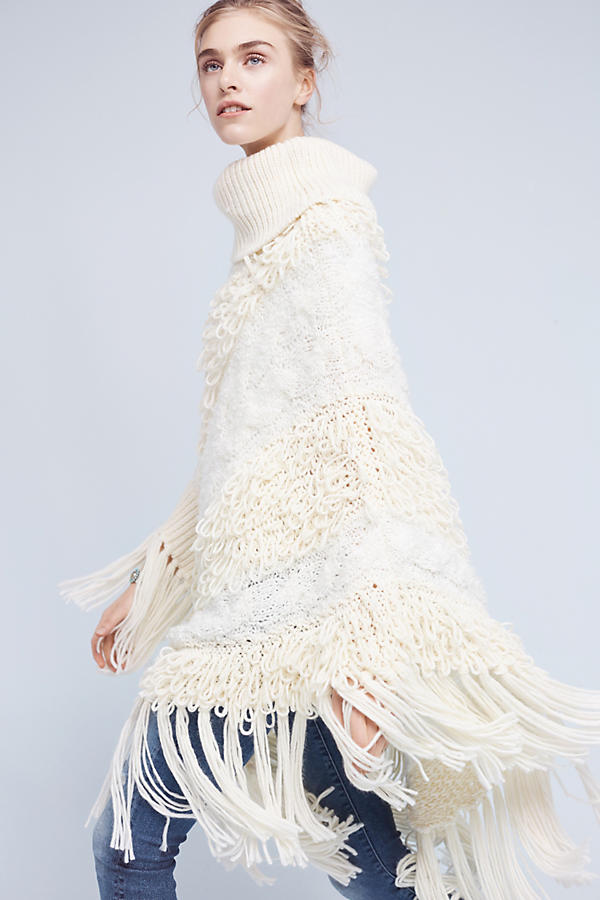 Ethereal and oh-so-dreamy, this looped fringe poncho pairs winter white with cozy warmth. Definitely a piece you'll reach for time and time again, it's worth the investment to have a staple like this in your cold weather rotation. Try this special knit over an ivory insulated legging or skinny jean and a snowy white ankle boot. Priced at $168.
2. Unique Leather Jacket
With bell sleeves and a vintage throwback feel, this leather jacket is perfect for the woman who prefers her look with a clean boho vibe. Try out this winter white piece with white distressed skinny jeans and an ivory or off-white tunic. Or, if you're not feeling the monochrome look, then let this be the starring statement piece in your outfit. Great for cold weather, don't be afraid to pile on the thin layers beneath this beautiful jacket. Priced at $700.
3. Stunning Lucite Mules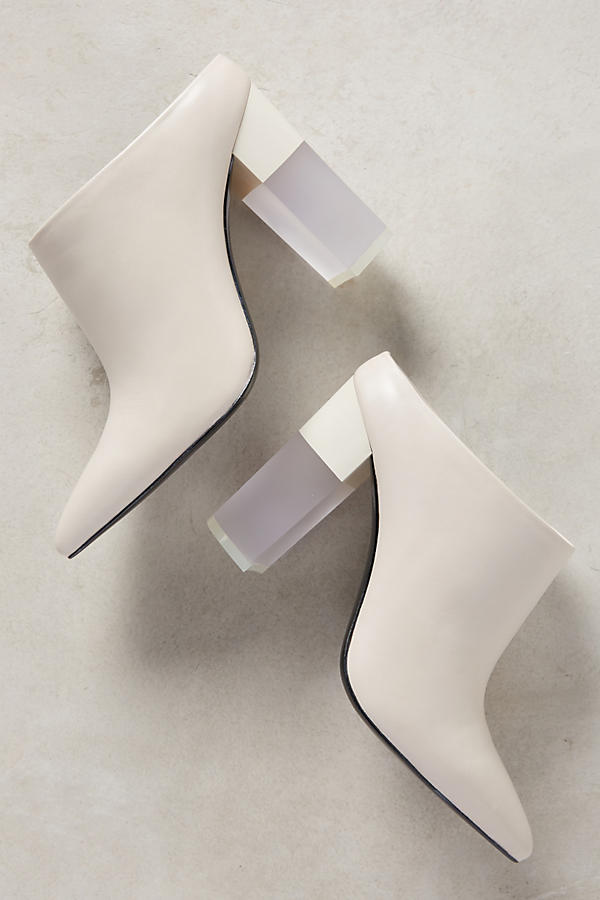 Wow! Talk about seriously sleek showstoppers. This visually stunning pair of creamy mules would be a joy to own, rounding out a winter white look beautifully. With the half-lucite heel and modern silhouette, they put the mule back on the map. A pair of shoes like these could easily carry you through the spring season, are perfect for work or play, and would look just as great paired with jeans as they would with a pencil skirt or sweater dress.  Priced at $328.
4. Cool Carpenter Pants
It's not often than a great pair of carpenter pants comes along, and this ivory relaxed fit utility pant is much more than just a utilitarian wardrobe staple. Practical, yes, but they also convey a real sense of easy, effortless style that pairs perfectly with other winter white pieces. As you can see, they look amazing with boots — we're loving the wedge style — and work well with other roomy garments, like the soft and loose cable knit sweater. Priced at $98.
5. Trendy Bomber Jacket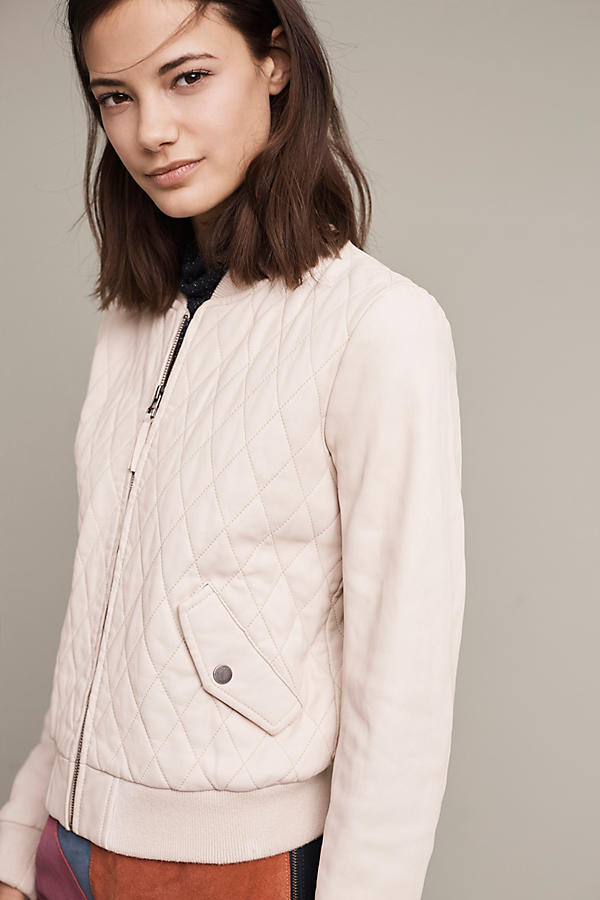 If you've ever wanted to follow trends, but keep the garment around long after the look is gone, this is one such piece. Surprisingly elegant and sweet, this leather bomber with quilted detail is great for cold weather dressing, but would actually work in many situations year-round. Play up the luxuriousness by pairing with a chic crepe pant in white and a glittering off-white tank with heels, or take the casual route with distressed skinnies, a white tee, and boots. With the versatility this jacket offers, it's one you won't want to miss! Priced at $498.
*Disclaimer: Help support EcoSalon! Our site is dedicated to helping people live a conscious lifestyle. We've provided some affiliate links above in case you wish to purchase any of these products.
Related on EcoSalon
How Fashion Shapes Identity: What Do Your Clothes Say About You?
4 Conflict-Free (and Gorgeous!) Rings: Engagement Season is Here!
5 Loungewear Musts that Will Having You Craving Hot Cocoa: Friday Finds