We're happy to see so many wearable and fashionable eco friendly shoes popping up all over the place, especially these zany and unique ones. Featuring shoes made from recyclable waste, shoes that can bloom into gorgeous flowers once you no longer want to wear them, and even shoes that turn into a tent (above image!), our top 5 quirky and cool eco shoes are getting off on the right foot when it comes to innovative design.
These supersleek and comfortable sneakers are completely biodegradable, from the hemp and organic cotton used in the uppers to the plant-based plastics that break down completely within 6 months. OAT shoes carry a sheet of paper infused with a wildflower mix in the tongue of the sneaker, meaning that you can bury the shoes once they wear out and watch them bloom into gorgeous blossoms of Snapdragons, Daisies, Black-eyed Susans, and Sweet Alyssum!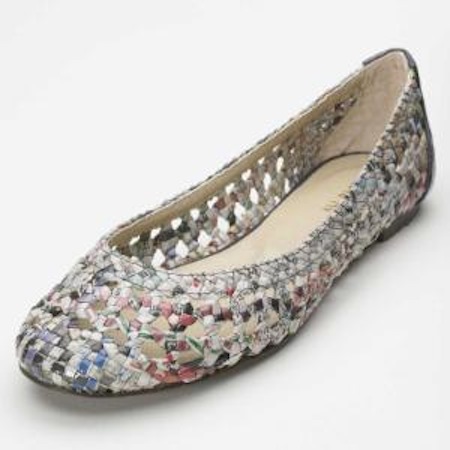 Cute, comfy and super easy to match with any outfit, these eco friendly shoes from label All Black are made from recycled newspaper. Woven into an intricate but sturdy design and combined with sustainable leather soles, these flats are guaranteed to make headlines.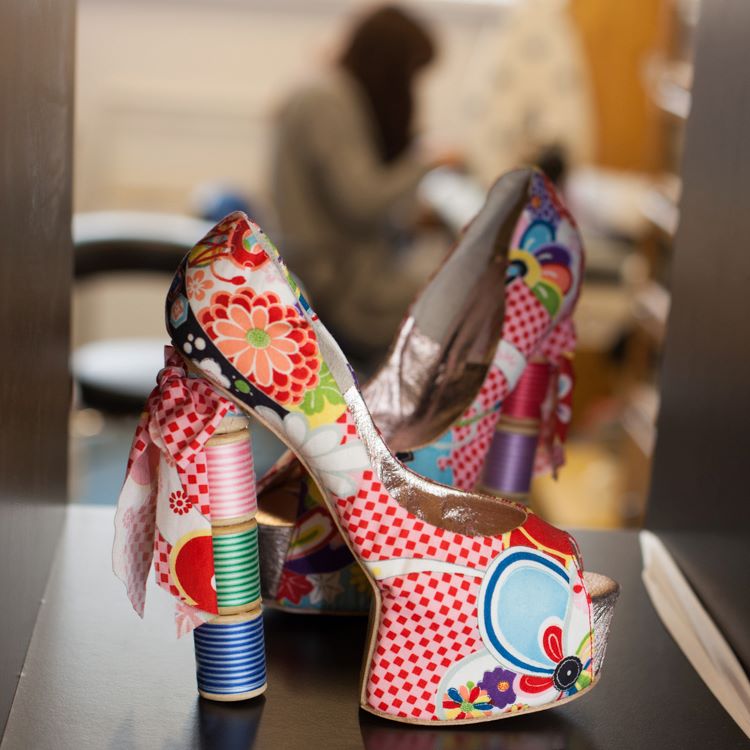 These gorgeous and vibrant shoes by UK designer Hetty Rose are made from discarded vintage kimonos and colorful thread bobbins.The fabrics Hetty uses are relics of a disappearing world, each one signifying various seasons, occasion, status, and personal taste of the wearer. Contact the designer directly to learn more about the bespoke shoe services and her shoe making workshops.
This genius little shoe is the perfect solution for women on the run or after a long night out in towering heels. Made from a waterproof, biodegradable outer layer (that breaks down as fast as an oak leaf ) and a recyclable plastic insole, these slip-on ballet flats are small enough to fit in a  cigarette box. Designed by UK inventor Michael Stead, these wonderful shoes can be found in vending machines at various nightclubs and public venues for the low price of $8.
These super quirky but unusually useful shoes essentially act as a human shelter stored within a pair of sneakers. A pink tent emerges from the net pockets at the back of the shoe, expanding to form and enclosure that relies on the wearer for support instead of tent stakes. Bizarre but cool, these sneakers are perfect if you're stuck in the rain—maybe they just need some eye-holes!
Images: OATShoes, All Black,Hetty Rose, Afterheels, Sibling
Related on EcoSalon:
 3 Fab New Eco-Friendly Shoe Collections: Filling the Footwear Gap
Love Jules Leather: Handmade Shoes for the Savvy Schismatic