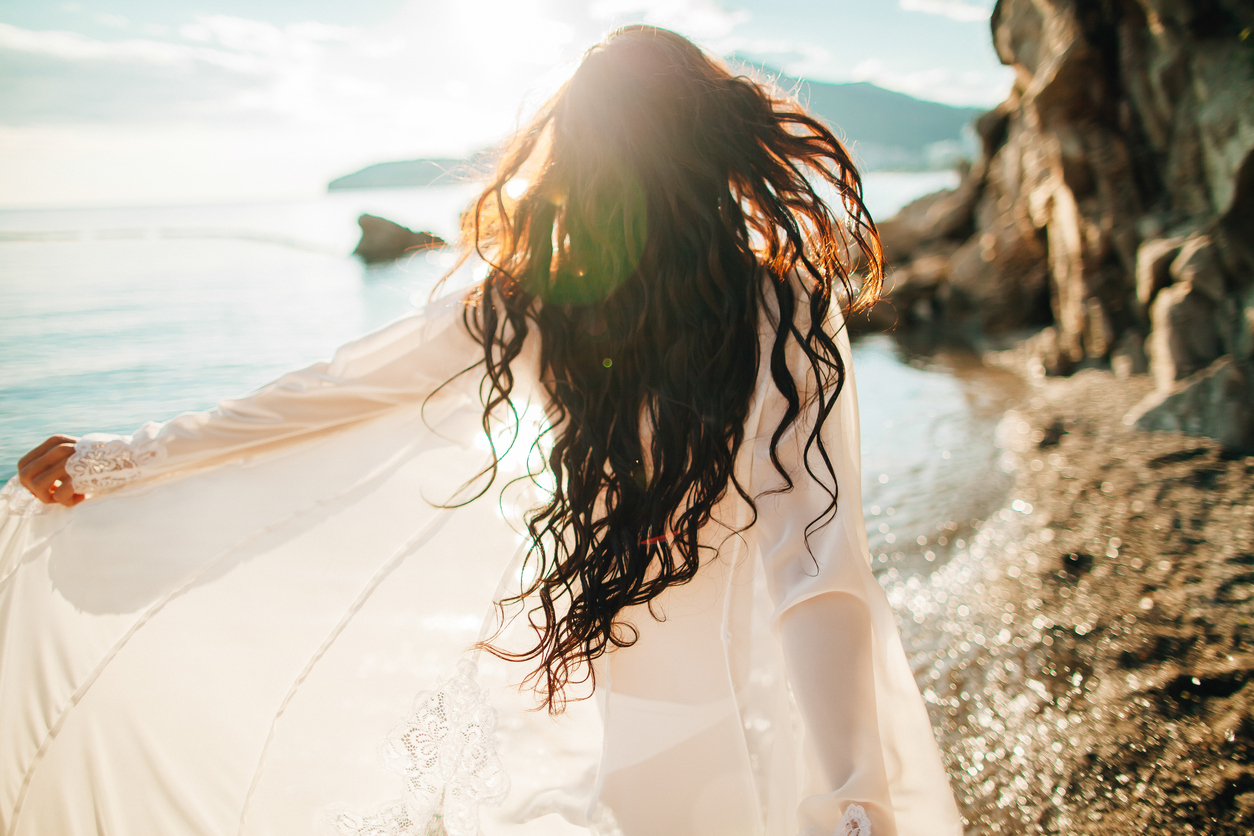 Not hitting the beach as much as you'd like this summer? Bring the beach to you with the perfect sea salt spray.
Beachy waves may not be the newest or most exciting hairstyle out there right now, but when summer rolls around, we still all want that seaside babe look. There's nothing quite like the real deal, but with pure and natural sea salt spray which use salts straight from the ocean, you get pretty close.
Not only does it look effortless, but it is effortless! With just a few spritzes of these natural hair wonders, you'll be rocking tousled locks in no time.
How To Be A Natural Beach Babe With Sea Salt Spray
1. John Masters Organics Sea Mist
For a subtle boost of texture that's gentle on locks, you can't get much better than this offering from John Masters Organics. While those with poker straight hair may want to go for something a little more volumizing, this salty solution is ideal for heads of hair that already rock waves, and want something to enhance them without too much of a messy look. The helping of certified organic lavender oil will not only be a selling point for lovers of this flower but also soothes sensitive scalps.
2. Olivine Love + Salt Beach Hair and Body Mist
This concoction is to sea salt spray what four cheeses is to pizza. But vegan, of course! You'll find Epsom, Pink Himalayan, dendritic, and organic French sea salt in amongst the mix, which each have their own unique mineral profile. This may not make a huge difference to hair, but it's nice to know Olivine have all basis covered. Plus, it doubles as a scented body spray which improves skin hydration. Although that sounds counterintuitive, magnesium and calcium rich salts actually help keep skin's barrier function, well, functioning. If you want as much matte texture as possible, you've found your match. Just keep spraying until you've achieved the level of texture and volume you want, while added coconut oil will make sure hair stays soft and nourished.
3. Herbivore Botanicals Sea Mist Texturizing Salt Spray Coconut
A sea salt spray that comes with some serious summer vibes (shouldn't they all?)! The simple combination of coconut and vanilla extract, plus a dash of lime essential oil, will make your tresses smell truly tropical. It certainly doesn't lack in the beach waves department either. Designed to have the same concentration of salt as the ocean, it imparts a naturally tousled look for every day summery hair. The addition of aloe will keep your hair moisturized too, and also makes it particularly great for dry hair types that usually steer away from sea salt sprays.
4. Rahua Enchanted Island Salt Spray
New on the scene, cult haircare brand Rahua has finally given the natural beauty world its answer to sea salt spray. Known for its use of tropical ingredients, this sea salt spray lives up to that reputation with guava juice, and hibiscus and passion fruit extracts, creating and intoxicating scent. Luxury lovers will adore the frosted glass bottle and rosy hue the pink sea salt lends to this beach in a bottle.
5. Captain Blankenship Golden Waves Sea Salt Shimmer Spray
Saving what is maybe the best 'til last, this liquid sunshine is a more summery twist on Captain Blankenship's already popular Mermaid Sea Salt Spray. While the golden glitter looks more club than beach in the bottle, once sprayed into hair is gives is a subtle glimmer that only reveals itself when caught in the summer sun. Sea salt isn't the only piece of ocean magic you'll get in this formula too, as organic sea kelp extract treats both hair and scalp to a dose of minerals and vitamins. The final texture is gorgeous; while you can build it up, it never looks overly matte or begins weighing down fine hair, it just creates a soft, bouncy tousle that stays throughout the day.
*Disclaimer: Help support EcoSalon! Our site is dedicated to helping people live a conscious lifestyle. We've provided some affiliate links above in case you wish to purchase any of these products.
Related on EcoSalon
These 6 Sustainable Sunglasses Don't Skimp on Style
OSEA Malibu is Bringing the Sea to Your Beauty Cabinet (Sustainably!)
4 Self-Tanners that Will Give You a Goddess-Worthy Glow