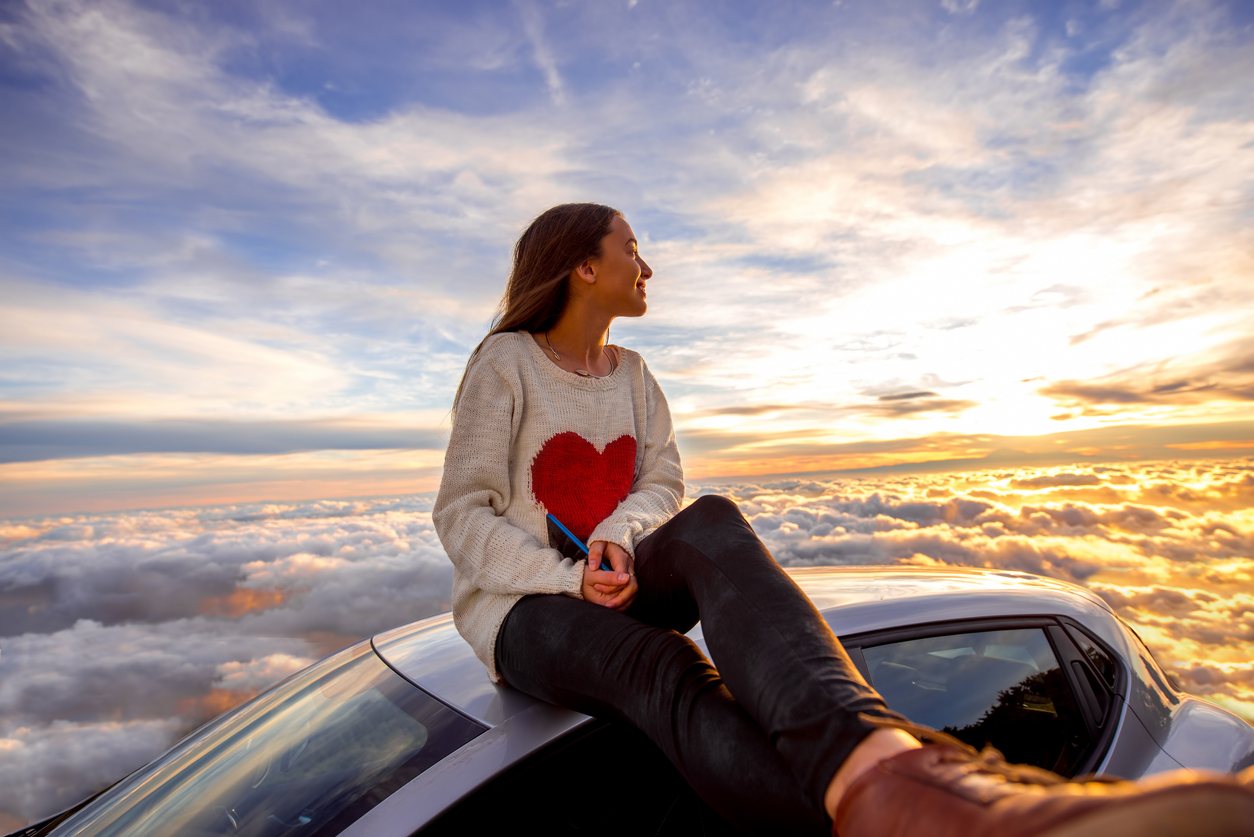 Whether you're celebrating Valentine's Day the traditional way, or prefer yours spent with pals, Galentine's Day style, we've got the goodies that you'll love to give and to receive. From beautiful accessories, to graphic tees with good messages, this specially-curated list will help you get in the mood to celebrate.
1. Flirt-tastic Floral Frock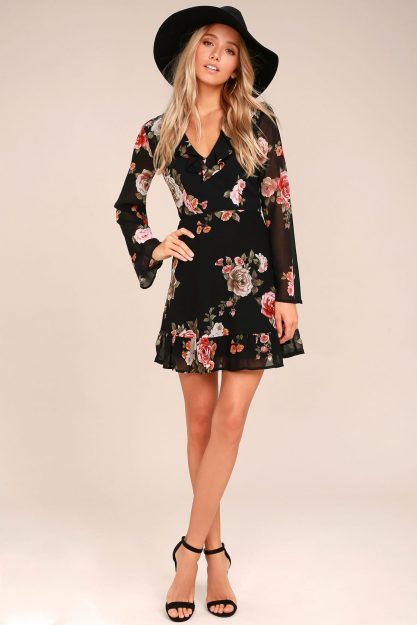 Whether you have a special date night planned with your lover, or you prefer to spend your Valentine's Day venturing out for a good time with your best pals, this boho-inspired frock will take you wherever you want to go. Great with tights and booties on a chilly February night, you'll love transitioning this dress through all seasons. We're loving this look with the wide brim hat for extra drama and style. Toss on a cross-body bag and a pair of heart studs to complete the look. Priced at $62.
2. Be Mine Crossbody Bag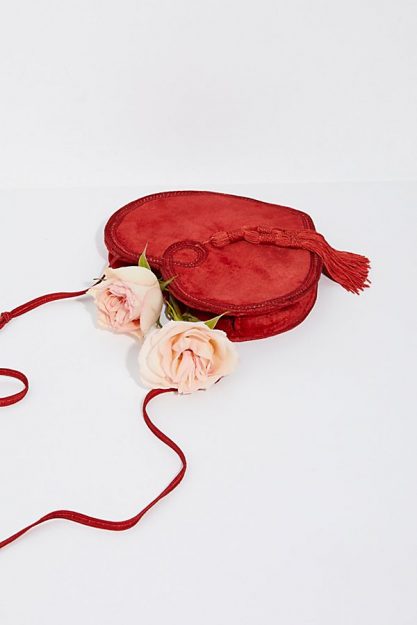 Wear your heart on your shoulder with this red velvet cross-body bag that's perfect for giving or receiving. You'll love pairing it with everything from jeans and a lacy bodysuit, to your favorite little black dress. Great for a pop of color and whimsy, this purse can be used on or around Valentine's Day and beyond. If you decide to gift it (besties, girlfriends, moms, sisters, and aunts would all love this, by the way), then consider stuffing it full of their V-day faves, like gourmet chocolates, makeup, flowers, and nail polishes, before wrapping it up. Priced at $68.
3. Love Thyself Graphic Tee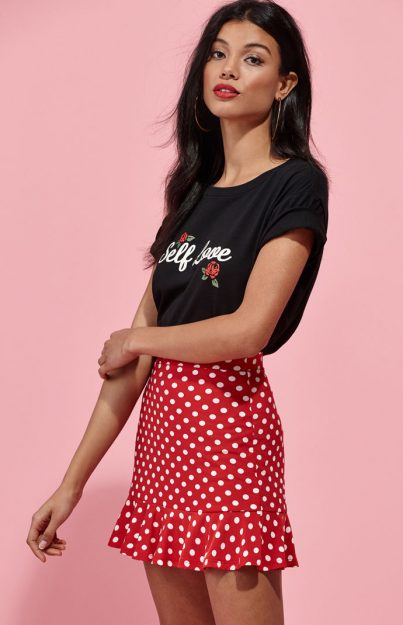 Self-love is in the air! Show yourself some L-O-V-E by picking up this gorgeous graphic tee. Whether you snag one for yourself, or want to gift it to all the special people in your life, the message is real. A great reminder to not get discouraged if you don't have a date this year, because, honestly, there's nothing like some R&R at home by yourself–wine included–and now you'll have a cool new tee to do it in! Wear this top with your favorite skirts for a fun casual chic look, or toss it on with jeans and booties and head out for the day. Priced at $24.95.
4. Amore Amethyst Necklace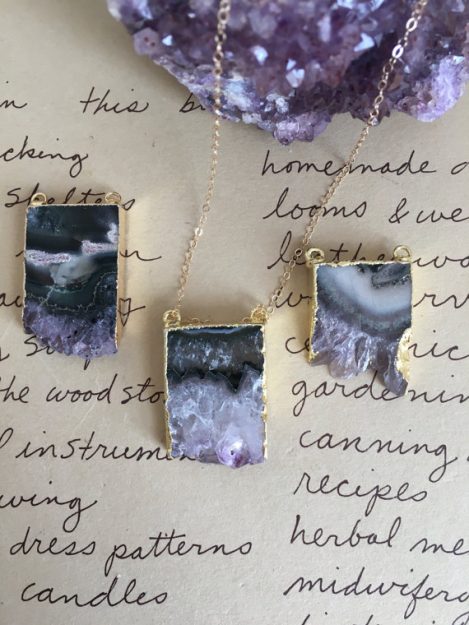 Valentine's Day is a commercial holiday intent on selling you a cookie cutter pendant from a big box jewelry store. However, we say screw that idea and get yourself, or that special someone, something that's truly unique. With no two alike, you'll love the uniqueness that natural stones offer. This raw amethyst necklace has a perfect mix of ultra violet, white, gray, and gold to go with your favorite outfits for V-day and beyond. A year-round piece that will never go out of style, the timelessness of this beautiful necklace will be appreciated for years to come. Priced at $49.99.
5. Prima Ballerina Skirt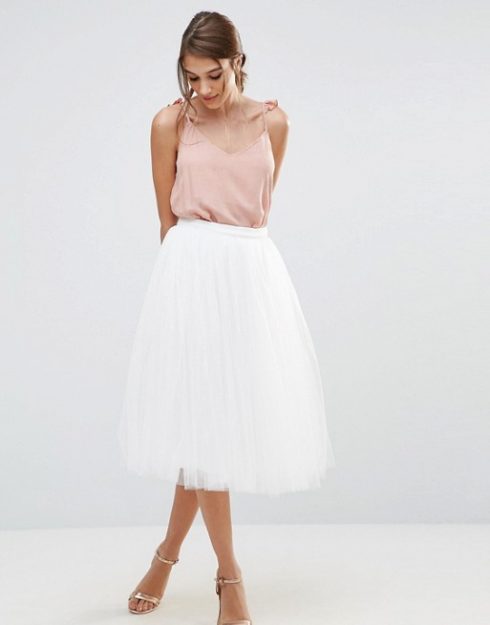 Steal the spotlight wherever you go in this ethereal tulle skirt that's ideal for dressing up or down. Reminiscent of the graceful ballerinas perfecting their pirouettes, you'll feel like a sugar plum fairy while wearing this graceful white midi. Whether you decide to pair it with a silky top, as pictured, or prefer to put your own spin on it by sporting a graphic tee or leather crop jacket, rest assured, there are plenty of ways to style this versatile piece for Valentine's Day. Go all in with ankle tie heels, a fitted long sleeve top, a statement necklace, and a low messy bun. Priced at $67.
*Disclaimer: Help support EcoSalon! Our site is dedicated to helping people live a conscious lifestyle. We've provided some affiliate links above in case you wish to purchase any of these products.
Related on EcoSalon
4 Single Ladies Valentine's Day Party Ideas
9 Last-Minute Personalized Valentine's Gifts Perfect for V-Day
5 Sweetheart Styles for Valentine's Day: Friday Finds