Consider these six EcoSalon-approved sunscreens for a safe summer glow.
Our relationship with the sun can be akin to hanging out with an ex-boyfriend or girlfriend. There was a time when he or she warmed you to the tips of your fingers. But if you let your guard down, you were toast. Consequently, it's time for us to rise up and reclaim our defenses, and keep our outer layer of skin intact. The essential rules to sun care are simple. Hats, clothing, and shade are key in your defense against ultraviolet rays. Sunscreen remains an essential component in preserving our skins, but we have to be careful with which brands we're slathering on.
Foremost, do not be lured into a false sense of security of sunscreen – aka spending the entire day in the sun with only one application, then expressing bewilderment that you're burned. Be sure to reapply it every 90 minutes while you are in the sun, more if you are sweating or swimming. Look for both UVA and UVB protection. (Ultraviolet A is linked to skin cancer, while ultraviolet B causes sunburns.) And be sure to investigate whether its ingredients are as clean as you can get.
And finally, consider these six EcoSalon-approved sun products this summer.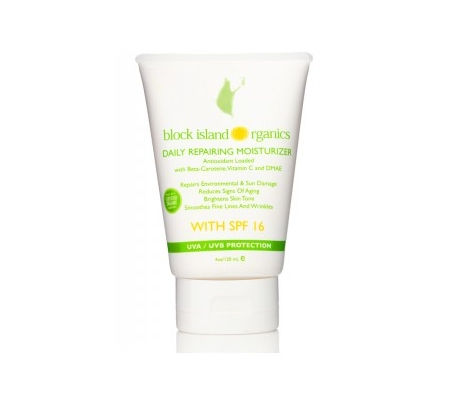 Daily Repairing Moisturizer SPF 16 by Block Island Organics ($49)
This vegan-formulated moisturizer makes a great first line of defense against the sun. Made with certified organic ingredients, it offers both UVA and UVB protection. Best of all, it goes on light and absorbs as quickly as any regular moisturizer. Containing a light SPF, it's a good choice for both face and body.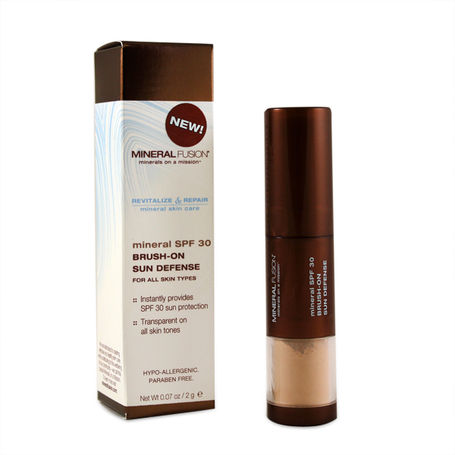 Brush-On Sun Defense SPF 30 by Mineral Fusion ($19.99)
The golden rule of sunscreen is that is must be reapplied throughout the day. And who likes to continually spackle on more product after already applying makeup? Mineral Fusion's Brush-On Defense is a great solution for reapplication during a normal workday. Offering up a 30 SPF through its powder protection, you can literally sweep an SPF onto your face throughout the day in a convenient, self-contained applicator. It contains translucent powders good for all skin types. It is free of gluten, parabens, talc, artificial colors, synthetic fragrances, SLS, and phthalates. Further, the company utilizes wind power and recycled packaging.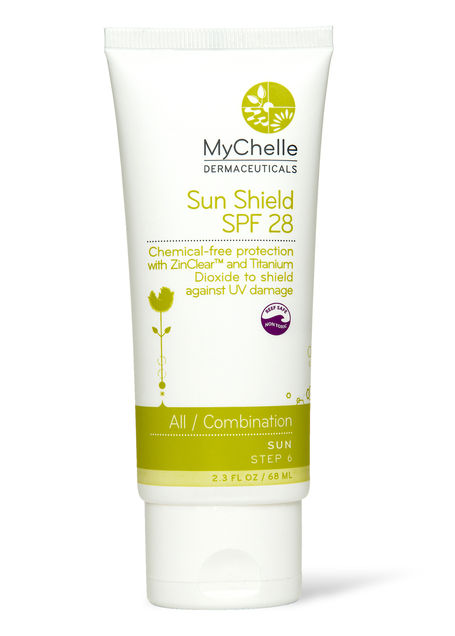 Sun Shield SPF 28 by MyChelle Dermaceuticals ($19.19)
Vegan-friendly and gluten-free, this mineral-based sunscreen offers up a full spectrum of UVA/UVB sun defense. Like all the sunscreens featured here, it does not contain any retinyl palmitate, a common mainstream sunscreen ingredient which is now believed to speed the damage of skin exposed to sunlight. Cruelty-free, its box packaging is printed on 100% post-consumer paper.
Plant UV SPF 30 Face Moisturizer by Coola ($42.00)
The latest entry from organic sun care experts Coola, this product has been developed with naturally-protective plant cells such as anti-inflammatory lilac leaf. This 70% certified organic product contains a trademarked plant protection element which is said to boost its sun protection elements. Cruelty-free, this product is biodegradable/reef-friendly and arrives in a box "powered by wind."
Clear Face Sunscreen SPF 30+ by Loving Naturals ($12.99)
This vegan sunscreen goes on thick but absorbs quickly. It offers up high-protection SPF while blocking both UVA and UVB rays. Loving Naturals takes pride in their product being non-nano, which means that its mineral protectors are unable to penetrate the deeper layers of the skin. Nanoparticles are commonly used in mainstream cosmetics and are believed to deliver questionable ingredients straight into your system. This sunscreen contains 100% natural ingredients.
Facial Sunscreen SPF 30 by Goddess Garden ($17.99)
Mineral sunscreens protect your skin by employing non nanoparticle-sized zinc and titanium. They are generally thought to be safer than chemical sunscreens containing ingredients like the hormone-disruptor oxybenzone. (However, if you don't like mineral products, look for avobenzone.) This 92% organic sunscreen from Goddess Garden offers up SPF 30 broad-spectrum UVA/UVB coverage without the use of chemical sunscreens. It provides an intense moisture and is also biodegradable and "reef-safe," meaning it won't contaminate any environments you happen to swim through.
Check out some of our previous looks at sunscreens:
7 Favorite Green Sunscreens
Best Body Sunscreens
Best Face Sunscreens
Image: juicyverve