Maybe you're ready to hit the ground running with spring's new fashion trends but are concerned about the ecological impact of your wardrobe overhaul. From vibrant neons to statement stripes, there are several new looks on the list that, if acquired, could potentially put a dent in your wallet and on the world around you.
Fortunately, you can incorporate these popular pieces without forfeiting your fashion fantasies. With some ingenious DIYs and invaluable tips, we'll be sharing different ways to green your favorite spring trends. Be sure to use this guide in tandem with this post, so you can make the most out of your endeavors.
1. Romantic Lace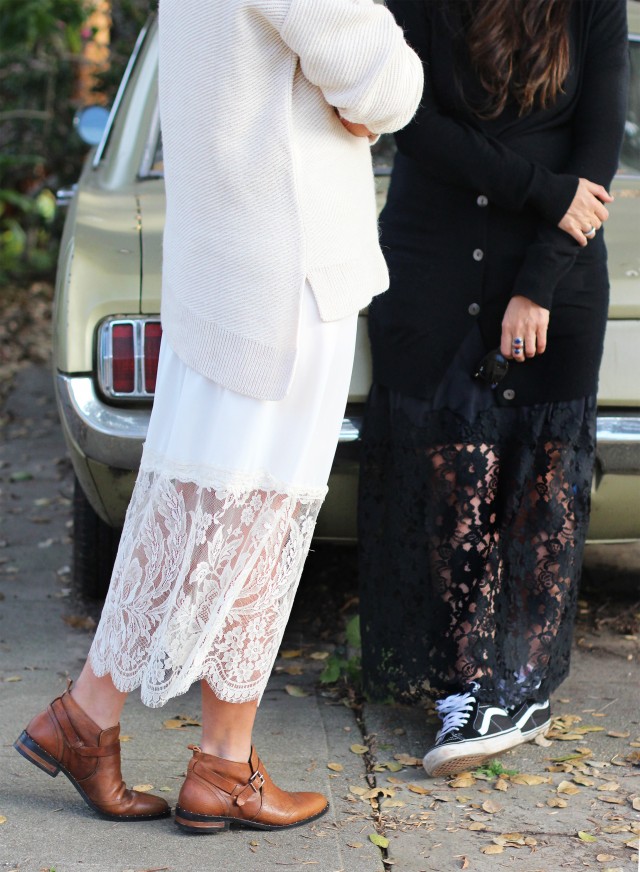 This trend is all about the soft and feminine side of things contrasted with something edgy. One way to achieve this is by sifting through your closet to find pieces that you could add lace to. A pencil or midi-length skirts would be perfect candidates for a revamp. Plus, you don't even need to buy brand new lace. Check thrift stores for lace pieces or the fabric store for remnants. And take a cue from Honestly WTF on how to turn a basic slip dress into something fabulous. Toss on a faux leather jacket to complete the look. 
2. Stenciled Stripes
Bold black and white and colorful stripes are trending for spring. Luckily, this look is easy to recreate. By using some painter's tape on an old tank or t-shirt, you can breathe new life into a stale piece. I Love to Create has a simple and easy tutorial on doing exactly that. We could also totally see this turning into vertical stripes on a plain, flat front skirt, or even as a horizontal detail across a pair of jeans.
3. Customized Bra Tops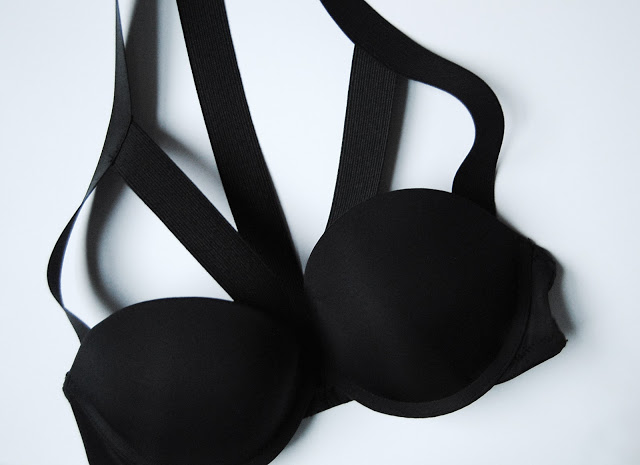 We're totally predicting that this trend is going to spread like wildfire over the next few months, so be sure to get your mitts on some bralettes and bra tops that you feel great in. For this particular look, we suggest repurposing a sports bra by pairing it with your athleisure looks—you can even add lace embellishments to the cups and band for extra special personalization. Nevertheless, sporty undergarments are in, as are simple bra tops that resemble your basic shelf-style or wrap around bikini tops which could be worn in lieu of buying something new. If you already have a black bra lying around, and are feeling inspired, the cage bra tutorial from Hello Gwen is a must-see!
4. Crafty Florals
Bold florals are taking the fashion world by storm, and with a little patience, you can turn everything solid in your closet into a garden party garment in no time. Fabric paint, a few homemade stamps in different shapes, and a small brush for adding details can easily fill an entire skirt, or small sliver of clothing, like a collar and cuffs, with plenty of flowers. The tutorial from Mr. Kate is a great jumping off point for getting your ideas out of your head and onto the canvas. Oh, and it uses a thrifted white button down, too.
5. Peek-a-Boo Shirting
Ah, yes, the button down shirt. A wardrobe staple that is always evergreen means it probably won't be difficult to get your hands on one or two or ten of these. Heck, you can even raid your man's closet—we won't tell!—because oversized is in, as is a fresh take on cut outs. Take the tutorial from Plan B, for example. It features cool, no-sew cut outs that you can add to any button down.    
6. Revamped Athleisure
With an '80s/'90s street-inspired jumpsuit and tracksuit vibe happening on the runways, you might be able to pick up a few interesting finds from thrift stores. Otherwise, you can definitely DIY a few pieces. Color is in, so freshen up your solid leggings with a vibrant geometric stencil and some fabric paint like The Pretty Life Girls did. Tie in your tops by using a hint of the same pattern somewhere on the front or back. Repurpose thrifted t-shirts by turning them into tanks, or if you're handy with a needle and thread, add some colorful patches and fabric details to your current collection.
7. Neon Dye
This fun new trend has a lot of potential. Bright, bold, and unapologetic, neons have a place in a spring or summer wardrobe. With some naturally sourced dyes, or store bought if you really want that blinding shade of yellow, then you'll be well on your way to creating a unique masterpiece. Look for sheer tops in light colors that will take dye easily. Round up white clothing, like dresses, skirts, and even pants, which can usually be found—and spotted easily—in the sea of second-hand colors. Play with the dye process. Dip dye, tie dye, or ombre, rather than saturate the whole thing like she did at Itty Bitty Impact. That's turmeric, by the way!
Which of these DIY hacks are you going to try first? Share your thoughts on the EcoSalon Facebook page!
Related on EcoSalon
7 Surprising Ways Clothing Affects Your Life (Not Just Your Look)
5 Pieces Inspired by Pantone's 2017 Color of the Year: Friday Finds
Clothing Swap 101: Everything You Need to Know to Host Your Own