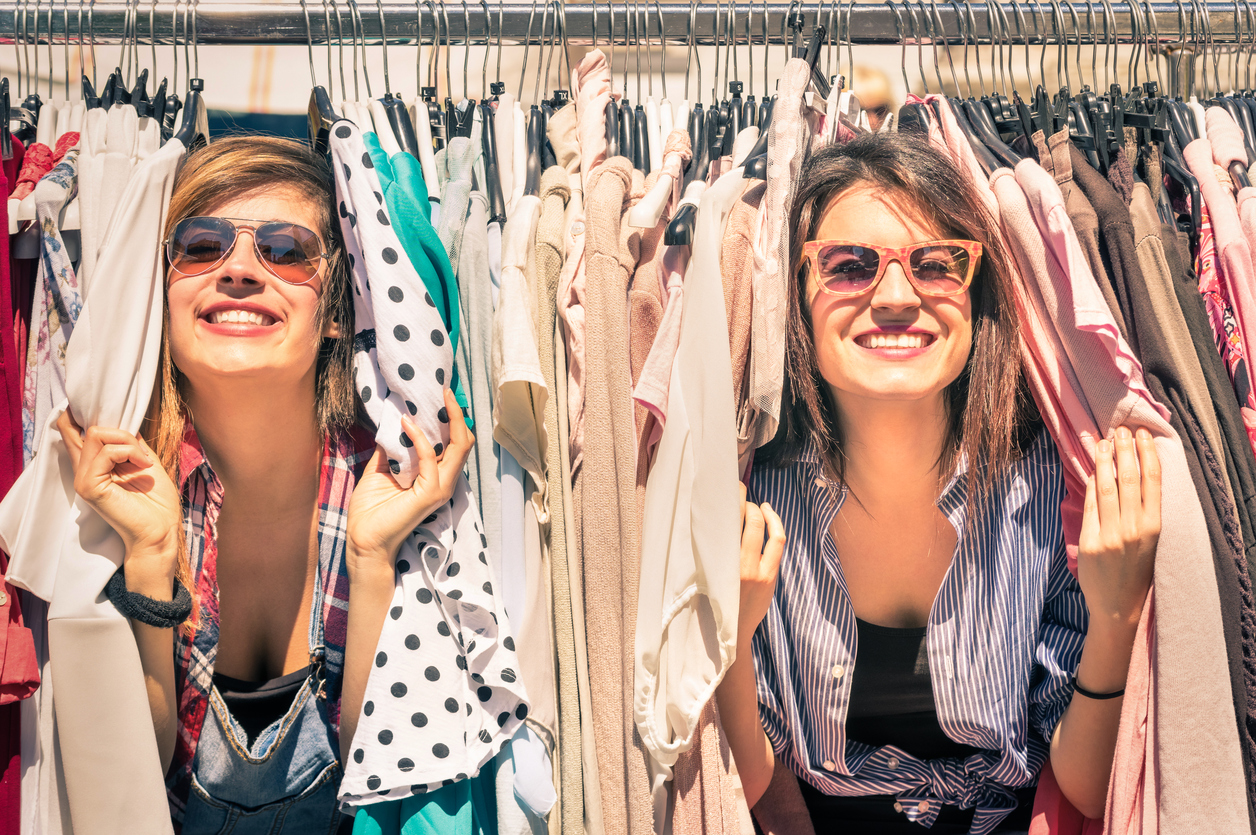 If you've ever fantasized about scoring designer duds or great looking clothes for free, then a clothing swap party is your dream come true!
Imagine clearing out your closet only to make room for pieces that fit your persona even more than the last. Believe it or not there's actually a name for that, and it's called a clothing swap. Women (and occasionally men) get together and bring their finest duds (and sometimes accessories and household goods, but more on that later) in order to trade with their friends and family, scoring some seriously great looking stuff.
Oh yeah, did I mention it's free?!  
A clothing swap party may be something you've heard about, but never experienced, or something you've attended, but never thought you could host yourself. And even if holding a shindig isn't in the stars for you, you'll at least know all the ins and outs if you ever find yourself as an invitee.
In order to give you the best advice possible, I've teamed up with not one, but two fabulous expert swappers who were kind enough to share their experiences and tips on how to have a stellar clothing swap (or be one heck of a participant).
Why Swap Clothes?
The Council for Textile Recycling reports that textile waste accounts for five percent of all landfill space, and that the average citizen throws away 70 pounds of clothing and other textiles each year. In an attempt to combat this travesty, clothing swap parties have become a viable way to not only reduce waste, but to curb fast fashion spending while also saving you some serious money.
On top of all that already great stuff, it's also the perfect excuse to get together with your girlfriends! Taryn Hipwell, founder of Beyond the Label, and clothes swapper aficionado, fondly recounts one of her first party experiences.
"I remember the first time I heard about a clothing swap. It was about ten years ago," she says.
'By the end of the week I had already invited all my friends (and so did my sister). Twenty women with all different body types showed up. My sister and I lived in a two-bedroom apartment and we literally had to lay out the clothing in every room on every bed, chair, table and inch of floor. There was wine involved. When I yelled 'Go!' there was a lot of running, shouting and half naked women ravaging through the piles of treasures."
What's Different?
At first glance this may not seem much different than hitting your local thrift store, but there's so much more to gain (and give) when you opt for a clothing swap party over secondhand shopping.
"When you surround yourself with others who share your values, you're more likely to maintain that momentum and let it impact other areas of your life as well," says Jill Ettinger, Senior Editor of EcoSalon, and expert clothes swapper. "When you hear a woman say how thrilled she is about something another woman was just hoarding in her closet, it really makes you feel happy for them both–the letting go and the joy of discovery are experiences we just don't get at Forever21. There's not just a sustainability aspect to swapping, there's a real magic to it as well."
Who Should Go?
Not everyone is going to be the same size at a clothing swap party, which is why it's important to diversify your guest list so that the size 4, size 8, and size 12 have others to exchange with. Choose trusted members of your circle, or create a Facebook or Meetup clothes swap group as Jill suggests. She says this way "you can announce your needs ahead of the swap, like 'really looking for a pencil skirt, size 8,'" and hopefully your comrades will come through before the event.
It's up to you whether you want it to be a girls only night or a co-ed event, but inviting people who understand the rules set forth for your particular party is a must. In addition to following the rules, you may find that you break some of your own. As Jill pointed out, "What's also nice is that a same-size swapper might have a different style than your normal go-to style, which can encourage you to be a bit adventurous and try on a new look."
What Should I Bring?
Opinions may differ greatly when it comes to this question, so ultimately it's up to you as the host to set forth what is desired, or the swap's theme if you're just attending. Sometimes it's clothes-only, other times accessories, shoes, and handbags are allowed, and some swaps are free-for-alls when it comes to the theme.
Taryn has this mantra, "Some people may request that you only bring gently used clothing in good condition. I encourage people to bring the good, the bad and the ugly too." She has a ritual of donating the leftover clothing from the swap, and if it's unwearable, it goes to a place called I:CO (or I Collect) where "the bad and the ugly can be ground up and made into carpet padding and insulation."
Jill feels much the same way in that if it's not in great condition, then you need to have a plan for how to properly donate less than savory items (or be kind to your host and leave them at home). She says, "While there may be slight differences or rules to a swap, generally you want to bring your best stuff. If it's ripped, stained, or just a completely exhausted piece of clothing, turn it into rags or another DIY, rather than landfill it."
And she notes it's important to try and fine those alternate uses for unwearables rather than pack them up for a Goodwill run.
"Don't send your tattered un-wearables to thrift stores, either," says Jill. "Because the fast fashion industry is producing so much low-quality stuff, thrift stores are over capacity and often with the unwearable, ripped, and stained stuff."
You'll be happy to know that that season doesn't matter, so bring those sweaters in the spring, and tanks in the winter. If it's a great piece, the weather won't affect its tradeability.
Where Should I have It?
Both Taryn and Jill have expressed that solo hosting can be tough — there's a lot of prep involved — so if you're going to have it at your house, which is a great (and free) option, then you may want to turn it into a co-hosted clothing swap party. Setting everything up can be a bit much, but if you think of the community building, friendship nurturing, and do-gooding that's being forged by your efforts, you'll probably find that it's totally worth it.
Taryn suggests being super organized by creating space for piles, moving furniture, and making signs for different categories, like pants, skirts, jackets, etc. She also recommends including liberal amounts of wine — not only is it the perfect ice breaker, but it can really get your guests feeling giddy and excited. Rock, paper, scissors is something she's familiar with utilizing during a swap, as it can be the deciding factor when two women want the same thing.
Jill recommends using social media to get the word out about your event, and to give guests time (around three to four weeks) to clear their schedules. She says eight to ten people are needed to comprise a successful home-based swap, but you can have large (100+ people) swaps at community centers. Whatever you decide, don't forget the refreshments, and some time to shop for yourself — like Jill says, "Nothing's worse than hosting a swap and not coming away with something special for yourself!"
Swap During the Holidays?
The holidays may be a busy time — perhaps too busy to plan a clothing swap (although this seems like a great family gathering theme in lieu of presents), but as Jill pointed out, these events are superb ways to kick off the New Year. Host yours in January so you can clean out that closet (resolution #1), work on being more stylish (resolution #2), and save some money (resolution #3).
Taryn has great suggestions on how to turn a holiday clothing swap into a charitable event, so pre-plan for next year (or anytime, really). She recommends contacting your local shelter to create a swap based around others' needs, hosting a holiday party themed swap to collect prom or homecoming dresses for girls who need them, or having a business clothing themed swap for an organization like Dress for Success.
There you have it, friends — here's (almost) everything you need to host your very own clothing swap. That, or be one heck of an awesome attendee. Let us know your thoughts on the EcoSalon Facebook page!
Related on EcoSalon
8 Irresistible Green and Glam Clothing Swap Websites
Fruit Leather Handbags Are Reducing Food Waste in Style
ONO Creations: Stunning Vegan Handbags and Accessories Made from Cork Leather