Still need some great Christmas decorating ideas? We've got several hacks that will reuse, repurpose, and incorporate sustainable materials and methods — all while looking fabulous!
Not to sound like a total Scrooge or anything, but it's probably important to know that according to the EPA, "the volume of household waste in the United States increases 25 percent between Thanksgiving and New Year's Day – about 1 million extra tons." That means it's up to us to reduce the amount of waste we produce this year.
But don't worry, it's a lot easier than you think. Not only does the EPA have some seriously good ideas on how to accomplish this, but we have the scoop on sustainable decorating ideas that will help when excessive waste is at its peak. Fortunately, when it comes to decorating ideas, you don't have to skimp on the festive touches around your home — all it really requires is a little bit of creativity and some elbow grease to accomplish these DIY ideas. Don't believe us? See for yourself!
Tree Ideas
If you want to avoid chopping down a healthy tree this year, and opt out of buying better, yet still full of harmful chemicals, fake trees, then choose a hip DIY version.
1. Chalkboard Tree
Have a chalkboard wall in your house? Need an excuse to have one? Well, your Christmas wish came early this year, because we can't recommend this sketched tree and vintage light accompaniment enough. The possibilities for this are endless, and doesn't have to stop at Christmas. Thanks to A Goode House for the inspiration.
2. Repurposed Ladder
Pull out that old wooden ladder and get to decorating. Use vines, lights, pine cones, burlap, and even some ornaments to recreate this rustic, shabby chic "tree" a la Funky Junk Interiors. The best part is that when it's not lighting up your life, you can still keep the ladder around for its intended use.
3. Scrap Wood Tree
Who knew trees made from scrap wood could be so stunning? Simple, yet impactful, these Christmas trees use leftover wood to mimic the real thing. Although lacking in the green and bushy department, it's still very warm, inviting, and seriously festive. Plus, it can be used year after year. Check out A Beautiful Mess for the blog's Christmas tree DIY.
Garland Ideas
Deck your halls with strands of beautiful handmade garland. Ranging from natural fruit and spices to glistening rounds of leftover gift bags from Christmas past, then you'll adore these ideas.
4. Food Garland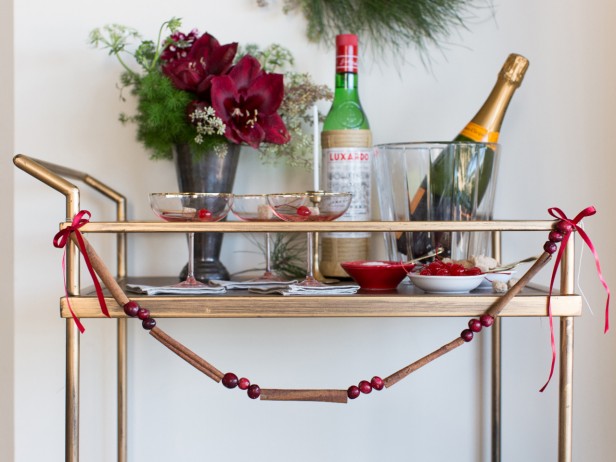 Cooking Channel TV has some super cool ideas for food-based garlands that can be composted, munched on, or repurposed when you're through. The contrast of the popcorn and black licorice strand looks very modern and hip, the orange slices appear very fresh and lively, while the cinnamon stick and cranberry pairing lends a traditional Christmas touch. It's hard to pick a favorite, so we'll let you be the judge!
5. Pine Cone Garland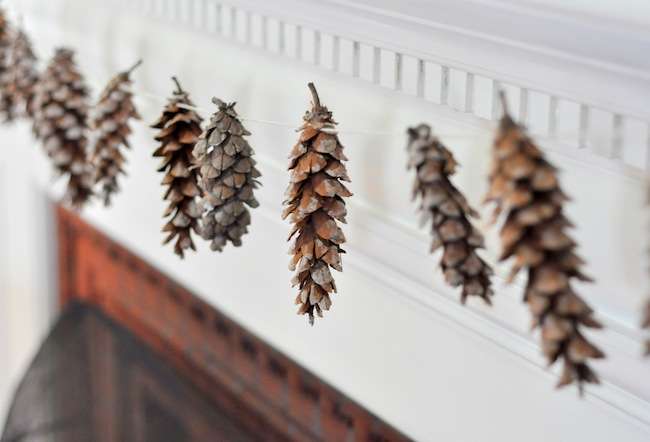 Pine cone garland is beautiful, rustic, and practically free! Hop on over to Bob Vila for instructions on how to make some of your own. From how to prep them (cleaning and baking) to how to hang them, they've got you covered. Make it as full or as sparse as you'd like and get creative — a dusting of gold leaf would add a festive touch.
6. Upcycled Garland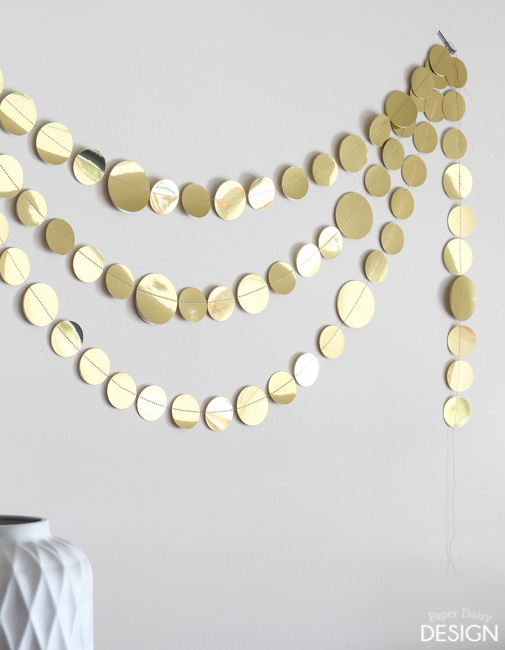 Use the tutorial at Paper Daisy Design if you want to sew your garland, otherwise just glue them together, plain sides touching over a piece of string, twine, or thread. She uses store bought paper, but you can easily use old book pages, leftover holographic gift bags, or wrapping paper scraps.
Gift Wrap Ideas
The gifts under your tree can add a lot of pizazz to your overall Christmas decor aura. Whether you choose fabric or paper, there's an option for each, with some embellishment tips to boot.
7. Cloth and Fabric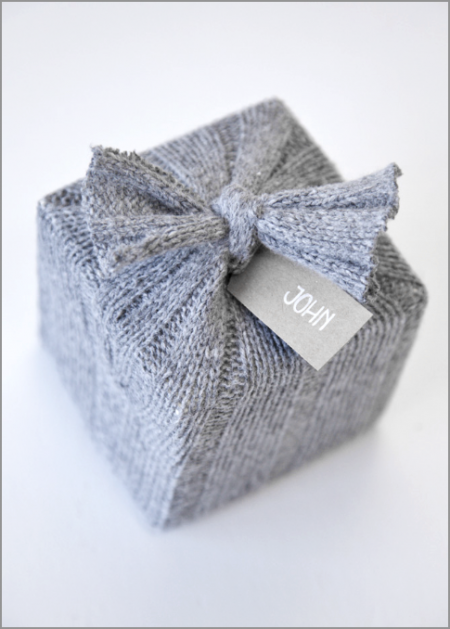 Use the furoshiki method that originated in Japan and you'll be able to use things like cloth dish towels, bandanas, upcycled fabric scraps, and even old sweaters (like the beautiful gray cable knit seen over at Boxwood Clippings) to bundle up your gifts.
8. Natural Embellishments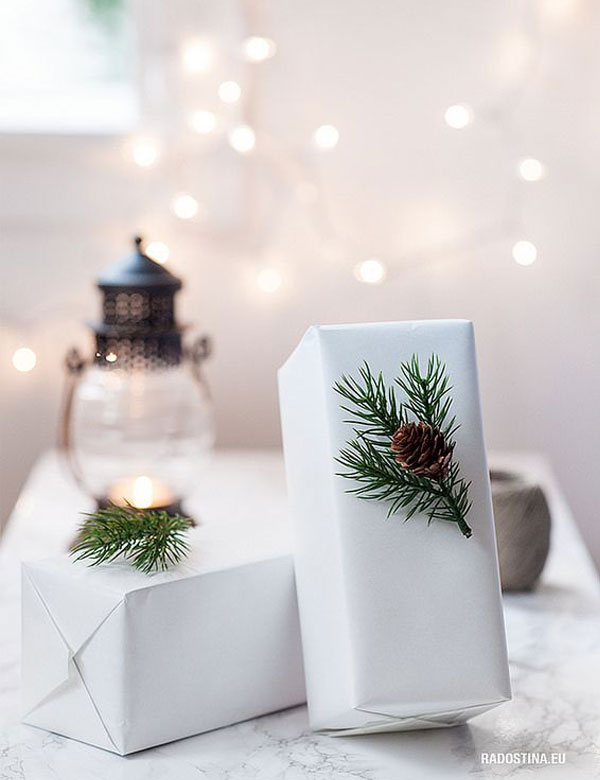 Green clippings, twigs, pine cones, twine, and burlap make for beautiful decorating ideas. Gather your embellishments from your own back yard and take a moment to relax while you're out there. Absorb all of the great examples and load up your inspo arsenal over at 79 Ideas and My Cozy Retreat.
We hope you've enjoyed our sustainable, and sometimes unconventional, Christmas decorating ideas! Let us know which ones you liked the best on the EcoSalon Facebook page!
Related on EcoSalon
These 7 Easy DIY Stocking Stuffer Ideas Don't Suck (for Gifts or the Planet!)
7 Simple KItchen DIY Ideas You Can Actually Accomplish Before the Holidays
7 Warm and Inviting Eco-Friendly Home Decor Pieces You Won't Want to Miss