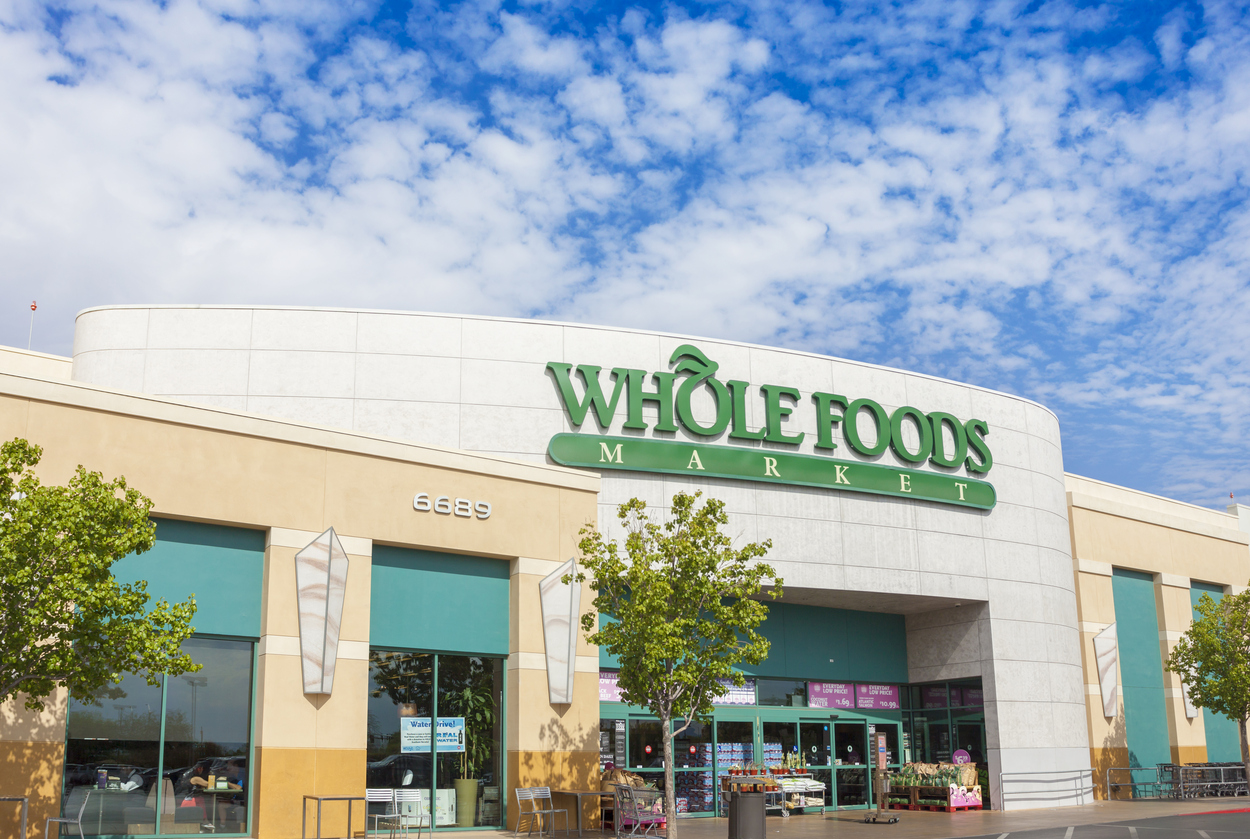 $13.7 billion. That's the "Whole Paycheck" number it took for Amazon.com to buy Whole Foods Market.
After more than thirty years as the leading natural food chain, Whole Foods Market announced earlier today that it would surrender its sovereignty to Amazon, the online retail giant. While the deal isn't done yet, and some experts speculate the offer could lead to an all-out bidding war over the chain, as of publish time, there were no other offers.
The jokes and Tweets about the sale have been entertaining. (My favorite, from Slade Sohmer, because the struggle is real:  "I, too, spend $13.7 billion at Whole Foods.")
Wall Street is loving the news – Whole Foods' stock is up 27 percent, Amazon is up three percent. But the news isn't so great for other retailers: Target opened down 12 points, Walrmart is down five, Costco down six and Kroger fell 15 percent, making it the worst performing S&P 500 stock of the day.
"If you're in the grocery business and your name is not Amazon or Whole Foods, today is not a good day for you," wrote Will Oremus in Slate.
Although Amazon built its empire online, it has been testing other brick and mortar stores recently, including an actual bookstore, with what seems to be a clear intent to merge the two worlds in ways that haven't happened yet. Amazon also recently tested a store without checkout clerks, but rather, an app that tallies up all your purchases as you exit the store, and your credit card is billed just like through other apps (Uber, Bambino Sitters, TaskRabbit, etc) without ever having to dump food in or out of a wobbly-wheeled cart. No lines. No price checks.
With the merger, we are, in all likelihood, talking about easier and more frequent online ordering and paying, Echos and Alexas in every Prime membership house to assist with the process, better and quicker delivery and access, and, sure, some iterations of drones, robot cashiers, and other Jestonsesque offerings our grandkids won't believe were preceded by the mundane weekly task of setting aside time for wheeling clunky shopping carts through bright store aisles.
But if you're everyone on the Internet, you're less concerned with all of that, and more fixated on the ETA for your Amazon Prime account to kick out your kombucha and quinoa via speedy sci-fi drone delivery. But what's really most exciting about this merger, even though I recently lamented the probable loss of Whole Foods' autonomy in a merger like this, is what it means for the plant-based foods category, which is also, as they say, having a moment. In fact, as far as our food system is concerned, in the long-term, it's immensely more significant than Amazon buying Whole Foods.
Jeff Bezos, Amazon founder, has been called "the smartest guy in business" (and quite possibly the richest, with a net worth of more than $82 billion). If you can remember back when Internet shopping was like a cold and murky pool no one but porn sites wanted to dip a toe in, Bezos set the bar in 1994 when he dove in with the launch of Amazon — then an online bookstore, now it's the world's biggest online retailer, and larger than Walmart when it comes to market capitalization. It's the fourth most valuable public business in the entire world.
And for the future of our food system, even for all its shortcomings, Amazon, at least with Bezos at the helm, is a lot more promising than Whole Foods selling to a traditional this-is-how-it's-always-been-done supermarket like Kroger or Walmart (although anything is still possible). Traditional supermarkets have long thought too inside-the-box, quite literally. They have deep ties to the processed foods industry, namely the sugar, meat, egg, and dairy industries, even when they're trying to be more like Whole Foods.
Mackey's vision pushed to much success the idea that healthy "whole" food can be delicious food, too. That choosing products better for the planet doesn't mean sacrificing taste or (too much) money. And most critically, it gave mainstream focus to "alternative" food, notably making vegan staples less the scary hippie wheat-germ-and-sprouts stuff of the 1970s and more the delicious and versatile sustenance it is today — it is the diet of choice enjoyed by former presidents and Beyoncé, after all.
The booming plant-based category, which has been called the most important trend in the tech industry, is an area so ripe and juicy that only a merger of this magnitude can accommodate it appropriately.
"Whole Foods has for many years represented the leading edge of plant-based foods, and CEO John Mackey has been a powerful ally for companies producing healthy, humane, and sustainable foods," says Bruce Friedrich, executive director of the Good Food Institute, which supports the growth of the plant-based categories. "It's wonderful that Mackey will remain at the helm and that Amazon and Whole Foods – both innovators in their respective spaces – can now be partners in creating an improved future of food."
Mackey is a longtime vegan (he recently penned a book about the diet) and Bezos was an early investor in Impossible Foods, one of the leading startups creating plant-based meats that taste and perform just like animal meat. Impossible Foods is poised to produce one-million pounds of its plant burgers a month in its new northern California facility. At a recent launch event of the Impossible Burger at the Umami Burger chain in Los Angeles, Impossible Foods founder Pat Brown said the company plans to see its burgers in major fast food burger chains in the very near future. The company wants to become half of the meat market in the next few decades. The impact of a shift like that sends ripples throughout the food system, and something only visionaries like Mackey and Bezos can translate into the retail space. It's inevitable. With meat (and egg and dairy and seafood) production topping the lists of both global greenhouse gas emissions and diet-related illnesses, consumers are desperate for alternatives.
"If I owned stock in innovative vegan food companies (which I don't) I would be *very* excited by today's news," the blog Vegan.com posted on Facebook. "Whole Foods + Amazon is an entity that could disrupt the entire grocery industry, and much of this disruption is likely to come at the expense of the crappiest processed foods and animal products."
Consumers, namely Millennials, are pushing against the big-ag agendas and driving the plant-based industry growth. Nondairy milk sales are skyrocketing (sales are expected to surpass $21 billion by 2022, taking a 13 percent market share of the dairy category) while conventional milk sales lag (except for organic/grass-fed).
While not quite there yet, the plant-based protein category is poised to see the same trajectory as nondairy products over the next decade, perhaps even more so. According to a recent survey conducted by Lightlife Foods, two-thirds of Americans find plant proteins just as satisfying as animal protein, and they're proving it by eating plant-based protein at least once a week. Somewhat surprisingly, the top reason consumers in the Lightlife survey cited for eating plant protein isn't the health benefits, the animal welfare, or the decreased environmental impact – which are all key factors driving category growth — but it's the ease of preparation of plant-based foods that's turning so many meat-eaters toward plants. (Plant proteins don't require the levels of safety or cooking temperatures animal products require.)
With the success of products like Beyond Meat's Beyond Burger, which is strategically (and brilliantly) merchandised in the supermarket meat aisle even though it's entirely plant-based, and companies like Memphis Meats exciting the category with meat products made without any animals, it's clear consumers want plant-based products to help them reduce their meat intake. They want to eat healthier and more ethical foods whenever possible. There's absolutely no reason to think Amazon would veer away from that. It could have purchased any retailer. It chose the one shining a light on a better food system. It's clearly invested in turning consumers away from not only the processed junk and sugary soda offenders, but the animal products clogging  up our arteries, air, and ethics.
Earlier this week, the Plant Based Foods Association, the trade organization for the plant-based industry, announced the launch of a Research and Education Fund solely focused on supporting the marketing and merchandising efforts for the category. Its goal is to help supermarkets and other retailers better serve the target customer in finding and purchasing plant-based foods. And, at least for the foreseeable future, while consumers are sure to move some purchases online, many are still going to visit supermarkets to buy these things.
There's a visceral, necessary experience in walking through those market aisles that online shopping can't replicate (yet). And with a category as robust as plant-based foods, customers want to stand in the aisles and marvel at it all while stocking their carts. It's an essential part of the process. Amazon, it seems, finally understands the value of this. (It's $13.7 billion.)
Find Jill on Twitter and Instagram
Related on EcoSalon
Dr. Oz Just Called the Vegan Diet the 'Single Biggest Movement of 2017'
Will the Vegan Diet Win an Oscar? Two Academy Award Winners Partner on 'Game Changers' Documentary
UC Berkeley Now Teaches a Course on Plant-Based Meat