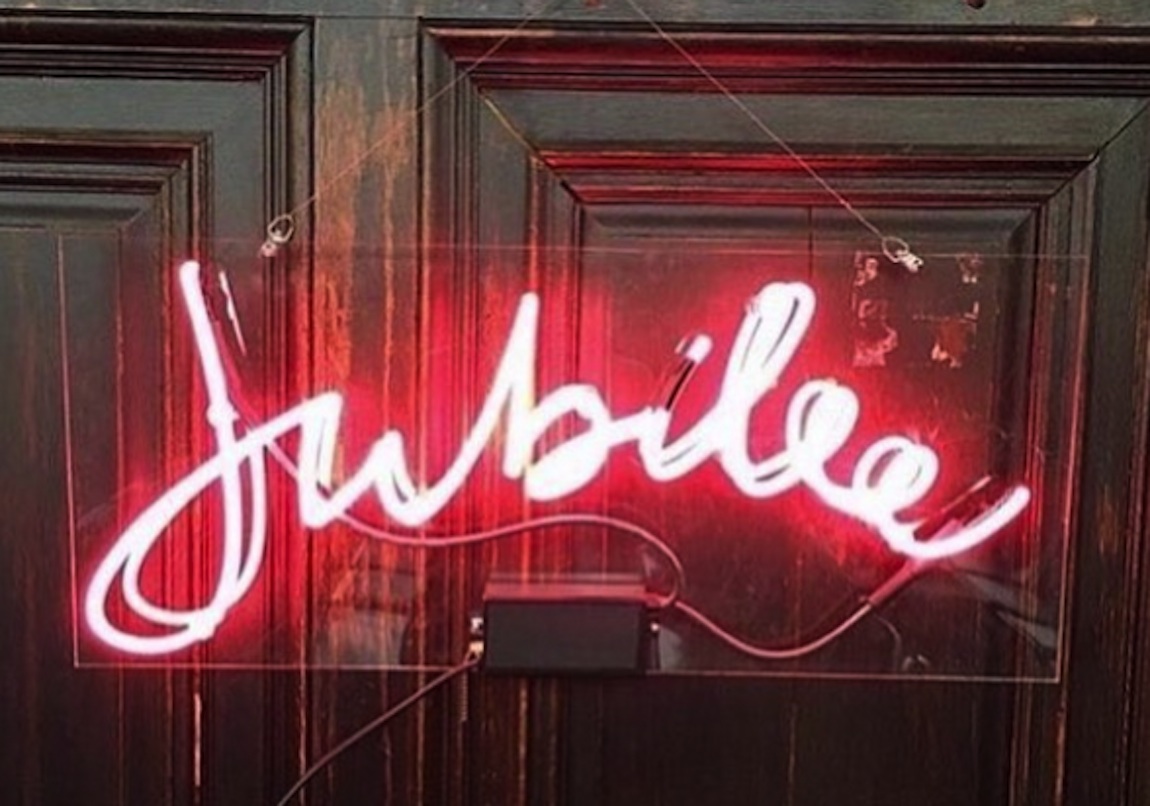 Cherry Bombe, an indy magazine and radio show that celebrates women and food, hosted their first west coast jubilee conference in San Francisco last Saturday, October 14th.
The sold-out event was hosted within the gorgeous grounds of The Palace of Fine Arts. Highlights included conscious food and drink from local and sustainable purveyors, networking opportunities, and a plethora of female talent in the form of panels, speakers, and attendees. Although fun and engaging, the conference did not gloss over the looming political and environmental issues at large. The raging wildfires in California, appropriation, sustainability, and female activism were all addressed at length. Yes, the conference was inspiring. And yes, it was fun, dynamic, and pink. But most importantly, the Cherry Bombe Jubilee was unapologetically relevant.
The morning began with an hour of light-hearted networking and nibbling. Upon receiving their pink wristband and hot pink envelope upon check-in, attendees were free to graze the breakfast stations. Options included fresh fruit from Imperfect Produce, an array of bread options from La Brea Bakery with various accoutrements provided by local businesses, mini bread puddings from Minnie Bell's Soul Movement, and a selection of Kite Hill non-dairy hors d'oeuvres, such as "cream cheese" cucumber canapes and "yogurt" parfaits. San Francisco favorite, Nightbird, also provided elaborate mini toasts topped with scrambled egg, lardo, green sauce, and caviar. An endless supply of La Croix, Health-Ade Kombucha, Smith Teamaker tea, and Counter Culture Coffee espresso drinks and drip coffee kept everyone energized and hydrated.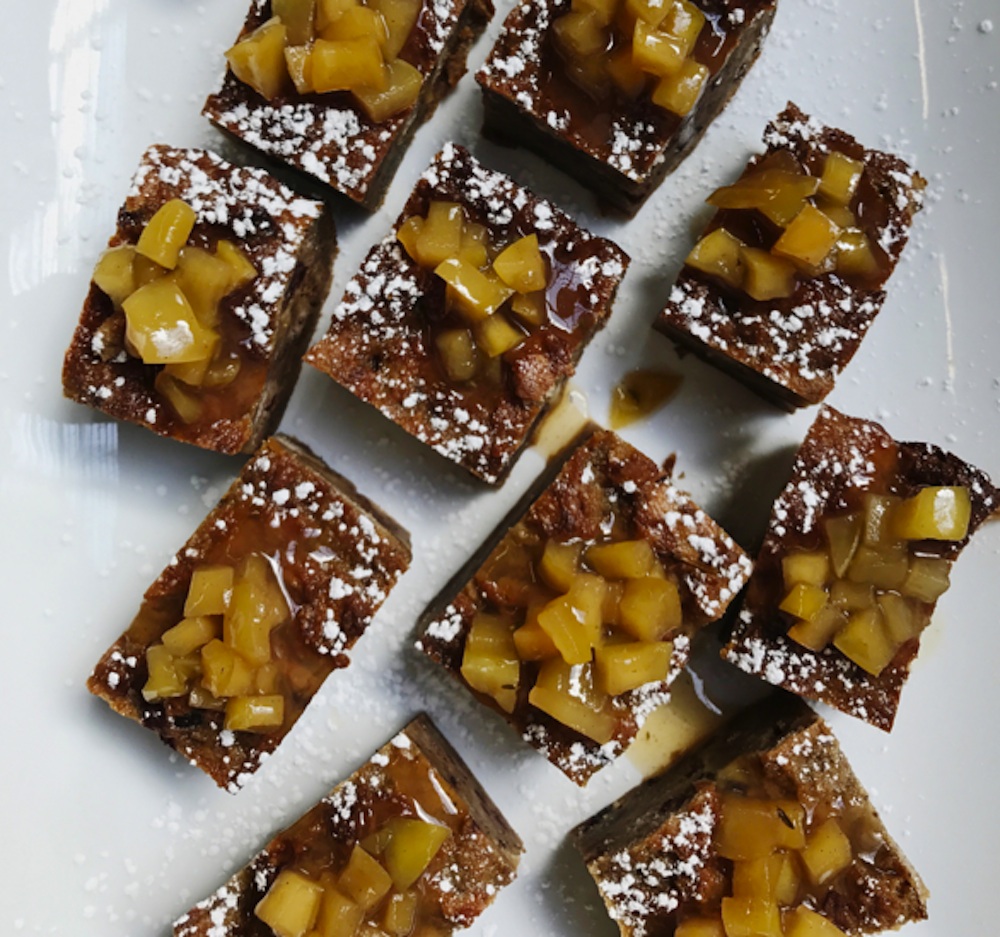 Fully satiated, the guests made their way to their seats. Cherry Bombe co-founder Kerry Diamond and Claudia Wu welcomed everyone and immediately brought the room's attention to the devastating fires. "We're sorry," Diamond apologized for every attendee who was effected by this natural disaster. "It is a miracle this happened," she continued. The point is, the conference happened. It was not canceled or delayed due to unpredictable circumstances. This was a running theme throughout the day. Although we may despair about our current challenges, many of which are out of our control, we must adapt and face the situation. Shakirah Simley's opening remarks reinforced this can-do attitude. "We cannot be paralyzed," she cautioned. "We need to turn our anger into action."
Following these sobering words, Lisa Q. Fetterman, the founder and CEO of the first home sous vide machine (Namiku), lightened the mood by introducing the first panel, yelling "This panel is going to be off the chain!" Her bombastic energy provided some much-needed lightness to the serious panel discussion, based around assimilation, appropriation, and affirmation of cultural and ethnic cuisine. Panelists spoke to the controversy surrounding ownership and representation of their cultural dishes, as much of "ethnic cuisine" is still dominated and often bastardized by white male chefs. The conversation popped with various opinions from the panelists, but one thing is clear: they all take pride in their work and their heritage. You can bet that Dominica Rice-Cisneros of Oakland-based Cosecha will never serve you a hardshell crunchy taco.
Next up, a practical presentation by Mandy Aftel, a perfumist, on how to smell. "Eighty percent of taste is smell…nature is the original flavorist," Mandy informed the audience. She advised everyone to shop with their nose by tearing leafs and digging their nails into their produce to assess the aroma of each food. "I want you to rip things apart!" Admittedly, she advised to use discretion when doing this at your local grocery store, but the flavor is worth the risk of being admonished by the produce stocker. 
The morning portion of the conference concluded with a diverse panel on "What We're Hungry For," introduced by the president of William Sonoma, Janet Hayes. Panelists ranged from prominent bloggers, to a second generation farmer, to an Instagram executive. The women discussed the influence of technology in their world, both its benefits and pitfalls. They also seriously considered the prominence of food. The consensus: it is not just food. Food can be healing, in the case with Danielle Walker, who used it to treat her autoimmune disease and later launch her blog, but it can also be destructive in the case of body dysmorphia. Food is identity. Food is culture. Food is social. It is a comfort, a passion, and way to earn a living. To lighten the mood and prepare everyone for lunch, the moderator asked the panelists' about their go-to comfort foods. The answers were as unique as the discussion: winter squash, baked goods, steamed dumplings, red wine, milk chocolate, and white bread with mayo.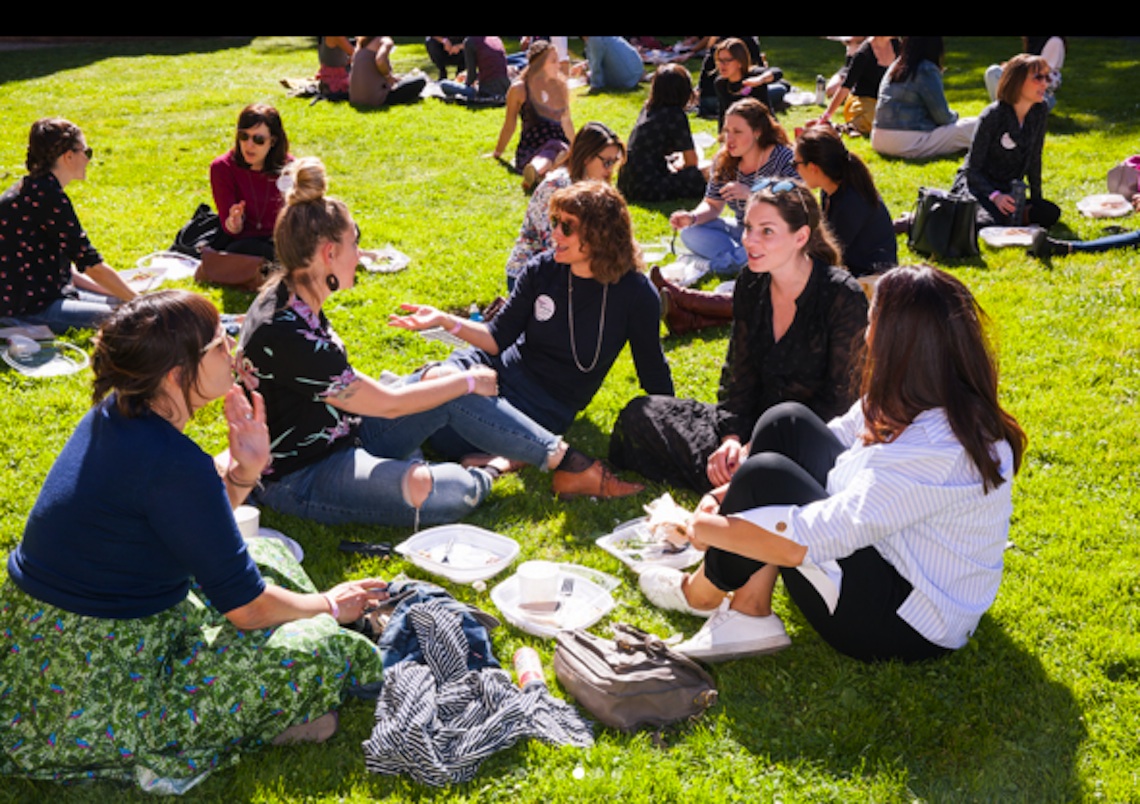 Lunch offered an hour and a half respite to mingle, refuel, and enjoy the seventy-six degree weather upon the lush grasses and cascading columns of The Palace grounds. Guests were treated to boxed lunches prepared by Tender Greens, with options for every diet. Smitten Ice Cream was also churning up fresh stracciatella ice cream in collaboration with Guittard chocolate, and William Sonoma offered a sweet ending with their famous chocolate cherry bark.
Karen Leibowitz kicked off the afternoon session with a talk on sustainability. Leibowitz is known for her many environmentally friendly Bay Area restaurants, such as The Perennial, as well as her work in regenerative agriculture. "Restaurants have a responsibility," she said. She encouraged individuals to take action as well, even though the issue of climate change may seem too daunting to tackle. Through smart individual choices and business practices, Leibowitz believes there is hope to change our environment for the better.
The conference complimented Leibowitz's initiatives, as Cherry Bombe made a massive effort to cut down on as much waste as possible. Attendees were encouraged to bring reusable water bottles and utilize the FloWater filling station, all the serving ware was recyclable or compostable, Food Runners picked up the excess food to distribute it to local shelters, and Madewell collected attendee's old jeans for their Blue Jeans Go Green program, which transforms old denim into new housing insulation.
Amanda Klute, Editor in Chief of Eater, roused the audience with her State of the State address, in which she outlined the gender gap that still exists in the culinary world. Again, she stressed action. We cannot be complacent, waiting for someone to take notice. We must say no to "female only" categories, and we must fight to be included. Its not based on filling a "female quota," its based on equal recognition for equal talent. Because women are rocking the culinary industry just as hard as the men.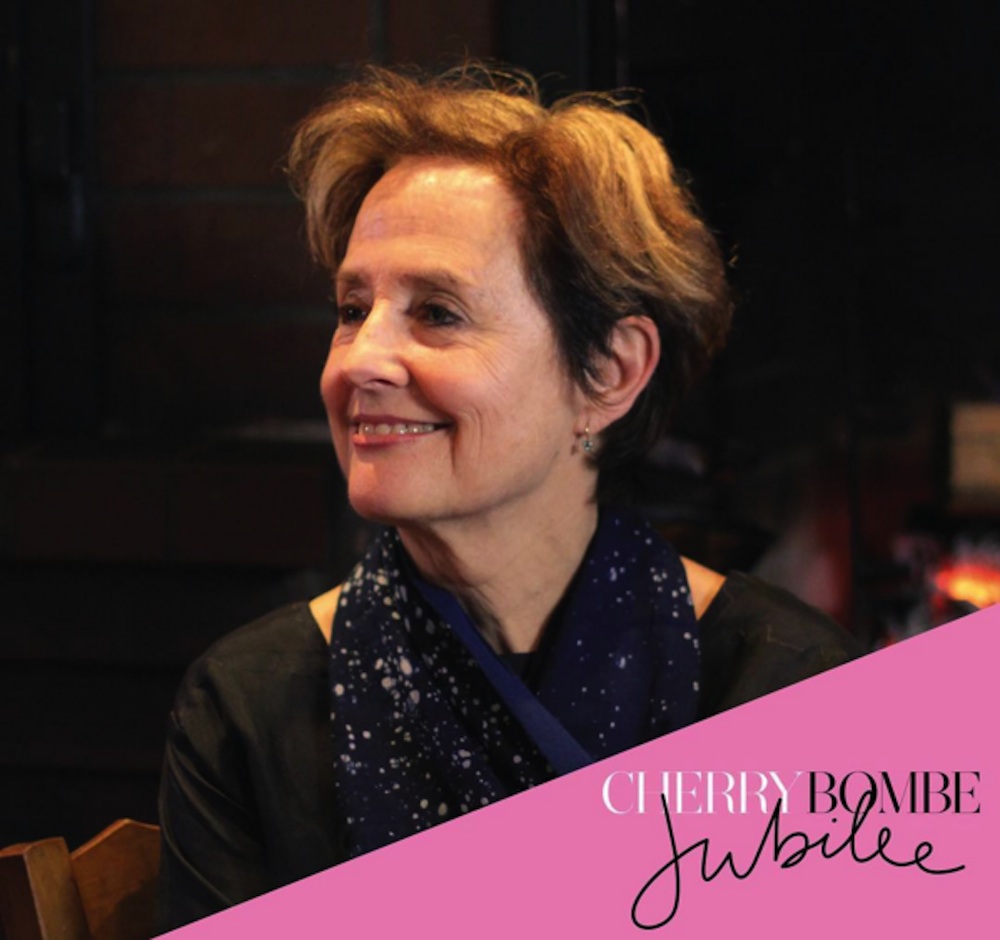 The final two programs, a panel of Bay Area restauranteurs and the keynote by the legendary Alice Waters, focused on hospitality and conscious consumerism. Among the panel were Dominique Crenn of Atelier, Traci Des Jardins of Jardiniere, Emily Luchetti of Big Night Restaurant Group, Elisabeth Pruitt of Tartine, Gabriela Camara of Cala, and Joyce Goldstein (author, former chef and restauranteur). The panelists spoke to a restaurant's role in providing for the community. They create a home away from home; they create traditions and memories. The concept of restaurant responsibility was another recurring topic. These women not only practice ethical sourcing of their ingredients, they also feel it is their responsibility to create opportunity for their employees by providing a livable wage and reasonable hours. In essence, we must be stewards of the environment and our fellow human beings.
Alice Waters, the renowned chef who embraced the "farm to table" concept in the 1970s with her landmark restaurant, Chez Panisse, echoed the major themes of the day. Waters' accomplishments far exceed her talents in the kitchen; she is a true food activist. Despite her small stature and composed demeanor, the audience was raptured by her words and her presence. She inspired the audience with the idea of consumer power. We need to buy with intention. In doing so, we can support our local businesses and farmers while simultaneously rejecting the waste and shameful practices of the big-box supermarkets. She also spoke to the importance of food education in schools. When asked about her legacy, she said she wanted to create a system in which every child was provided a free, sustainably sourced, and nutritionally balanced school lunch. Somewhat in jest, she concluded in stating she would like nothing more than to gut all the Whole Foods and turn them into year-round farmers markets.
After the final remarks were made by Diamond and Wu, guests and speakers were free to enjoy happy hour. The social event was exquisitely curated to include thoughtful food and drink collaborations by the Bay Area's best. Guests left contented with their signed copies of the pink "Cherry Bombe Cookbook" in hand. However, this conference was so much more than just tasty bites and pink-accented goody bags. Food was once a form of escape; for many it still is. But this is not the Cherry Bombe way. Food is a gateway to activism. Food touches every aspect of our lives, and in such, we can harness it to incite change. Through food, we can light a fire, and Cherry Bombe has ignited the fuse.
Find Tanya on Instagram and The Vegan Potluck Podcast. 
Related on EcoSalon
Farmers Markets, Food, Placemaking and Smarter, Stronger Communities
These 9 Fair Trade Brands Make Shopping Responsibly Easy
Mercy For Animals Finds Perfect Balance Between Entertainment and Activism