Clothes that last for a good long time mean less wear and tear on the environment and serious budget savings. Taking care of good-quality clothes from responsible manufacturers means that you will be able to get maximum value from them over time and use much less energy for washing and drying. Whether its a new dress you want to keep forever, or your vintage or special pieces, the laundry ideas below are key. When it comes to fashion, one of the smartest moves—for your style and your impact—is making it last. Here's how. 
1. Cold treatment
Being a bit of a germaphobe myself, I always held the notion that we needed to wash clothes in hot water, just like we do our dishes or our hands.  But this is a bit of an urban legend; in countries like Japan and throughout Europe, it is standard practice to wash clothes in cold or room temperature water. Not only is cold wash gentler on your clothing, it consumes much less energy.
image: rwkvisual
2. Hanging 'em out
You know how you habitually have to clean out the lint drawer of your washer machine? Those extras are not a sign of happy clothes. It's pure evidence that the dryer is taking a piece of your garment for keeps. Luckily, it doesn't have to be this way. If you are lucky enough to have an outdoor space, line drying your clothes will make your clothes last (almost) forever. Plus, there's the added bonus of a natural "drier sheet": The scent of clean, fresh air that beats any laboratory fragrance. If you don't have an outdoor space to line dry, you can pick up a clothes-drying rack and do it in your bathroom, or DIY your bamboo sticks.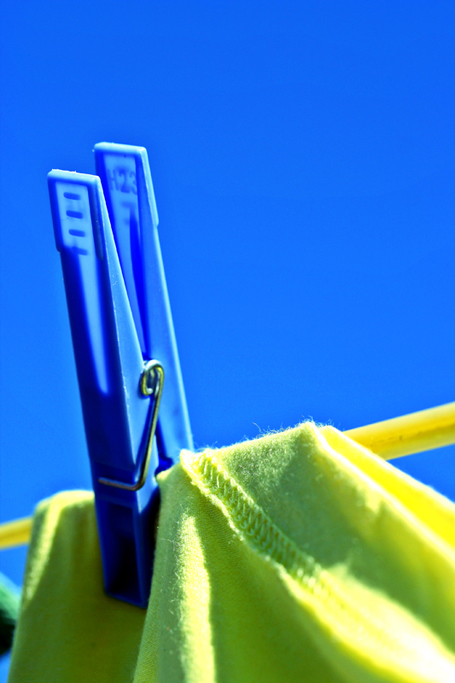 image: Rob Gallop
3. The handy job
Hand washing clothing takes out the machine pressures, replacing the process of washing with the delicate and thoughtful hands of good old human labor. Rather than the aimless whipping around of a washing machine, you can focus of specific areas that might need extra attention. Hand washing your clothing, especially our delicates makes them last significantly longer. If you make it a habit, it won't add up or be overwhelming and this part of your laundry could even be an enjoyable, meditative routine (try using a bit of lavender oil in your wash and enjoy the aromatherapy).
image: aesop
4. Freeze your jeans
Yes, that's right—freeze those baby blues because in this case, washing is optional. Some denim experts say it's the only way to go with a great pair of jeans (that is if you aren't using them as work-jeans). How to? Fold the jeans nicely, place them in a gallon-sized ziplock bag (or paper bag will work too) and leave them in the freezer for about a week. The freezing temperature kills off any bacteria or living microbes on the jeans (which is what can make them smell). Defrost, hang out in the sun, and voila, fresh jeans! And no washing means you can keep them perfectly broken in.
5. Vodka spray
Avoid washing your clothes by spraying them with one part vodka, two parts water. Don't worry, your clothes won't smell like a college bar. The alcohol disinfects the clothing, and vodka's crystal clear properties won't stain your garments.
Related on Ecosalon:
Easy Tips to Make Your Clothes Last Longer 
Dry Clean Only? An Eco Expert Tells Us When It's Safe to Ignore Labels
featured image: batintherain