You don't have to pack away your dresses as fall approaches, just cover up those legs! Or throw on a bulky sweater and a pair of leggings and you're out the door. Here are six of our favorite ethical and organic leggings that on trend for cooler weather (think patterns and texture). 
Bright Print Leggings by FAIR+True Sustain
These tribal print leggings mix the best of the patterned pant and geometric trends for a versatile pop of color.  Made from sustainable modal fabric in the UK, the leggings are a great bottom from an oversized color-blocked sweater or a simple black dress. FAIR + true is an emerging eco-fashion brand based in London dedicated to producing responsible and sustainable clothing for the hip urbanite.
Fashion Conscience, £40.00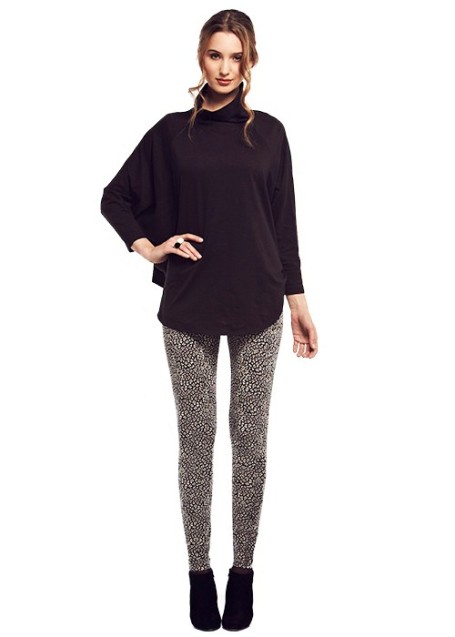 Leopard Leggings by People Tree
Made by one of our favorite brands dedicated to ethical production, People Tree is a sustainable clothing label based in the UK. Many of People Tree's garments are produced ethically in Bangladesh, but their organic leggings were made by Assisi, an Indian organization partnering with skilled fairtrade artisans and contemporary style. Ninety-five percent organic cotton and a wee bit of elastane keep these stretchy and breathable too.
People Tree, £32.00
Perforated Leggings by Pima Doll
Do your long limbs pose a legging length issue? Never seem to fit right? Then these extra long leggings are your responsible and stylish option! PIMA DOLL designs exclusively with the finest quality cotton in the world–Pima cotton, partners closely with their Peruvian artisan employees, and upcycles their fabric scraps.
Pima Doll, on sale for $48
Fragment Leggings by Micaela Greg
When cold weather comes rolling in the undeniable quality of Micaela Greg is bound to keep you cozy and styling this fall. San Francisco-based sisters, Karen and Marie Potesta, design and produce beautiful knitwear right in their SF studio. Sourcing the finest Italian yarns, their knitwear is full of "artful quality and boyish cool aesthetic."
Micaela Greg, $220
Grey Recycled Polyester Leggings by Camilla Norrback
Norrback, a Swedish label, designs garments using only organic or responsible materials, and produces domestically in Europe. These leggings hold an extra ethical twist–they are made from recycled polyester. Upcycled indeed, wear them with a tunic dress and riding boots and you're ready for an active day outside in brisk fall weather.
Fashion Conscience, on sale for £27.20
Casual Pants by Goodone
My favorite of them all, I love these Goodone leggings for their urban punch. Designed with style in mind, these leggings are made with three fabric types: panels on the outer leg from repurposed British wool boucle, organic cotton ponte and the inner leg is modal. As always, Goodone is made in the UK. Stylish and comfortable, these leggings are a must have.
Yoox, $159
Want more On Trend? See Also:
Personality Pops With Patterned Pants: On Trend
Classic Trends in Dichromatic Black and White Sophistication: On Trend
Sweet Romantic Organic Bralettes: On Trend
Smart Style for Bookworms and Sexy Librarians: On Trend
images from the brands, collage by Juliette Donatelli