Ten head-turning pairs of earrings you can easily make at home.
A pair of great earrings can pull together a look like nothing else. We love how they can transform a simple outfit from borderline boring to head-turning in a pinch. Instead of spending tons of money on these baubles, get out some basic tools and make them yourself. Here are ten great pairs of earrings you can easily make at home.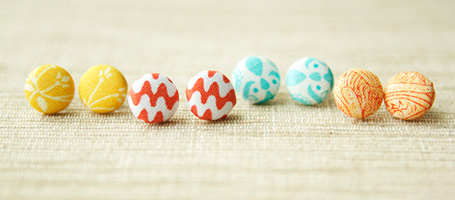 Fabric Button Earrings
A bit of a throwback to the 80s, these cute button earrings can be customized with any fabric – to match your outfit or not. All you need is fabric, earring backs, a button cover kit, hot glue, pliers and this tutorial by Casa de Lewis. You may just end up making a whole bunch.
Friendship Hoop Earring
You've heard of friendship bracelets, perhaps you've even tried making them. But friendship earrings? Brilliant. In this tutorial, P.S. I Made This shows you how to turn a pair of plain hoop earrings into colorful statement pieces. We think these would make excellent gifts for your girlfriends too.
Hammered Metal Earrings
People will be amazed when you tell them that you actually made these gorgeous hammered metal earrings. They do require a bit more work than some, but it's really very doable following these instructions by My Girlish Whims. The most intense tools you will need are a hammer, hole punch, and anvil.
Prada-inspired Rose Earrings
Some of the standout pieces of Prada's spring jewelry collection were necklaces, bracelets, brooches and earrings featuring large resin flowers and crystals. They're retro and feminine and surprisingly easy to wear. Learn how to make a pair in this tutorial by Honestly WTF. (Also learn how to make those Dolce & Gabbana pasta earrings here.)
Dangly Gem Earrings
For your next cocktail party, there's no need to spend money on fancy accessories – just make a pair of bright, sparkly gem earrings. This simple DIY tutorial on the M&J blog, created by Thanks, I Made It shows you how to make these beauties using sew-on gems in colors that capture the oceanic and pastel trends of the season.
Hex Nut Earrings
Hex nuts are one of the DIY movement's secret weapons, simply because they have so many uses. You would never guess this pair of dangly earrings were made from hardware store supplies. Letandas will show you how to make them, using just a few basic tools.
Paperclip & String Earrings
Ever thought you could make a pair of stylish earrings from a humble paperclip and string? Well, you can, following this great tutorial by Evie S. We think this would be a great project for a slow day at the office.
Tassel Knot Chain Earrings
These are so ridiculously easy to make there's no reason you should ever buy them in the store. Learn the tricks from Glitter and Glue and let your inner disco diva out.
Feather Earrings
I think we all have a hippie chick somewhere inside, and what better way to let her out than to sport some major feather earrings? What we particularly like about these, by The Coveted, are that they use wire instead of beads and pre-made clasps to attach the earwire. Make them simple and black, like these, or crazy and colorful – you can use any kind of feathers.
Antique Copper Rose Earrings
Created with little more than pliers and wire, these earrings have serious closet staple potential. House of Avandan gives you step by step instructions on how to make them. We give them serious bonus points for teaching us how to make earwires and how to antique copper – it's easier than you think.
See Also:
10 DIY Bracelets You Can Make This Weekend
DIY: 10 Things to do With an Old T-Shirt
DIY: 10 Summer Shorts You Can Make At Home
Top photo by Honestly WTF