Ten stylish handbags that you can easily make at home.

A girl can never have too many handbags, right? A bag habit can easily become expensive, but not if you learn how to make, or remake, them yourself. Here are ten of our favorite DIY bag projects, some which can be done in as little as ten minutes.
1.Minimalist Tote Bag
A talented seamstress with a mission, Renske Solkesz decided to create her own wardrobe after finding herself frustrated with high fashion prices. She created this self-closing utilitarian DIY tote bag for Design*Sponge. It's made from inexpensive materials, yet looks totally luxe. Visit Renske's blog, The Dress I Made, for more of her creations.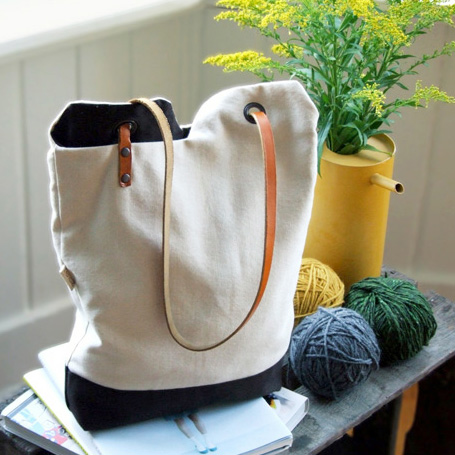 image: Design*Sponge
2. Trompe L'oeil Tote Bags and Pouch
These kinds of Trompe L'oil bags, based on the design of famous it-bags, were all the rage last year. We still fancy them and thanks to Martha Stewart, who created this DIY clip art ready to be printed onto fabric transfers, it's now easier than ever to turn a plain tote into a witty style statement.
3. Cotton + Leather Clutch Purse
We love the simple yet beautiful contrast between the patterned cotton fabric and the leather used in this simple tote by A Beautiful Mess. You can make one yourself, using scraps of your favorite fabric, with little more than solid lining cotton, a zipper, scissors, a sewing machine, and some good-old patience.

image: A Beautiful Mess
4. Neon Dot Tote Bag
Sometimes easy does it. As long as you have a plain old canvas tote at home, this neon dot tote bag by Say Yes to Hoboken can truly be made in ten minutes or less. All you need is fabric paint and a brush.

image: Say Yes to Hoboken
5. Seat Belt Purse
We've seen seat belt bags around for quite some time, and always been amazed at how polished they manage to look. We never thought of making one, until we came across this thorough DIY tutorial by Twofoos. It does require some skill, and possibly an industrial sewing machine, but the compliments you'll get will make it all worthwhile. The seat belts can be from an old car, purchased from a local auto upholstery supply store, or found online (ten yards of it will make a bag about 8″x10″ with a 60″ strap).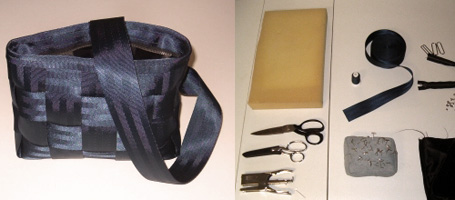 image: Twofoos
6. Scalloped Tote Bag
Perfect for spring and summer, this scalloped tote bag by Frolic! is both sweet and unique. Click here for a PDF download of a free packet of instructions and pattern pieces to make the scalloped bag. All you need to buy is a yard of linen. The lovely illustrations featured on the pattern were done by watercolor artist Heather Smith Jones.

image: Frolic!
7. Mesh Beach Bag
Before you know it, it will be beach time once again. A mesh bag is not only cute, but will prevent some amount of sand from entering your home as well. This good looking beach bag by Between the Lines is made from, believe it or not, old window screen material. The same kind of screen used to keep out mosquitoes.

image: Between the Lines
8. Weekender Bag
Are you a serious DIYer who like to take a lot of weekend trips? If so, this project is definitely for you — a weekender bag made from cotton waxcloth and faux leather. This 30-step DIY tutorial by The Weekend Designer is thorough and easy to follow, and even includes patterns for you to use. Now all you have to figure out is where you are going to take it next weekend.

image: The Weekend Designer
9. Boxy Bag
Elegant, glamorous, boxy bags are definitely making a big comeback. Don't spend your hard-earned money on a designer version, though, when you can make this faux croc carryall by P.S. I Made This from an old lunchbox. The gold accents make all the difference. We love the idea of using your favorite brooch to glam up a bag, any bag, really.
10. Feed Sack Messenger Bag
Vintage feed sacks don't sound like much fun, but it turns out they make for great bag-crafting material. Gather up a leather belt and some denim lining and follow this inspired tutorial by 645 Workshop by the Crafty CPA. If you don't have any feed bags on hand, you can use any kind of material that looks like it's aching to be turned into a messenger bag.

image: Crafty CPA