ColumnDeep in the woods of Quebec, the realities of sirop d'érable.
A year ago I came home to a package outside of my apartment door. In it was a can of maple syrup, marked in both English and French, indicating its bilingual Canadian roots. "This is liquid gold," read the card from my friend Amy. On the phone later I was told not to mention the fact that she had sent me a valuable can from the family stash, "don't tell my husband."
I felt like I was stashing a tin can of valuable drugs in my pantry. Not daring to waste the stuff, the beautifully decorated can remained un-opened. Loaded with such valeur, I was afraid to use it, and instead it became a nice daily reminder of Amy's generosity and the fact that eventually, I was going to have to experience this maple syrup madness for myself.
That time came last week, on a mother-daughter adventure to the northern woods of Maine and the farmland of Southeastern Quebec, in which I was assured I would get the ultimate "cabane à sucre" experience. Known as "sugar houses" or "sugar shacks" in English, these are cabins and buildings where sap collected from maple trees is boiled into maple syrup. Nowadays, not only do they produce maple syrup, but they have big dining halls which serve up a traditional menu, much of it made with or incorporating maple syrup.
"She's a food writer," Amy told her Quebecois family.
Her aunt and our host Jacqui turned to me, "Ah, tu es intéressée par la nourriture?"
"Oui," I responded, glad that the question wasn't more complex as no matter how good your French is, it's never going to make Quebecois easy to understand.
When someone asks you if you're interested in food and you say yes, you know what's going to come next. Out come the family cookbooks, you're inundated with "have you ever tasted [insert name of crazy local dish]?" and every meal from there on out is peppered with, "so, what do you think?"
Such was the case in Quebec, where I not only had a worn 1950s version of La Cuisine Canadienne sitting in front of me, but I was also busy scribbling down Jacqui's recipe for Sugar Pie in my notebook. We hadn't even tried the French Canadian classic dessert yet and here I was writing down the ingredients. Sugar, milk, butter, maple syrup… wait, there's sugar and maple syrup in this? It appeared we couldn't talk about one food without maple syrup somehow making its way into the mix.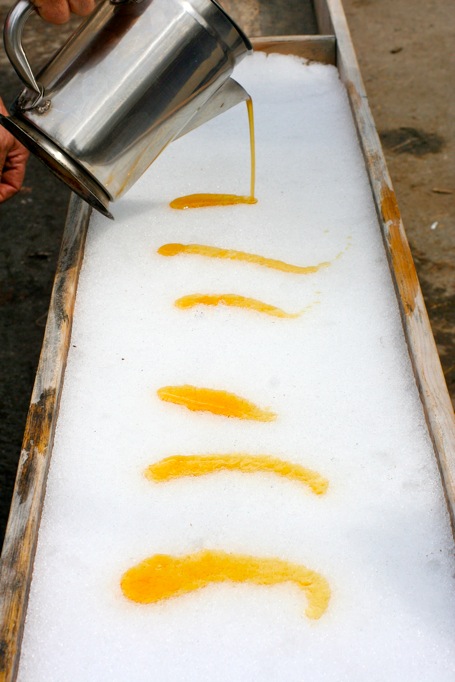 According to the Federation of Quebec Maple Syrup Producers, Quebec alone accounts for 71% of the world's maple syrup production, and visits to one of the numerous cabanes à sucre that dot the countryside is a must for any visitor.
We drove straight into the woods, not far from the house where we were staying, to find a large wooden building with a bright red roof. We were led through the machinery, and in a crazy blend of Quebecois and English I learned about the maple syrup making process. Collect the sap, boil it down, filter it out, package it up and then put it in and pour it over every single dish you can think of.
I exaggerate of course. Only slightly.
"Un oeuf dans le sirop d'érable?" I was asked as I made my way through the cafeteria style line inside the cabane à sucre's dining hall. I looked down at a huge pan of eggs boiled in maple syrup. Like a poached egg but on sugar-infused steroids.
"Euh, pourquoi pas?" Why not. When in Quebec…
And this policy was how I ended up with a plate covered with everything from the classic cabane à sucre menu: baked beans made in maple syrup, small sausages in maple syrup, an oven baked omelette, sweet pickles, and of course, les oreilles de crisse.
Les oreilles de what?
Jacqui had tried to explain them to me the night before, and I had established that it had something to do with fried pig that ended up looking like an ear. Hence the name "les oreilles de crisse," loosely translated: Christ's Ears. In other words, fried pork rinds.
Oh yeah, Christ's Ears. Again, when in Quebec…
A plate of maple syrup doused food and two Christ's Ears later (they're like super crispy, salty bacon if you happen to be wondering) and I felt like the sugar shack was turning into sugar shock. But just when you think it's over, out come the grand-pères, dough dumplings cooked in – wait for it – maple syrup.
My normally low sugar, gluten-free self was on system overload. I drank two cups of black coffee for the sake of revival.
"I might die," said Amy. It wasn't an overstatement. With that level of sugar coursing through your veins you feel like you could either pass out or go run a marathon, except for those Christ's Ears whose salty flavor is still lingering. Solution? Take a short walk and eat more maple syrup.
We were greeted outside by a man pouring maple syrup onto a bed of snow in a trough-like structure.
"Maple syrup candy!" he exclaimed handing me a popsicle stick.
"Do it Brones," Amy tempted me. My mother raised her eyebrows.
If there's one thing I won't do, it's turn down a local food experience, and despite my body cursing my decision to eat an entire plate of syrupy meat products – file this one under times I sort of wish I was vegan – I could do nothing but put the popsicle stick at one end of the strip of maple syrup, now hardened by the cold snow, and twist it into a sort of a lollipop.
It reminded me of the Laura Ingalls Wilder books I grew up reading as a child, and their maple syrup taffy making sessions, but living in the Pacific Northwest, I never really had the luxury of heavy winter snow, or local maple syrup to pour on it. There's always a first for everything, even if that first means you're on the verge of passing out.
"Alors, c'était bien ta première fois à la cabane à sucre" asked Jacqui energetically. How this woman, with a tiny frame and good build and who had just eaten as much as I had still had the energy to happily ask me if my first trip to a cabane a sucre was a success was beyond me, but I forced a nod.
"Prépare-toi pour la tarte au sucre ce soir!" she exclaimed. (Translated: Prepare yourself for the sugar cake tonight!)
Oh no, the sugar cake.
And so the Quebecois stint ended, not with a last supper, but with a last sugar cake and me dreaming of kale smoothies.
And that can of maple syrup at home? I could of course do something crazy like turn it into cocktails or make a fancy maple fondue with cardamom, but I am afraid that it might just remain on the shelf. Just another tin can with a pretty picture and French writing. I think we'll all be better off if it stays there.
Editor's note: This is the latest installment of Anna Brones's weekly column at EcoSalon, Foodie Underground, discovering what's new in the underground food movement, from supper clubs to independent markets to the culinary avant garde.
Images: Anna Brones