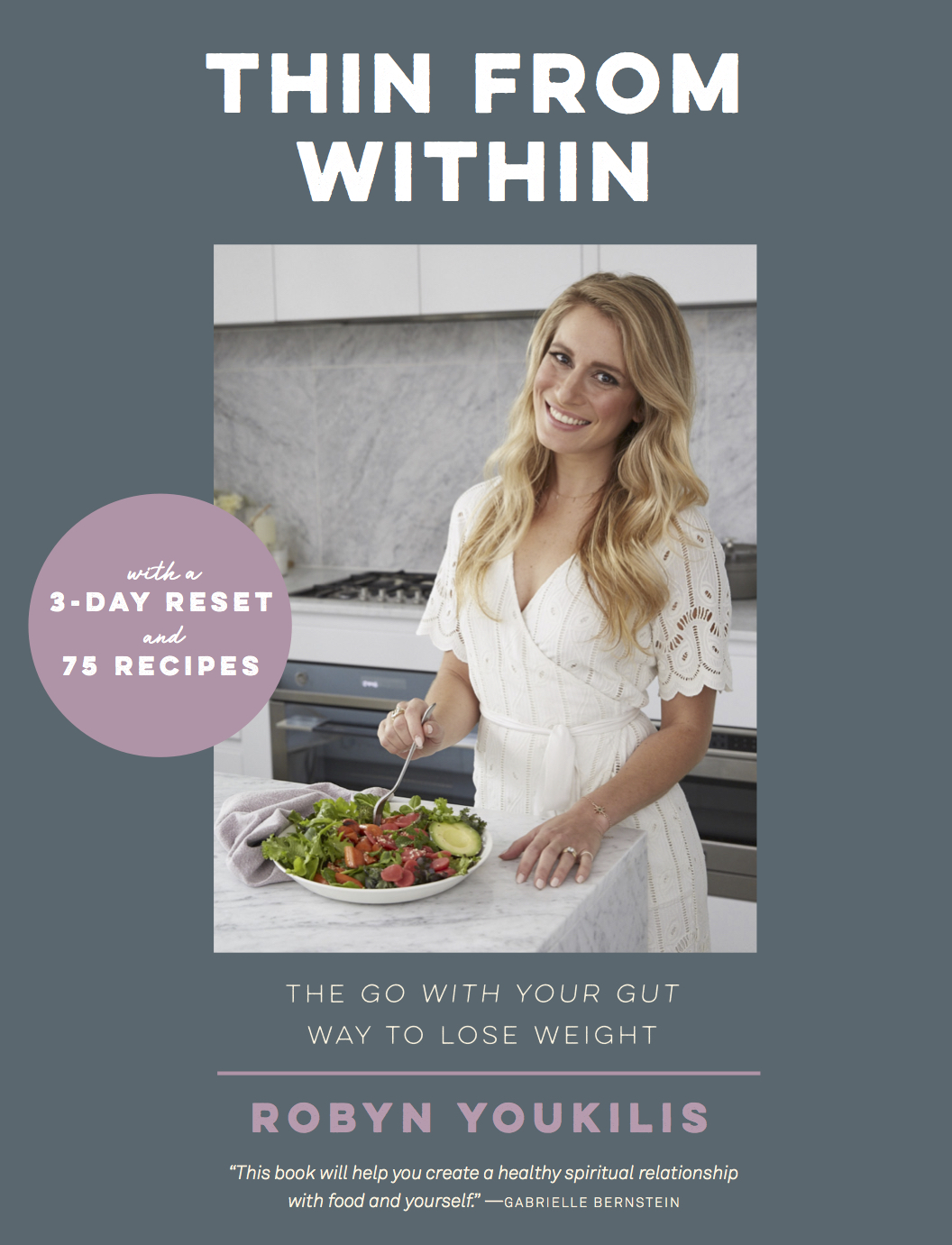 Last April, the New York Times attested to a new trend in "dieting" – or rather, a new weight loss trend that seemed to do away with dieting altogether.
Weight loss solutions such as calorie counting, the Times alleged, were out – the outlet called dieting "tacky," "anti-feminist," and "arcane." Instead, whole wellness solutions that focused less on a number on the scale and more on feeling better in your skin were on trend – and it's exactly this mindset that certified wellness expert Robyn Youkills explores in her new book, "Thin From Within – The Go with Your Gut Way to Lose Weight."
The book promises from page one that its goal is to show readers how to lose weight, not by simply reducing portions and exercising more, nor even from eating from a prescribed list of foods, but rather from tuning into their own bodies and learning to "heal from the inside out." The book delivers on this promise.
Youkills offers readers the perfect balance of useful tools for losing weight and overcoming the devastating mindsets that decades of yo-yo dieting have instilled, starting with the four-part "Go with Your Gut" mindset (Go: poop every morning, With: what you eat, Your: take your time, Gut: heal your gut with probiotics, ferments, and Youkills' own Good Gut Gellies, a combo of apple juice, psyllium husks, and cinnamon).
The "Good Gut Rule of Five" offers a roadmap for creating healthy plates. Gone are the pie charts of meat, veg, and carbs: instead, the book teaches readers to incorporate greens, healthy fats, proteins, fermented foods, and cooked vegetables into every meal. Helpful asides, which are highlighted by multi-colored boxes throughout the book, explore why it's important to drink water first thing in the morning but not with meals, or when to make the most of your probiotics (hint: at night, when your digestive system is most relaxed). The book also offers tips for self-care in just a few minutes, new and improved shopping lists, and a three-day good gut reset plan to get you off on the right foot.
There are unfortunately a few eyeroll-inducing portions, for instance, when Youkilis attempts to redefine weight as "more than just a number on the scale," claiming that "weight is a feeling in your body." While of course, feeling healthy is more important than weight, using the buzzword "weight loss" to discuss feeling fulfilled in your body is more of a confusion in terms than anything else. But this is easily forgiven, given the plethora of useful tools that the book does offer.
Above all, the overarching thesis of the book is for each reader to get in touch with his or her own body: the book asks readers to be forgiving with themselves, find their own intuitive voice, learn to enjoy their food again, and discover which foods are good for their individual microbiome. Tools like the food mood journal and a plethora of healthy gut recipes for all times of day reinforce this message and make the book as much aspirational as it is inspirational.
Related on EcoSalon
30 Humorous Quotes on Dieting
Sex by Numbers: No-Dieting Tips for Trimming 10 Pounds
Should You Be Eating Gluten-Free? Experts Weigh In