Just in time for holiday shopping and gift giving: The Box is back!
Our exclusive EcoSalon shopping must-have, the curated eco product assortment known as The Box, is back. We're offering $500 worth of holiday eco-goodies for just $99 and these won't last. That's a guarantee.
From soy candles to handmade rugs, our Holiday Shelter Box is crammed full of swanky products to bring modern style into your home – with enough cool goodies included to give things away as gifts, too. Featuring full-size gorgeous green goods, hop on this now or miss out!
(If you do miss out this time around – supplies are extremely limited – our friends at Curbly are hosting a giveaway for the last remaining Shelter Box standing. Head on over to their site and register to win!)
Just look at what we have in store for you this time around:
Set of Two Wolfie & The Prints
In the dead of winter, these U-Pick Apples and Fresh Eggs prints from Wolfie & The Sneak will remind you of warm mornings spent perusing farmers' market. Hang them on your wall, and you'll instantly brighten your mood. The 5″ x 7″ prints are printed on 8″x 10″ French Paper, 100% post consumer recycled paper, produced in a hydroelectric-powered, family-run paper mill in Michigan. With inks guaranteed to last 98 years under regular glass, you'll be enjoying your fresh produce for years to come.
(Retail value of $40)
Guerrilla Gardening Seedbomb Kit
Change the world, guerrilla style. That's the idea behind Seedbomb from Greenaid, and the Guerilla Gardening Gift Set ensures that you have all the tools to make the world a greener place. Know of an unused lot nearby? Throw a few seedbombs in. A barren intersection that could use some foliage? Seedbomb away! The packaging is perfect for your guerilla gardening exploits, complete with a handkerchief and slingshot for ensuring that your 12 seedbombs get launched far and away. Seedbombs are hand-rolled in Culver City, Calif. using local materials, sustainable packaging, and socially responsible labor.
(Retail value of $20)
Stencil1 Bird Stencils
Put a bird on it. Your wall, that is. Make your own decorative aviary with these six bird silhouette stencils from Stencil1. You can stencil any one of the six designs onto cards, shirts, even your furniture; the possibilities are endless. And fun.
(Retail value of $19.99)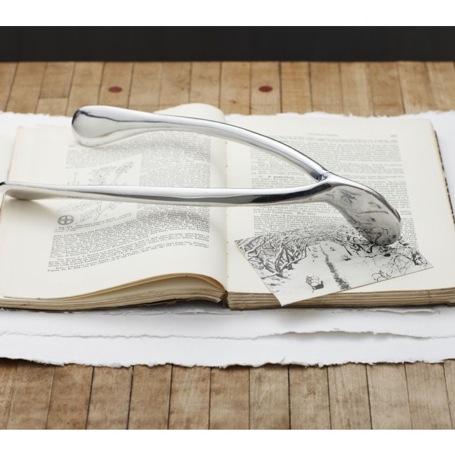 Wishbone Paperweight
With a busy social calendar in the month ahead, it's good to keep a few presents on hand, and this striking paperweight from VivaTerra is the perfect item – and a good reminder to make a wish. You never know when it might come true.
(Retail value of $39)
Wishbone Ornament
Hang your wishes up so everyone can see! An match to the Wishbone Paperweight, or perfectly fine on its own, the Wishbone Ornament brings a little cheer to its owner. The ideal go-to gift for anyone who needs a little pick-my-up this holiday season.
(Retail value of $15)
Music for the Planet by 1% for the Planet
Produced by non-profit 1% For the Planet, Music for the Planet is a collection of 41 songs that supports the environment. The album features exclusive and rare tracks by many well known artists including Josh Ritter, Mason Jennings and Rosie Thomas. All proceeds from the album go to supporting environmental causes, so we won't be surprised if you love the music so much that you're inspired to buy another one for a friend.
(Retail value of $9.99)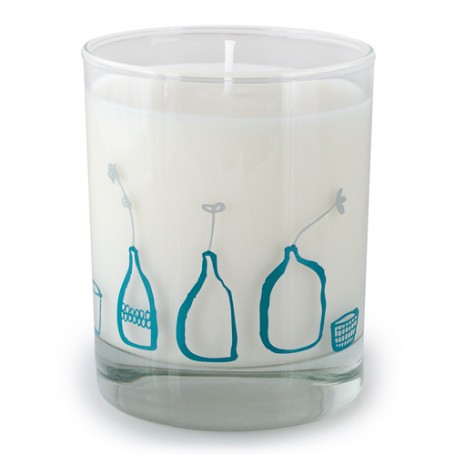 Crash Candles Soy Candle
Every cozy home needs a few candles burning, especially in the winter months, and these hand-made soy candles from Crash Candles are the perfect option. Poured in a glass tumbler you can use when the wax runs out, the candle features the designs of one of our favorite Scandinavians, Lotta Jansdotter. No not only will you bring a little extra light into your home, but you can be happy knowing that they're eco-friendly and supporting the work of contemporary artists and designers.
(Retail value of $24)
Klean Kanteen and NAU Stainless Steel Pints
Move over, Mason jars. So last year. Especially if you have a reusable option on hand. Perfect for outdoor picnics, concerts or even a birthday party, these pints ensure that you'll never have to go disposable again, and unlike many glass versions, these won't break. This exclusive four-pack of Klean Kanteen pints is discreetly printed with the simple NAU logo and made of 18/8, food-grade stainless steel. Durable, versatile, reusable, and dishwasher safe.
(Retail value of $39)
EcoSystem Journal
A blank journal is a blank slate, waiting to be filled with your thoughts, drawings and lists. These blank ecosystem journals have a flexible cover and are filled with pages of 100% post-consumer recycled paper. Sized at 7 3/8″ x 9 7/8″, you'll have plenty of space to let your creative spirit fly, or encourage someone else that they do the same.
(Retail value of $18.95)
Paper Culture Gift Certificate
Haven't gotten to your holiday greetings yet? That's okay – now you can use this $25 Paper Culture gift certificate to customize your own holiday cards. Already ahead of the game with your cards? Your gift certificate can also be used for any product on the site from personal stationery to bamboo wall art. With a motto of "be modern. be eco" Paper Culture uses exclusively 100% post consumer recycled paper for card and envelope and a portion of all proceeds go towards supporting non-profits that focus on education, family and sustainability.
(Retail value of $25)
Recycled iPhone Re-Case
Any busy girl is sure to put her phone through the ringer, which is why you need to make sure it's properly protected. The Re-Case from Miniwiz is made from 100% trash (rice farming byproducts and post-consumer thermo-plastics to be exact), though from the sleek design, you'd hardly know it.
(Retail value of $24.95)
Plywerk Gift Certificate
Every time you go on a trip you take your camera. In fact, you've taken so many photos by this point, your photographer's eye is actually getting good. But what do you do with all of those photos? Don't leave them in the hinterlands of your hard drive, print them so everyone can enjoy your work. The masters at Plywerk mount your photo on eco friendly bamboo, eliminating the need for a glass frame. Their easy-to-use website allows you to upload your photo, choose your size, and almost before you've had the time to hit send, you have a gorgeous mounted photo waiting at your door.
(Retail value of $20)
Angel Face Botanicals Aromatherapy Shower Steamer Set
In the midst of holiday parties and planning, any good hostess needs to take some time to herself and recharge. These delicious scented Shower Steamers from Angel Face Botanicals make the perfect hostess gift, a little "thank you" for throwing a dinner or cocktail hour in the busiest season of the year. The sampler set comes with Lavender Mist, Juicy Citrus, Peppermint and Eucalyptus, so you could even divide them among your deserving friends. Or if you're feeling in need of an energy boost yourself, turn your shower into aromatherapy central and enjoy yourself.
(Retail value of $20)
VivaTerra Flowered Thermos
Your friends will be thrilled when you bring a batch of hot cider along on your winter excursions. This beautiful, double-walled, 34-oz. thermos from VivaTerra is perfect for transporting hot and cold drinks alike and with its floral enamelware design, you'll be serving in ultra current style.
(Retail value of $55)
Verde Lifestyles' Bamboo Rug
Bring a little zen into your home. This 2'x3′ dark brown bamboo rug from Verde Lifestyles is beautiful and durable, and with a mixture of earthy wood and red undertones provides an ideal dose of warmth to modern, rustic and contemporary settings. Perfect for welcoming guests in your entryway.
(Retail value of $24.75)
Lucky Bowl
A small bowl that can serve as a nice positive daily reminder. This 3 1/2″ inch ceramic bowl by Paloma's Nest is handmade in Austin, Texas and is a beautiful little keepsake for any friend whom you feel lucky to have. Each piece is made out of pure white clay and has a matte finish.
(Retail value of $22)
Elephant Plantable Pocket Notebooks
If you're like us, you have a few notebooks lying around, all full of to-do lists and great ideas. But what do you do when they're full? If it's a Plantable Pocket Notebook like these ones from Botanical Paperworks, you can take it right outside and put it in your garden. Filled with plantable paper, come springtime you will see a vibrant collection of wildflowers sprout. Perfect for sticking in your purse and jotting down quick notes, or passing along to the friend who always seems to be coming up with good ideas but never has a place to put them.
(Retail value of $9.95)
Grain Utility Card
This card really can say it all. Designed by Grain, with its word search puzzle the Utility Card contains over 100 different wishes, from Happy Hannukah My Love to Howdy Friend, Happy New Year.
(Retail value of $4)