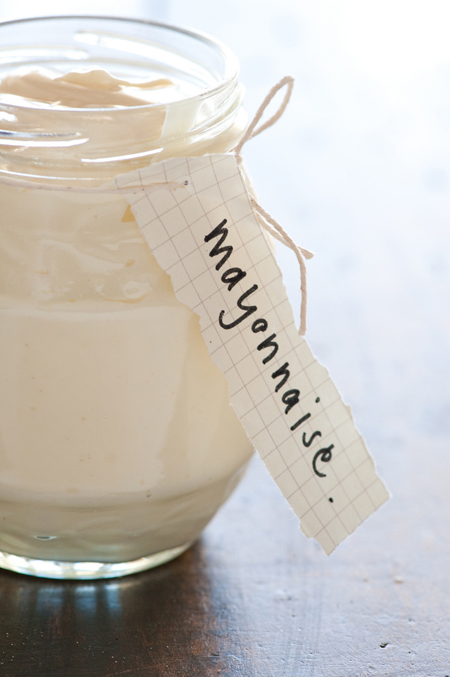 This homemade mayonnaise recipe will knock your socks off.  It's truly egg-cellent. And hello, as with all homemade goodness, you can say goodbye to high fructose corn syrup and creepy preservatives.  
We are bring it back old school style with elbow grease (no this is not an ingredient), by whisking this mayonnaise recipe rather than using an electric egg beater. Here are step by step instructions, and tips, on how to make an outstandingly simple and delicious homemade mayonnaise recipe.
Yields about 2 cups of mayonnaise 
Ingredients
3 organic egg yolks
1 ½ to 2 1/4 cups of vegetable oil such as grapessed or safflower
3 to 5 tablespoons of organic lemon juice or vinegar
½ tsp salt
1/4 teaspoon dry or prepared mustard
2 tablespoons boiling water
Directions
1. Before you start, have all ingredients at room temperature.  Even warm your mixing bowl with hot water and then dry it.
2. Add the organic egg yolks and beat for 1 to 2 minutes until they are thick and sticky. Once they reach this consistency, you know they can absorb the oil.
3. Add the organic lemon juice or vinegar, salt and mustard, then beat for 30 seconds more.
4. Slowly add the oil, drip by drip, while continuing to beat the egg yolks. *Keep your eye on the oil, not the sauce.  Every 10 seconds or so, stop pouring but continue beating.  When the sauce thickens, almost to a heavy cream consistency, you can add the oil a bit faster, but still slowly.
5. If the mixture becomes too thick, you can stop adding oil and add a bit more organic lemon juice or vinegar to thin it out.
6. Beat in 2 tablespoons of boiling water into the sauce as an anti-curdling agent.
7. Add more of the salt or mustard for taste if you'd like. Et, voila, a delicious mayonnaise recipe!
Want some delicious recipes to add your homemade mayonnaise to?
White Bean and Sweet Potato Veggie Burger Recipe
Caramelized Onion and Smoked Gouda Panini Recipe
Recipe courtesy of Mastering the Art of French Cooking by Julia Child, Louisette Bertholle and Simone Beck.
Image: Flickr user Jules