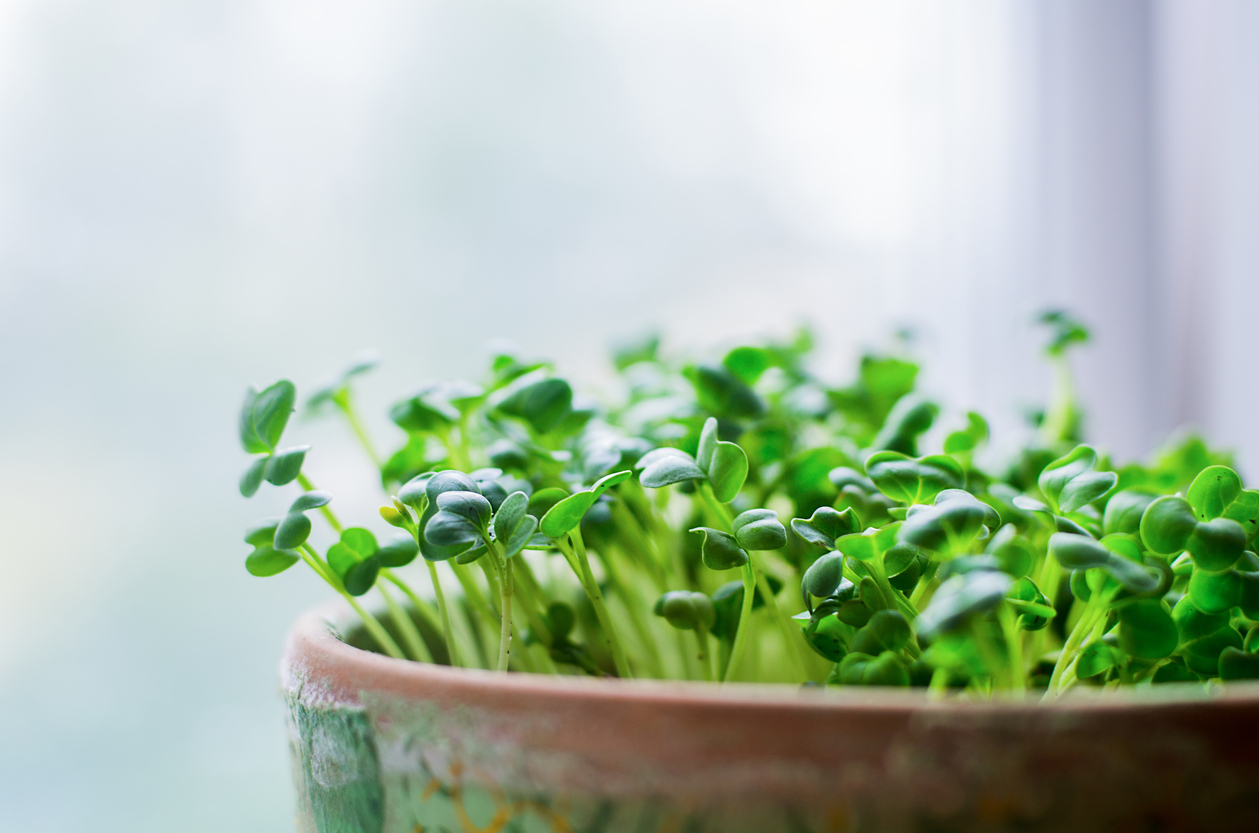 When fresh produce is at a premium during the winter growing season, take a page from professional chef's book and grow your own microgreens indoors.
During the winter we all crave fresh produce, but it can be expensive, not to mention eating outside your foodshed to purchase those succulent microgreens for topping avocado toast and soup bowls. Do not despair, you can grow easily grow fresh and healthy microgreens right in the comfort of your own home. All you need is a sunny window and a few simple materials. Depending on which greens you decide to grow, you could end up enjoying microgreens weekly or biweekly.
Step-by-Step Guide for Growing Microgreens Indoors
Materials
Upcycled Clamshell produce container with lid
Potting soil
Seeds (see note below)
Spray bottle
Scissors
Screwdriver or awl
Hammer
Directions
Step 1. Make some drainage holes in the plastic clamshell container.  Place the container on a safe surface (like an old wooden cutting board). Using an awl or small screwdriver, tap it lightly with the hammer and make 5 or 6 holes in the bottom of the container. These are for water drainage.
Step 2. Add dirt to the container. You can use any potting soil you have on hand— just make sure it is potting soil and not topsoil or something else. Potting soils have the correct nutrient balance for starting seeds and they won't retain too much water. Fill the container about ¾ of the way full, and tap to level the dirt.
Step 3. Sprinkle the seeds as densely as you can in a single layer across the top of the soil.  You can use seeds for whatever greens you like, such as mustard, mesclun, arugula, kale, herbs, spinach and more. I buy seeds from High Mowing Seeds, which is a great source for organic, non-GMO seeds.
Step 4. Cover the seeds with soil according to the seed package planting depth instructions.
Step 5. Place the container in a sunny window with the lid underneath to catch any water drainage.
Step 6. Water your seeds just until the soil is moist — you don't want to flood them — and water anytime you see the soil drying out. The best way to water is with a spray bottle.
Step 7. Wait for your seeds to grow! Depending on what you grow, most seeds will germinate in about 3-7 days. Harvest when the seeds get your desired maturity, for most seeds 7 or 10 days is a good rule of thumb.
Step 8. Use scissors to harvest your microgreens and rinse them gently in a small strainer to eat. Enjoy!
Related on EcoSalon
4 Indoor Growing Gadgets For Lazy Gardeners
7 Delicious Fruits and Vegetables You Can Grow Indoors
17 Clever Repurposed Garden Planters to Add More Plants to Your Space