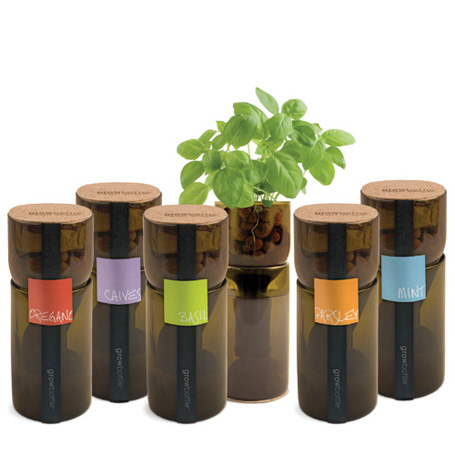 One more way to reuse a wine bottle.
Just when you thought companies had exhausted every possible option for reusing a bottle, along comes the GrowBottle Hydrogarden from Potting Shed Creations. They're handmade from recycled wine bottles, and filled with USDA certified organic/heirloom seeds, clay pebbles, soil, wool wick, plant nutrient, a cork coaster, and ribbon sourced from recycled plastic bottles.
Perfect for growing culinary herbs and virtually brown-thumb-proof with simple and easy to follow instructions included. Your job is to remember to water them and let the wonders of hydroponics take over.
GrowBottles are available in Oregano, Chives, Basil, Parsley, and Mint. Sold individually for $35.
Look for Lustables daily at EcoSalon. 100% gorgeous green finds, and never sponsored. Submit your favorite to tips@ecosalon.com