The Fair Fashion runway show, held during New York Fashion Week, shows us that fashion can look good and do good.
When attending fashion week, it's easy to become overwhelmed (and slightly disturbed) about the sheer amount of clothing that designers put out every season, much of it produced less than ethically. A nice counterpoint to this was the NYC Fair Runway Show, held on Thursday at co-working space Wix Lounge in NYC.
The runway show was organized by the NYC Fair Trade Coalition, an all-volunteer grassroots organization dedicated to educating consumers about the value and importance of fair trade and promoting fair trade businesses in NYC.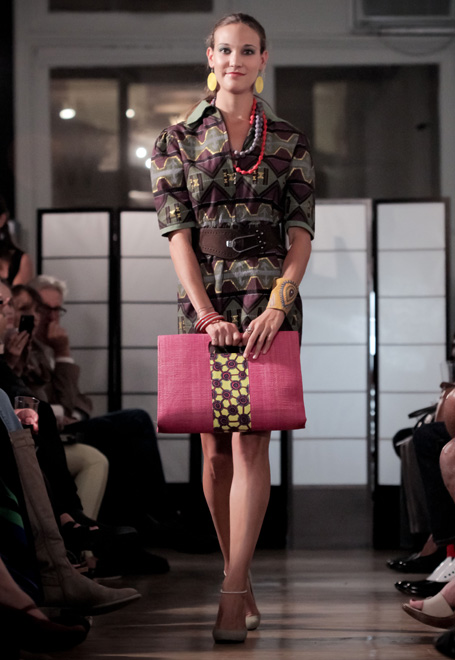 Kibonen|NY (also top)
Featured designers included Kibonen|NY by Cameroonian designer Kibonen Nfi, inspired by traditional Cameroonian garments, REBORN by Soham Dave, which fuses the old and new with contemporary leisure clothing, filling a niche for authentic pieced and hand crafted from natural materials, and mccoll&clan, a New Jersey-based SEE (sustainable, eco, ethical) label committed to a design and business ethos that supports more sensible ways of innovating fashion.
REBORN by Soham Dave
The models wore vegan shoes by Monisha Raja of Love is Mighty, a brand dedicated to preserving indigenous arts, tribal culture and craftsmanship in India. Makeup artist Lacey Elliot used products from Josie Maran's vegan, eco-friendly line.
mccoll&clan
After the show, guests were treated to samples from fair trade makers of tea, root tea, chocolate and quinoa vodka. There was also a marketplace, featuring pieces from the runway show.
Fair trade may not yet be a buzz word in the fashion world at large, but maybe this fashion week runway show could be the start of a greater discussion of the topic? We certainly hope so.