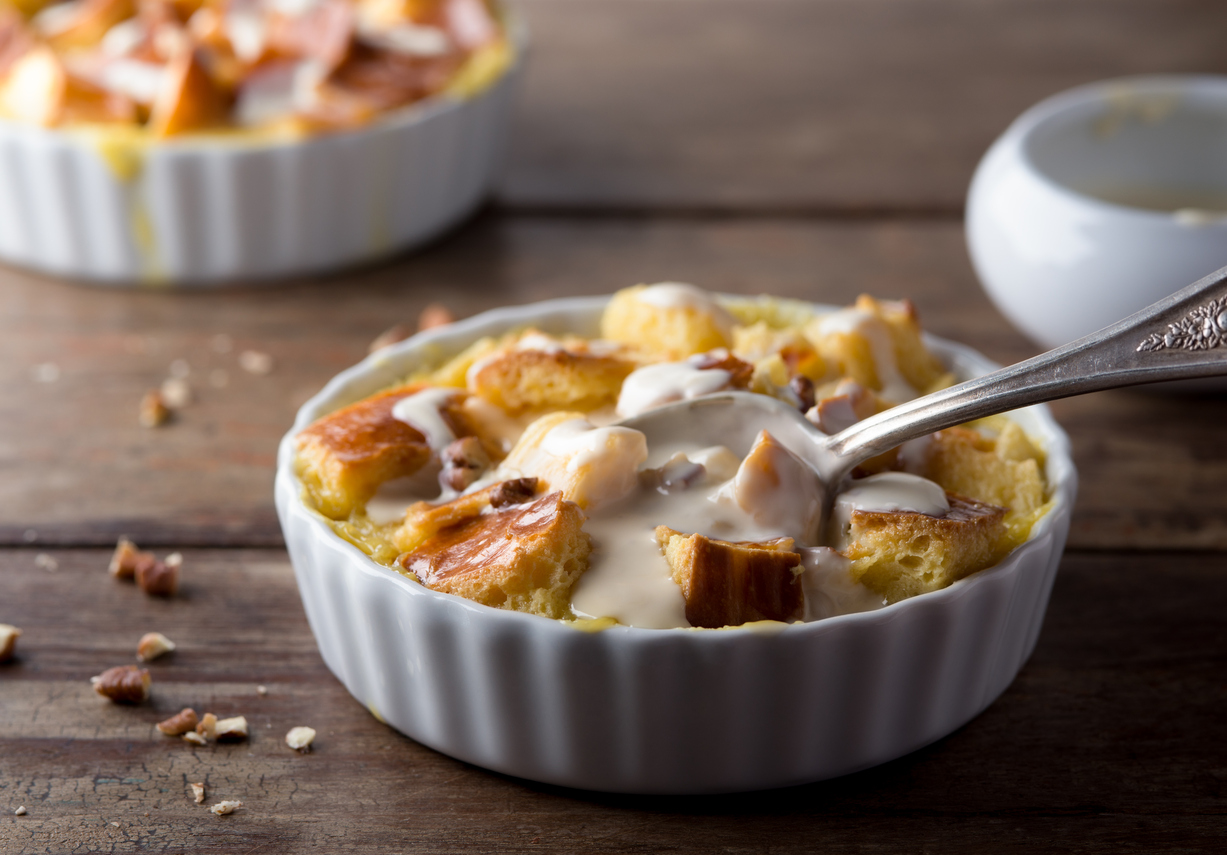 There's a lot of eating heading our way, with both Thanksgiving and Christmas on the radar. However, just because the holiday season can be a time of excess, doesn't mean it has to be a time of waste. This pear ginger bread pudding recipe helps you to not only utilize leftover bread from any of your upcoming feasts, but also infuses your gut with some warm, comforting holiday flavors.
What I love most about bread pudding is that even though it has the texture and taste of a recipe only someone's grandmother could whip up just right, it's a comfort dish we can all master. In other words, you can't mess it up. Chop, mix, pour, bake and boom! You're done.
In this bread pudding recipe, fresh pears contribute an unmatched delicate, moist richness that is tender to the bite and is superbly accented with cinnamon, sugar, crystallized ginger, and dried apricots. The result is a truly indulgent dessert, but that's kind of what we're looking for until the new year!
Pear Ginger Bread Pudding Recipe
Serves 6
Ingredients
1/2 cup dried apricots
1/2 cup bourbon
3 eggs
1 cup cream
3 tablespoons sugar
2 1/2 teaspoons cinnamon
1/4 teaspoon nutmeg
1/4 teaspoon cardamom
1 1/2 teaspoons vanilla extract
8 cups stale white bread cubes
3 pears, cored, and chopped
1/4 cup diced crystallized ginger
Directions
Preheat the oven to 400 degrees Fahrenheit. Grease a 9×13-inch baking dish.
Roughly chop the apricots. In a small saucepan over medium-low heat, add the apricots and bourbon. Let the mixture simmer for about five minutes, or until the apricots have softened considerably and absorbed the bourbon. Set the saucepan aside to cool.
In a large bowl, add the eggs, cream, milk, two tablespoons sugar, two teaspoons cinnamon, vanilla, nutmeg, and cardamom. Whisk until well combined. Fold in the bread cubes until all the pieces are just coated. Let the bowl sit for five to ten minutes to allow for the bread to fully absorb the liquid.
Next, stir in the chopped pears and diced crystallized ginger. Transfer the mixture to the greased baking dish and use a spatula to spread the bread pudding evenly. Sprinkle the remaining one tablespoon sugar and one-half teaspoon cinnamon evenly across the top of the bread pudding. Place the dish into the oven and bake for 30 to 35 minutes, or until the bread pudding is golden-brown and set.
Let the bread pudding cool for about 10 minutes before cutting and serving. Garnish each slice with more cinnamon sugar and pair with whipped cream or vanilla ice cream.
Related on EcoSalon
Vegetarian Breakfast Bread Pudding
Can a Loaf of Bread Decrease Greenhouse Gas Emissions
5 Gluten-Free Bread Brands That Do Wheat-Free Right