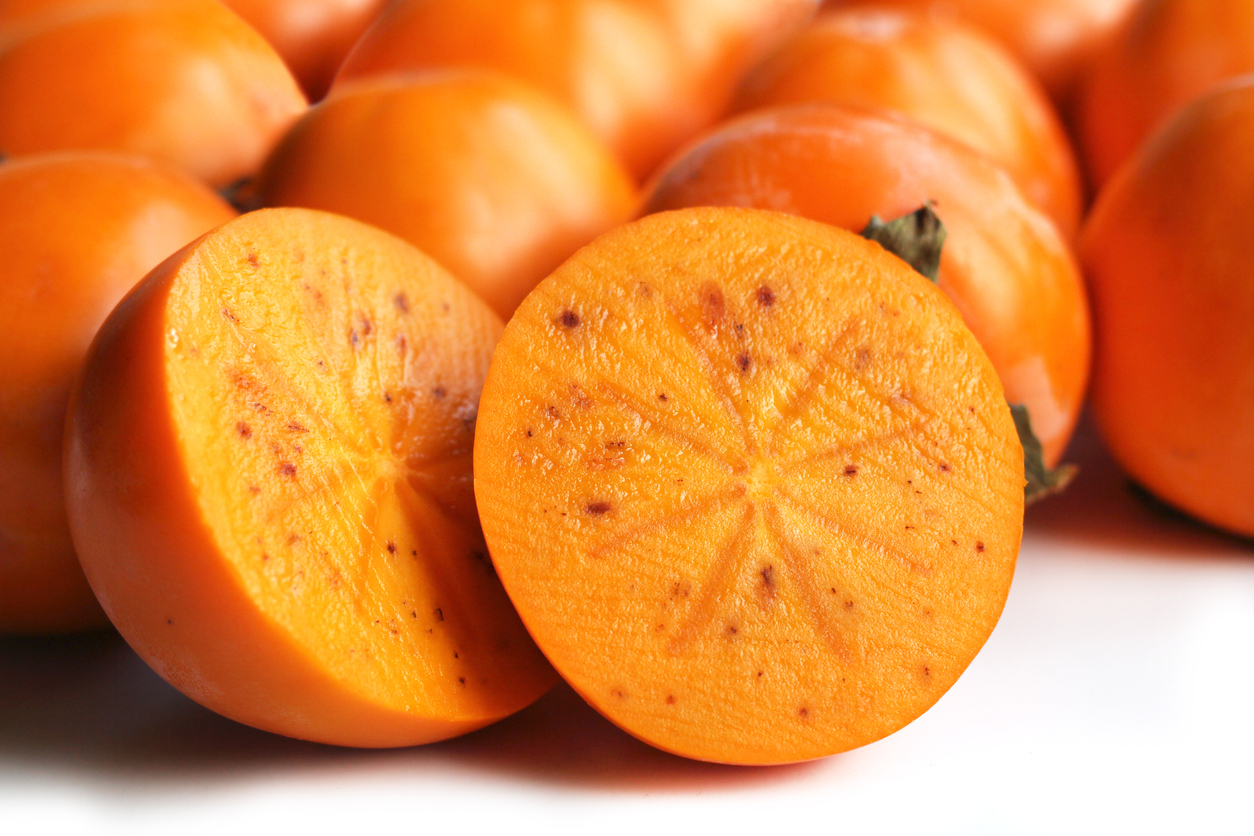 Don't pass the persimmon at your local grocery store or farmers market. This persimmon chips recipe is calling your name!
Persimmons are in season, but many of us would hardly notice. The often-overlooked bright orange fruit gives off exotic vibes, leaving many of us wondering what to do with it?
Originally brought from Japan, today the persimmon is grown all over the U.S. It has truly become an American fruit! So, be a patriot and make these persimmon chips! They are just one of the many ways you can enjoy the fruit.
Nutritional Breakdown
The best way to get excited about any ingredient is to understand exactly the kind of health benefits it's giving you. And the persimmon does not disappoint.
In one persimmon (3.5 ounces), there are 66 milligrams of vitamin C, which is almost as much as that in an orange and fulfills 110% of the RDA. Persimmon is also low in calories, full of fiber, and a great source of iron and calcium. The same persimmon serving contains 70 calories, 3.6 grams of dietary fiber, 14% of the RDA of iron, and 3% of the RDA of calcium.
How to Choose Persimmon
The persimmon comes in two varieties: Hachiya and Fuyu. Both bear the same sweet, lightly astringent, delightful taste, but appear and feel differently when ripe. The Hachiya is shaped like an acorn and should be completely soft in texture when ready to be eaten — think of the texture of a tomato way past its prime — that's how soft you want the Hachiya. The Fuyu, on the other hand, is smaller and flatter, and it can be eaten when it is rock-hard — like an apple.
Regardless of the variety you're choosing from, look for a persimmon that has a deep, rich orange color. While you can buy Hachiyas firm, make sure to keep them out at room temperature to soften over the course of a few days before consuming. Fuyus should be firm and without any blemishes.
What You'll Need
To make these colorful chips that are a lot lighter (and sweeter) in flavor than regular store-bought chips, you'll only need a few ingredients, a knife, a baking sheet, and an oven. That's it! And because these persimmon chips are baked, not fried, as well as free of any added oil or butter, they are practically fat-free.
To accentuate the persimmon's inherent sweetness, I add a bit of low-glycemic coconut palm sugar to them before baking. The coconut palm sugar's caramel-like flavor is enhanced with the addition of some fall spices, such as cinnamon and nutmeg. You'll love every single bite and you don't even have to share if you don't want to. They go down easy.
Persimmon Chips Recipe
Serves 4
Ingredients
4 large Fuyu persimmons
Juice of half a lemon
1 teaspoon coconut palm sugar
1/2 teaspoon ground cinnamon
1/4 teaspoon ground nutmeg
Pinch of sea salt
Directions
Preheat the oven to 200 degrees Fahrenheit. Lightly spray two baking sheets with coconut oil or line them with parchment paper.
Remove stems and slice the persimmons crosswise into thin, 1/4-inch thick pieces. Place the sliced persimmons into a bowl and toss them until evenly coated with the lemon juice, coconut palm sugar, cinnamon, nutmeg, and sea salt.
Arrange the persimmon slices in a single layer on the baking sheets. Pop the baking sheets into the oven and bake for one hour. After one hour, flip the persimmon chips and bake them for another hour and 15 minutes, or until they are golden-brown and crispy. Some of the persimmon chips that were cut thicker than the rest will be a bit more tender and moist, but they also taste delicious! If you desire more crisp, cook the chips for another ten minutes at a time until you reach desired consistency.
Let the chips cool at room temperature before storing them in airtight containers in your pantry. They have a shelf life of about one week.
Related on EcoSalon
Mustard and Dill Baked Potato Chips
Baked Rosemary Beet Chips with Vegan Mayonnaise Dip
Quinoa Salad with Pomegranates and Persimmons