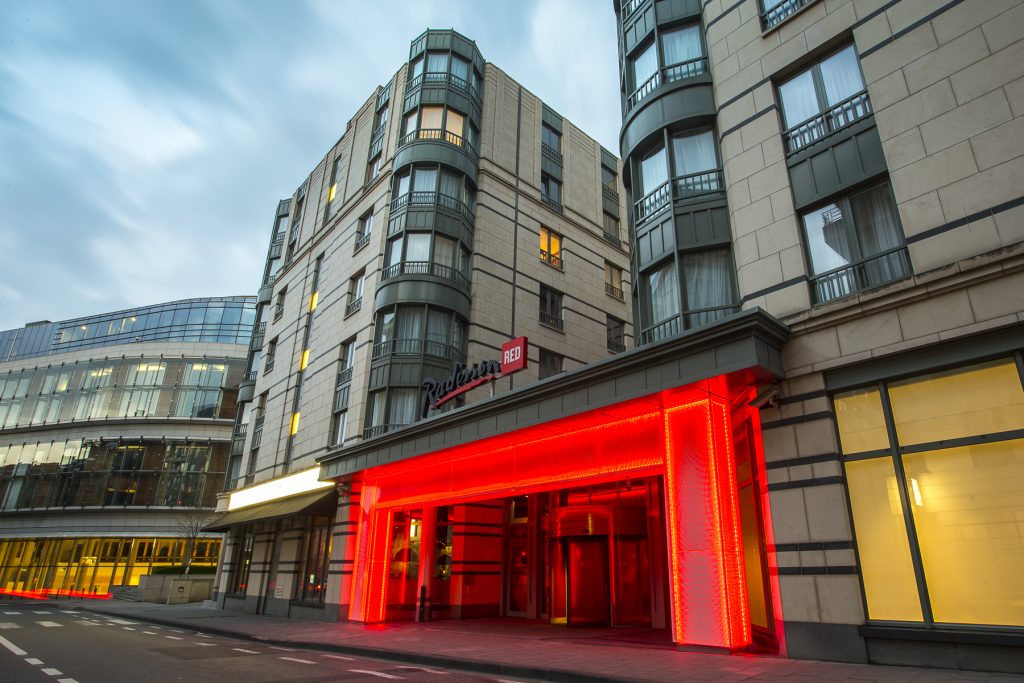 Step inside the Radisson RED, a hip millennial haven with a fierce commitment to local talent, fashion, music, and art. 
Art. Fashion. Music. Apps. A Tesla Powerwall Battery. What more could a millennial want? Ahem, authenticity. The Radisson RED Brussels — affectionately known as "The RED" — delivers just that along with a healthy dose of eco-consciousness. This un-hotel lifestyle brand is a self-proclaimed revolution that aims to disrupt the conventional hotel industry. There's no staff but a Cast of Creatives. Forget a front desk. And the concierge is 100 percent virtual. Expect the unexpected. You'll never see even a hint of beige at the Radisson RED. Even their website professes we hate dull.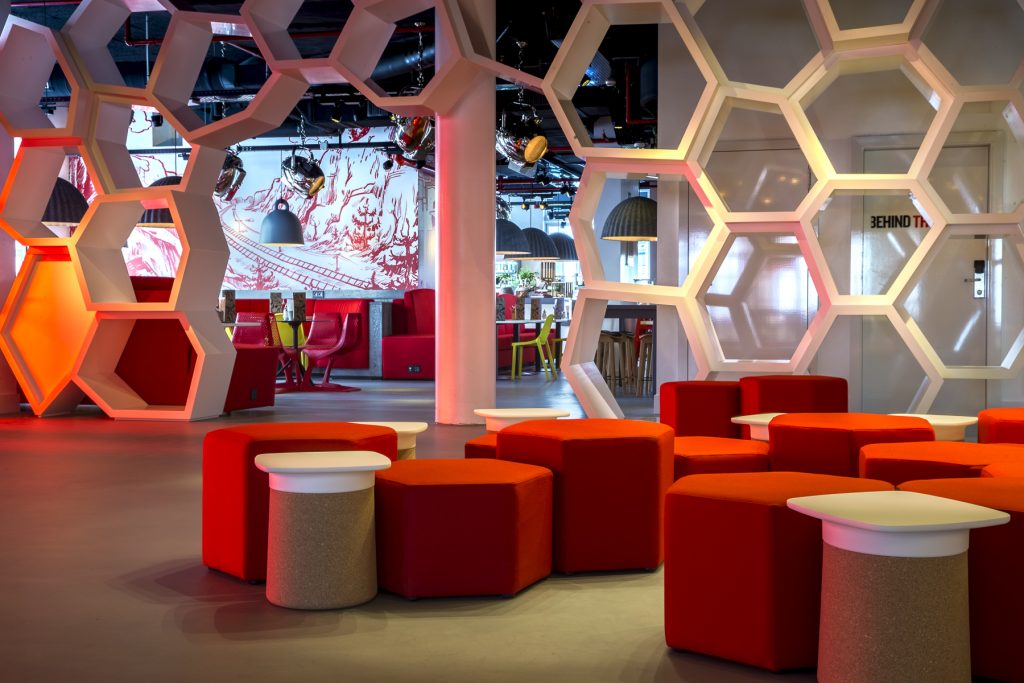 In a time when the hotel industry hopes to capture the attention of millennials – which all too often becomes a gimmicky marketing cliché of itself – the Radisson RED Brussels brilliantly pulls it off, brings the fun, inspires creativity, and delivers hospitality via an app.
Sans a front desk, the Creatives (staff) offered a warm welcome and within minutes, I was in my keyless room digging into the sweet His and Her amenities. After a quick refresh in the artfully tiled bathroom, I headed out for the day. But I didn't get far. The RED's lobby sucked me in. There was much to explore in this private gallery with monthly installations. It's the "social hive" of the hotel, where local art, fashion, and music curated by Cristabel Cabanier collide. A lobby DJ set the beat while I braved the Tinder Couch and graciously received a green light. The board room table transformed into a ping-pong table for an impromptu game, and the artists were milling about engaging in fresh conversation about city art and inspiration.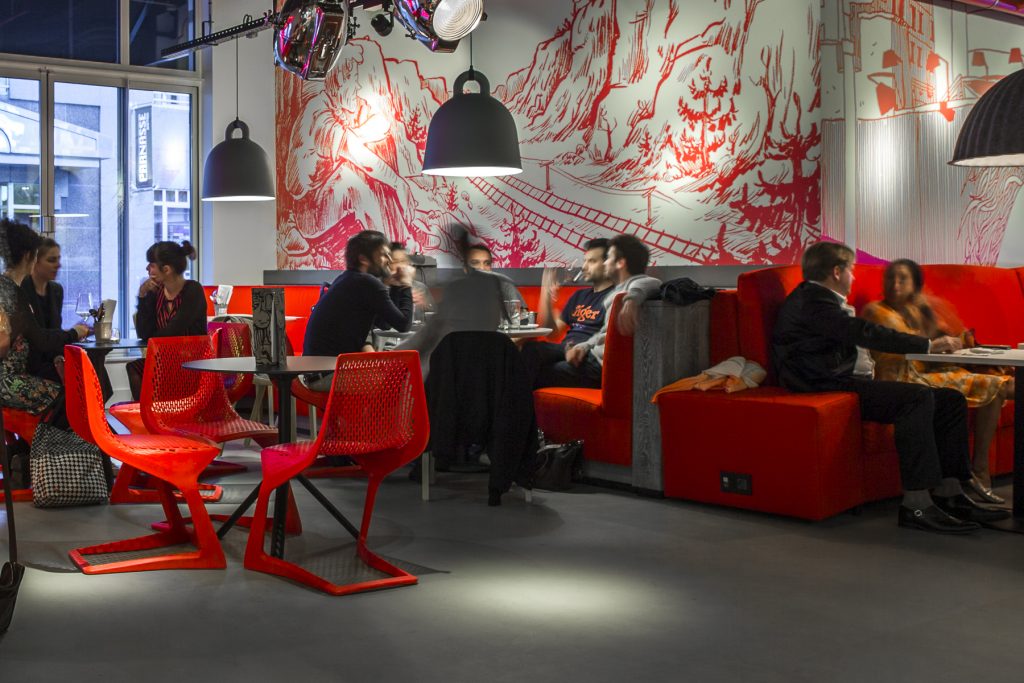 Eventually, I did make it out the lobby doors to discover Brussels and found myself smack in the city center next to Place de Luxembourg and the Royal Quarter. Brussels' well-heeled French air perfectly mixes with a funky alternative bohemian vibe. Some might call it culture clash. I see it more as a fusion of opposite flavors perfectly blended.  As fortune had it, that weekend was the multi-cultural Zinneke Parade. The streets were filled with parading troupes of costumed musicians, dancers, and entertainers of all ages grooving to a Bohemian beat. I explored the old market hall and crowded bars of St-Géry square where locals and tourists alike basked in the sun enjoying Belgian blonde beer. Then there's Rue Antoine Dansaert where I discovered alternative fashion pop-up boutiques and marveled at the gilded 17th century Grand Place. Not to mention, the elegant Les Galeries Royale Saint-Hubert.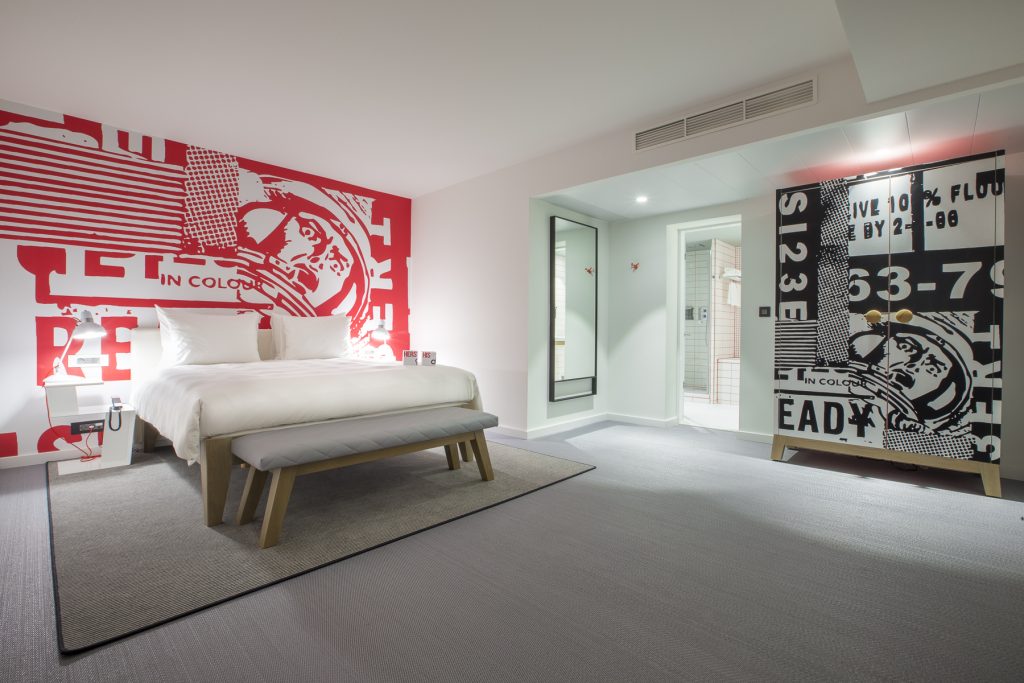 Back at the RED, I flopped on the comfy bed after a fun but quite long day out. With the RED app, I synced my iPhone to the 50″ flat screen TV and watched a slideshow of pictures from my day. I also dipped into the minibar for one last glass of champagne. Rooms are light, bright, and of course, red and artsy. The 149 studios are equipped with free-flowing high-speed Wi-Fi, and an app that manages check in, room service, restaurant reservations, and check out. Technology is definitely part of the experience. Yet I didn't feel that I missed out on the personal touches that make a hotel stay my home-away-from-home.
A fierce advocate for global street art, the Radisson RED's artist of the month is Alice Pasquini, whose art is seen both in galleries and on city walls. Both a street artist and classically trained painter, the Roman-born Pasquini says in her interview with Radisson RED that her creativity "is influenced by many things—the light and the colours of the surroundings (one of the reasons I paint during the day), the people who pass by and their reactions, the fragility of the surface, and spontaneity of my stroke (necessary due to the rapid action). I usually pick walls that are already beat up, often already built up with tags. The scars of the city make the best canvases."
It's not only art that Radisson RED Brussels is passionate about. Count in fresh and organic cuisine. Brussels' burgeoning foodie scene is represented at the OUIBar + KTCHN and their Van Rouge Food Truck. I caught breakfast at KTCHN and it was excellent. Quite the opposite of a dreary hotel heating lamp buffets, breakfast was made to order and was European perfect. Crusty artisanal bread, poached eggs, and creamy cappuccinos that rivaled my favorite coffee bar in Rome. The freshness and quality of the ingredients shone through and set a high bar for hotel breakfasts.
Extra perks for Radisson RED Brussels guests are free parking (seriously, what hotel in a city center offers free parking? Talk about a hotel revolution!), and for a few extra euros, bring your pooch.
Whether you find the Radisson RED Brussels' "ageless millennial" hotel concept gimmicky or it's music to your ears, the truth is that the RED brand brings the fun and is worth a stay. With the American flagship newly opened in the art mecca of Minneapolis, more Radisson REDs are landing soon in Miami, Capetown, Glasgow, Portland, and Campinas.
Go RED for a day. Be bold. No boundaries. Be sassy. Express your style. And see what happens. If you're not already, you just may become a RED convert, even if, like me, you're a non-millennial.
Find Donna on Twitter and Instagram
Related on EcoSalon.com 
5 Sailing Vacations Perfect for Beginners
Costa Rica's Pura Vida Secret to Longer, Happier Lives
Plan a Trip to Europe's 8 Most Luxurious Spas
Images via The Radisson RED Brussels