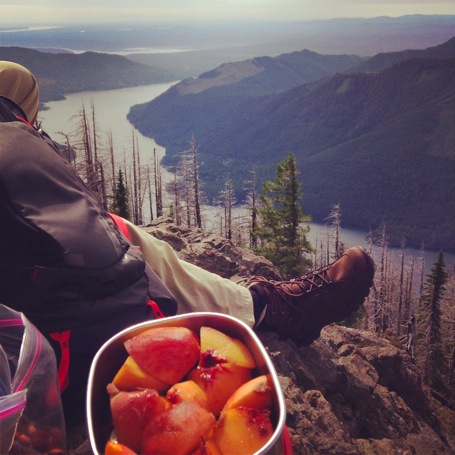 ColumnGood food is a question of real food, even when you're not at the dinner table.
"Time for a break."
We had reached the top of Mt. Rose, a 3,000 foot climb in about 3 miles, and there was a perfect rock with a view that was calling our name for our summit snack.
My father pulled out his purple stuff sack, which we had both taken care to properly pack before an early morning departure. Two bags of trail mix, one bag of raw walnuts and dried figs, one stainless steel container of pre-cut fresh peaches, one bag of locally made landjaeger (a semi-dried sausage with European roots that is specifically intended for a hiking snack) and two bars of dark chocolate.
I learned at an early age that trail food didn't mean sacrificing on good food, and much like my father, I am always known to overload. There will always be a bar of dark chocolate in my pack, and if something unfortunate happens and I am stuck in the wilderness for an unintended amount of time, I will certainly not go hungry.
There is a beauty to eating outdoors, whether you're on a hike, a long bike ride or multi-day camping trip. Food is simplified, and even the most basic ingredients can feel like luxury.
Some people think eating outside sucks. I think those people don't know what's good for them. Just like a post-workout meal tastes better than anything you have ever consumed, trail food can be as simple as an apple and a handful of nuts, but with a good view, you're eating the most amazing snack you ever invented. Well, as long as dark chocolate is involved.
And while for me, eating good food is simple because I believe in the pleasure of always eating well, it's also a question of good health. Which is why when it comes to being active, it's unfortunate that so many opt for processed foods when they are in need of an energy kick. Gels, energy bars, any substance with an electrolytes; in the active sports world we have a tendency towards packaged goods boasting benefits. But are they any better than real food?
"… a lot of the stuff athletes put in their bodies while training and in a race is stuff that wouldn't be serviceable to eat at home," nutrition expert and founder of Skratch Labs, Allen Lim told the Denver Post in an article about athletes and nutrition. "Real food is what works best, and the simpler the better."
While most of us are not high performance, endurance athletes, if we're active it's easy to be seduced by the colorful packaging and purported benefits of all the "sports food" out there. But at the end of the day, is sucking down an energy gel instead of eating some honey as bad as going out for fast food?
Probably not, but the sports industry is just as large and complex as the industrial food world, and mass producing huge quantities to ship around the world comes at a cost.
The solution? Just like in every other part of our lives, stick to real food. Make your own energy bars. Drink water, not some neon colored thing said to boost your electrolytes. Eat fresh whenever possible.
And always pack dark chocolate.
Related on EcoSalon:
This is the latest installment of Anna Brones' weekly column at EcoSalon: Foodie Underground, an exploration of what's new and different in the underground movement, and how we make the topic of good food more accessible to everyone. More musings on the topic can be found at www.foodieunderground.com.
Image: Anna Brones