ColumnChivalrous mens fashion highlights top eco designers for our male counterparts.
Ninety-eight percent of fashion is geared towards women and our love for clothing, our desire to express without words. So, what about men? Without leaving our handsome counterpoints out of the conversation, On Trend this week celebrates courageous menswear designers. Below are great brands that tailor a keen ethical stance by living out sustainable and eco-conscious values in their work.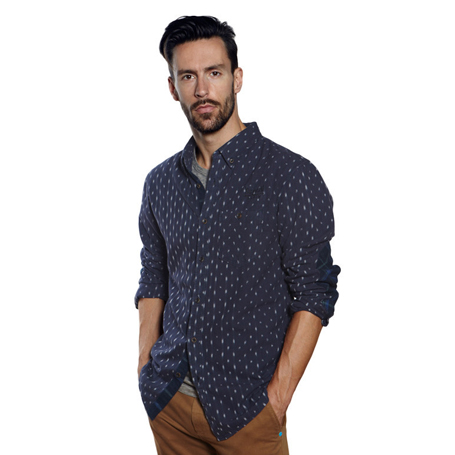 Foundry Ikat Shirt by Kuyichi
A company as cool and confident as Kuyichi has nothing to hide up their sleeves. Baring a completely transparent production process, Kuyichi is dedicated to minimizing negative environmental and social impacts at all steps. For example, all fabric waste is recycled and used in new garments. "Being conscious is all about development, collaborate and thinking forwards so sustainability is not the next generations job," the brand claims on its website. This foundry Ikat shirt is made with organic cotton, so it's softer both on your skin and the land where it was grown.
We Three Leaves, on sale for $86
The Ginsberg Jacket by Uniforms for the Dedicated
As all chivalrous gentlemen are wont to do, Uniforms for the Dedicated submits to always striving for better. By promising the highest-quality, ethical production methods and the use of environmentally responsible materials, the Swedish label continues to reach upward while holding a strong foothold in classic men's style. This casual suiting jacket embodies a little stretch for comfort and ease to pair with slacks or your favorite jeans.
Uniforms for the Dedicated, 272 euros
Standard Issue Utility Chino by Apolis
Brothers, Raan and Shea Parton founded Apolis, meaning global citizen, a decade ago to create "advocacy through industry." Today the Certified B Corp is continually progressing towards a more sustainable business one relationship at a time. "Becoming a Certified B Corporation helps us clearly communicate our standing as a social enterprise and learn about ways we can make our company more socially and environmentally conscious," says the brand. The slim tailor fit of these classic chinos are made under fair labor conditions in Los Angeles.
Apolis, $158
Lover Shoe by Brave Gentleman
"Principled attire and smart supplies," Brave Gentleman is a fiercely ethical brand upholding the highest morals for people and the planet. Every Brave Gentleman piece is one hundred percent vegan, and outshines ecological standards, fair labor conditions for the hands that create each piece and definitely style. These beautiful Lover shoes match their name: Made entirely of vegan material through fair labor conditions in Portugal, the sleek shoe ties into any occasion.
Brave Gentleman, $285
Falsterbo in Mint by Gässling Falsterbo
Searching for an organic underwear brand is not a terribly grueling challenge (well, with all the lovely examples of wear) but it certainly is not an easy one. Yet, Gässling Falsterbo no doubt comes out on top as a favorite men's organic underwear brand. Using ninety-five percent certified organic cotton from India (adding five percent elastane for better fit and longer lifespan), the fabric is never bleached and each dying process is also eco friendly. Made in Estonia, the label prides itself in overseeing all steps of production "down to the smallest button." The result is a final product they are proud of. These supportive but breathe-easy, underwear in mint green is an absolute favorite for comfort and style.
Gässling Falsterbo, 35 euros
Keep in touch, follow Juliette @spadesandsiLK
Want more On Trend? See The Latest
8 Best Made in America Jeans Brands: On Trend
DIY Dye With Natural Indigo To Revamp Your Clothes: On Trend
Beyond The LBD, It's Eco Fashion With An Attitude
DIY Jewelry: 10 Sartorial Brooches You Can Easily Personalize: On Trend
Vegan Shoes and Handbags: On Trend
images: featured image photo by Christian Gustavsson for Uniforms for the Dedicated, collage by Juliette Donatelli and images from the brands