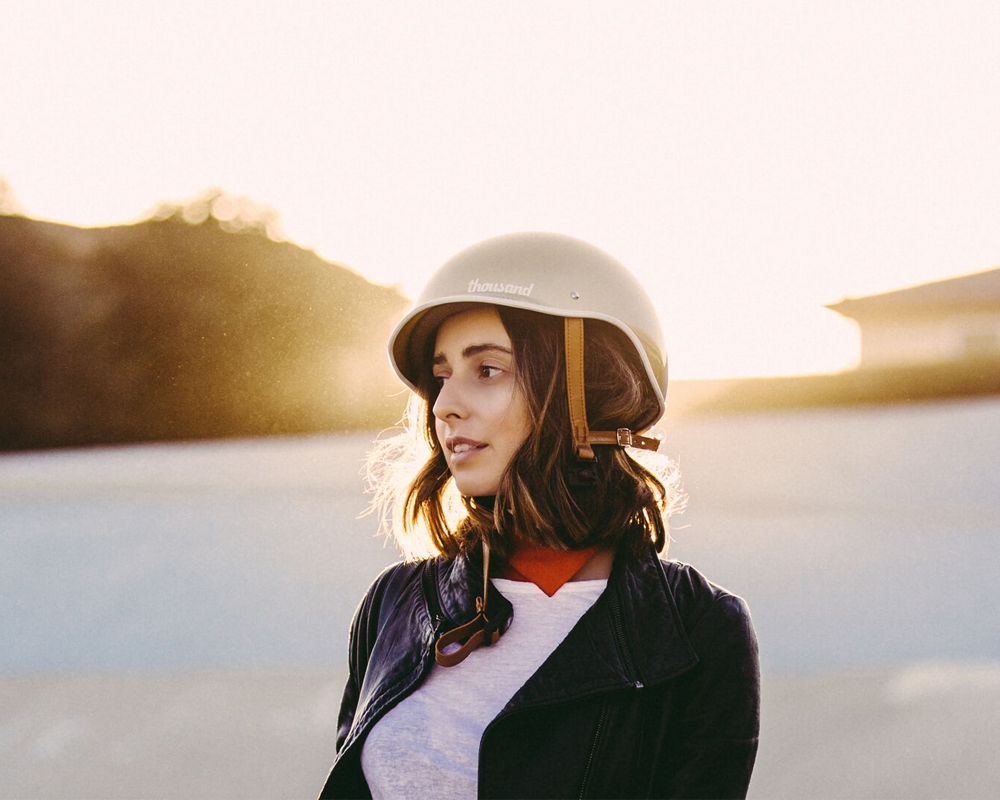 Bike helmet safety doesn't have to be boring with these chic helmets.  
Kids aren't the only ones who flout bike safety because helmets just aren't cool. Plenty of grownups go sans helmet, too, which is just downright dangerous, According to the Snell Memorial Foundation, a non-for-profit dedicated to promoting helmet safety, "Every year the estimated number of bicycling head injuries requiring hospitalization exceeds the total of all the head injury cases related to baseball, football, skateboards, kick scooters, horseback riding, snowboarding, ice hockey, in-line skating and lacrosse."  To illustrate with numbers, in 2015 45,000 bicyclists were injured in traffic-related accidents, according to the U.S. Department of Transportation. Those are some strong arguments for wearing a helmet–no matter what age you are.
If you are still aren't convinced enough to add a helmet to your cycling routine, consider Thousand Bike Helmets. For those who think most bike helmets look like props for a bad sci-fi movie from the 1980s, Thousand claims to make cool and stylish bike helmets. Their mission is actually threefold: help curb the impact of bike accidents, promote active and community living, and make quality gear without causing unnecessary harm to the planet.
While the designs are super cool, they also feature some important attributes as well. The helmets are CPSC (Consumer Product Safety Commission) and CE (Conformité Européene) certified. For those concerned about having to carry around a bike helmet all day, Thousand helmets also come with a secret poplock that allows riders to leave helmets behind. The straps are made with vegan leather, a micro-fiber material made with the planet and animals in mind. And for anyone who hates those clip fasteners, Thousand helmets have a magnetic fastener that is pinch-free.
"We like to call our customers urban explorers; they want a helmet that  matches their lifestyle, " says Thousand founder Gloria Hwang.
The special design features are all well and good, you are thinking, but what about the look of the helmets? Here are some of our favorite designs.
Bike Helmet Designs from Thousand Bike Helmets
1. Speedway Creme
One part Herbie the Lovebug and one part Steve McQueen. We love this retro-inspired helmet with racing stripes.
2. Nordic Wood
From the Epoch Collection, this helmet combines faux bois style with lightweight safety. What could be better?
3. Stay Gold
From the Premium Collection–vintage moto meets modern minimal.
4. Heritage Collection
A basic, 'matches everything' helmet available in black, white, and navy.
5. Willowbrook Mint
Another color from the Epoch Collection.
Related on EcoSalon
Cycle Chic: Stylish Bike Gear to Get You Pedaling in Style
Buying a Bike? Here's What You Should Know
Bike to Work Stress? The MindRider Helmet Knows Your Mood Before You Do