10 bike-friendly infographics.
More and more, conscious women are embracing bikes as an energizing, empowering, and environmentally-friendly mode of transport. These ten infographics make even more of a case for the two-wheeler, providing statistics, routes, tools, and tips for life on the open road. Just don't forget your helmet.
How Bikes Can Save Us: According to this infographic, cars are killing us, so we should all move to Portland and ride bikes.
Benefits of a Bicycle: In case you needed a visualization of how awesome bikes are, this cute graphic from C.I.C.L.E. provides one.
Biking + Walking in the Twin Cities: Minneapolis-St. Paul is doing an awesome job at encouraging biking and walking, even in the winter.
Which City Is Best for Biking?: A look at which cities have the highest percentage of bike commuters… and hey, there's Portland again.
Biking By The Numbers: A quick round-up of biking statistics from the folks at Nau Clothing.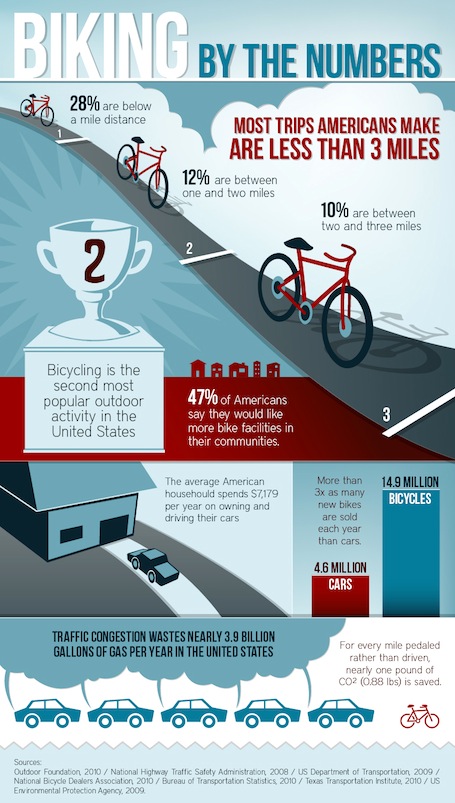 Mountain Biking in America: An overview of America's best off-road trails.
Biking Safety & Courtesy Tips: A road map for cyclists, drivers, and walkers on ways to safely co-exist, from Bike Arlington.
Biking in San Francisco: A case for cycling in San Francisco, in animated graphics.
Bike Commuter Map: This infographic maps out the state of biking in the U.S., incorporating statistics on bike safety, bike spending, and urban commuters in major cities.

America Bikes: More than 80 percent of Americans want to either maintain or increase funding for sidewalks and bike lanes, says this survey.

ALSO CHECK OUT:
10 Food Infographics That Have Us Consciously Consuming
10 Travel Infographics To Spark Your Wanderlust
Check out more infographics here.
Image: Steve McDonald