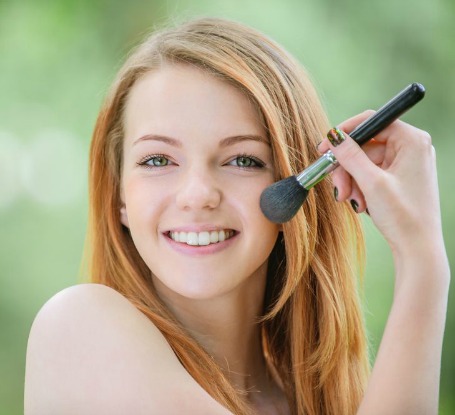 The bare face is trending this spring. Was that a collective sigh? Here's how to pull off the simplest 'no makeup' makeup look ever.
The bare-only-better look made a splash on spring runways this year. It's easy, elegant, and so perfect for warm weather.
Sure, some models were truly makeup free and looked terrific. But if the thought of going makeup free, other than during a good Netflix binge, makes you want to wear a bag over your head, take heart. It's simple to pull off the bare-only-better look with a little help from the right makeup items. Even the glowiest of the glowy enlist a little help when it comes to the naked face.
The bare faced look is all about simplicity, so it shouldn't include several products and good chunk of your time. As in, forget about mascara and eyeliner for the moment. All you truly need to attain the best 'no makeup' makeup look is a few minutes and as many products.
What You'll Need for the Simplest 'No Makeup' Makeup Look
Tinted moisturizer // Put the foundation away for this look. Use a two in one moisturizer with tint. Lavera Beauty Balm (BB Cream) offers dewy coverage, evens skin tone, and hides blemishes. Plus it looks way more natural than heavy makeup. Instant perfect complexion.
Highlighter // Wondering what to do about those dark circles? A good highlighter does more than add that lit-from-within look to skin, though it is the bomb at that too. If you've ever noticed that concealer seems to bring out the redness in your eyes, highlighter will be your new dark circle banishing BFF. No kidding, give it a try. Applied under eyes, highlighter reflects light, brightening the area without looking makeup-y. Kjaer Weis Highlighter is the perfect neutral tone that manages to illuminate and add depth at the same time. For the bare face look, apply to cheekbones, bridge of nose, and brow bones too.
Lip + Cheek // Yep, only one product needed here. RMS Beauty Lip2Cheek in Smile, sweet multitasker that it is, does double duty as a lip and cheek tint. And the universally flattering, just-jogged-around-the-block natural flush is spot on perfection.
That, my lovelies, is seriously it. Three products and you have your 'no makeup' makeup look on in one minute flat. Out the door and on to fun, springtime stuff.
Related on EcoSalon
Would You Go a Week Without Makeup?
7 Natural Beauty Reasons You Should Wear Less Makeup
Your Best Lip Color: A Month By Month Guide
Image of bare faced woman via Shutterstock