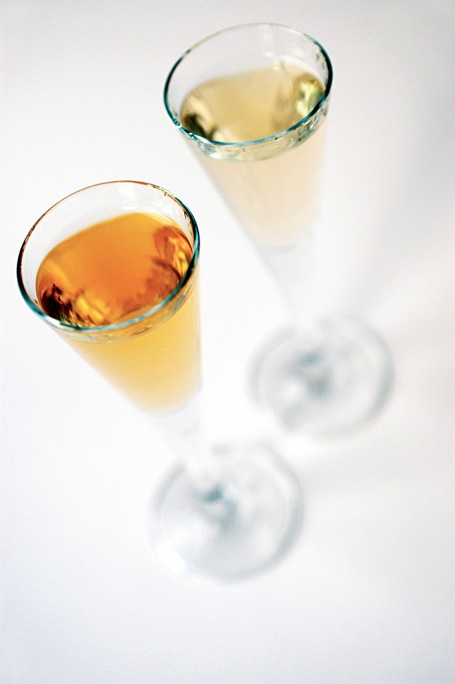 The Scandinavian spirit aquavit isn't just for pickled herring and potatoes anymore.
Simple and clean are words often used to describe Scandinavian design, but it also goes for Scandinavian drink, particularly aquavit. Say the word "schnapps" and you might immediately conjure up visions of a sugary, peppermint-infused hot chocolate drink, but in Scandinavia, snaps is something completely different, and it's hitting the United States.
Snaps is the name for a shot of strong alcohol consumed in conjunction with a large meal, traditionally at holidays like Christmas and Midsummer – think big dinner parties fueled by frequent shots of a slightly herbal drink – and the alcohol in question is aquavit. Until recently, aquavit was relatively unknown in the US; the kind of thing you were only familiar with if you threw down during a midsummer celebration with a few Swedes. 

Aquavit is a neutral spirit that's flavored with herbs indicative of Scandinavian cuisine; profiles like caraway, dill and anise. And you thought fennel was just for hip farm-to-table restaurants.
In the United States you can buy imported versions like Norwegian Linie and Danish Aalborg, but stateside artisanal distillers North Shore, House Spirits and 45th Parallel all have versions based off of the classic methods of distilling and aging. The first one to enter the US aquavit market, it's no surprise that Portland cocktail menus are taking advantage of House Spirit's Krogstad Festlig Aquavit, my personal favorite.
For those of us that need a drink to pair with our rye bread and potatoes – don't we all? – we can thank the rise of Scandinavian cuisine, as well as a general culinary obsession with craft distilleries, for moving aquavit beyond the Swedish party table and onto cocktail menus. A traditionalist would tell you that aquavit should only be consumed at the customary celebratory dinners and with subsequent dishes. But tradition is meant to be broken, and aquavit's clean taste makes it a spirit that fits both in winter and summer, and makes it a prime mixing element for drinks.
Jacob Grier, lead bartender at Metrovino in Portland, Oregon, and maybe best known for his creation of bone luging, is such an aquavit advocate that last fall he put together an entire cocktail week devoted to the spirit. If it's your first foray into the world of aquavit, his Aquavit Hot Toddy is a good place to start. Skål!
Aquavit Hot Toddy
1 1/2 oz aged aquavit (Krogstad Gamle)
3/4 oz Swedish Punsch
1/2 oz lemon juice
6-8 oz hot water
star anise, for garnish
Combine all ingredients in a pre-heated mug and garnish with the star anise.
Image: Skånska Matupplevelser