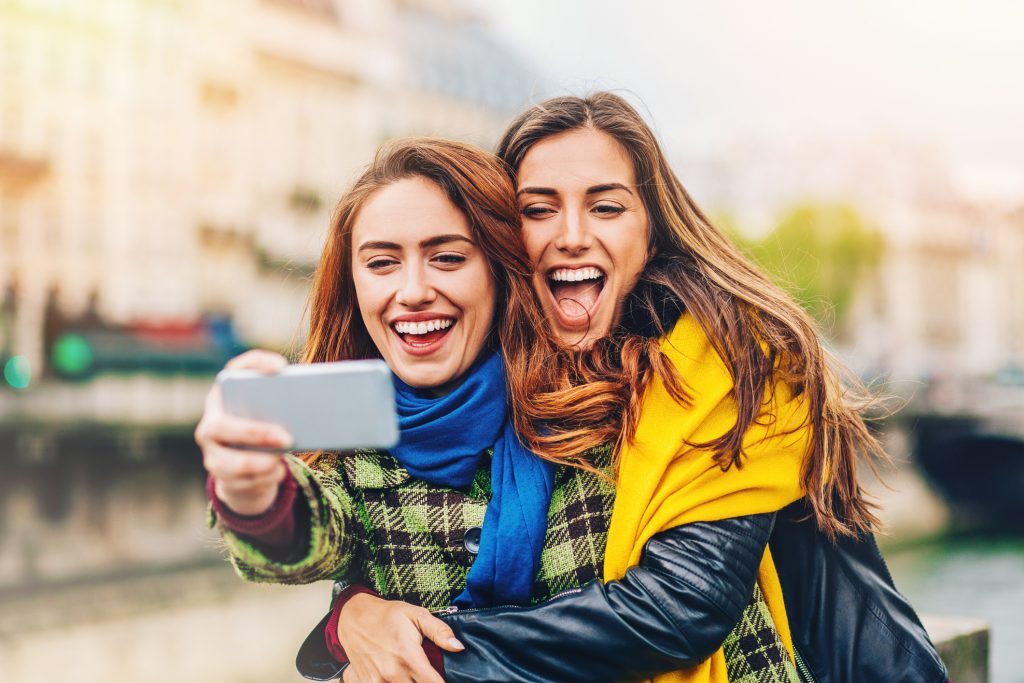 Sponsored post. 
In today's digitally driven social scene, if there's no picture, it didn't happen.
Like it or not, so much of our lives is documented with pictures, snaps, and Instastories for the purposed of the shared experience. We all want to show off our best, brightest selves on our social platforms, and that includes flashing a brilliant smile. Sure, filters help, but here at EcoSalon, we like to be as authentic and natural as possible. That's why we tried Tom's of Maine® new Luminous White to brighten our smiles and dazzle our followers – no filter needed. 
Tom's of Maine® Luminous White is the forty-seven year old company's latest and most advanced toothpaste. Like many products out there, it promised us whiter teeth in two short weeks. The product works to remove surface stains, which we'll openly admit to having thanks to our morning (and afternoon) cups of coffee. However, unlike the empty promises of other brands, it actually worked. Following two weeks of diligent brushing morning and night, we were pleasantly surprised to notice that our teeth looked a few shades whiter – even without giving up our coffee.
There are a few other positive differences between Toms of Maine® and other toothpaste brands. Toms of Maine® never uses any artificial colors, flavors, fragrances, or preservatives. You won't find any neon blue or green stripes in their paste, often used by other brands as a marketing tactic to convince the consumer of its superior whitening properties. Let's be honest, food coloring does not make teeth whiter. You also won't experience an overly sweet peppermint flavor or a harsh burning mint sensation, which is all too prevalent in other products we have tried. With Tom's of Maine®, you get a smooth white paste with a subtle, crisp mint flavor. We liked that the taste lingered ever so slightly, which reminded us of that clean feeling one gets after visiting the dentist – no spit tube or judgement required.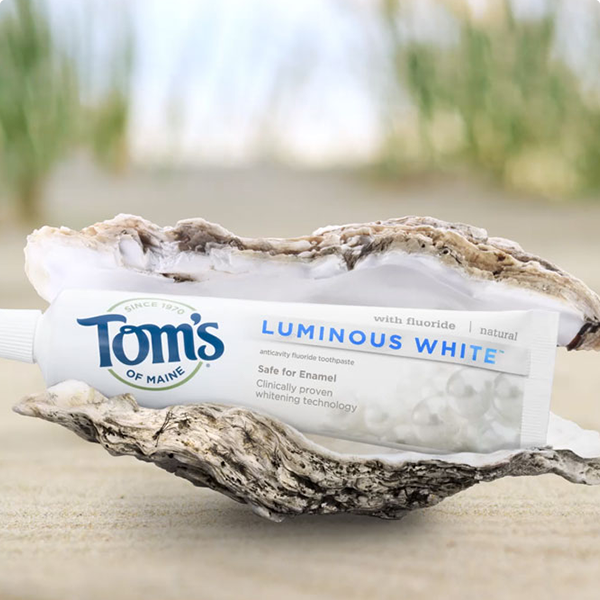 Tom's of Maine® further stood out among the other brands dominating the oral care aisle by its dedication to ethical and sustainable business practices. We are always on the hunt for companies that give back to their communities. Corporate responsibility empowers us and proves that even the most basic of purchases can make an impact. You can't get more basic than toothpaste, and we'll admit, brushing our teeth feels like a chore. Every now and then we may skip a night or two, exhausted from the day and ready to face-plant onto our pillows. However, Tom's of Maine's® philant
hropical efforts have motivated us to stay awake for a few more minutes to get our second brush in. The company donates ten percent of its profits to human and environmental organizations and efforts. Many of these organizations are small local groups throughout the nation, who tend to make the best use of funding and often need it most. By brushing our teeth, we can contribute to a worthy cause! We also love that the company never tests on animals, and all of its packaging is recyclable. Win!
Our two weeks are up, but we're not stopping here. Now that fall has arrived and the holiday season is just around the corner, we have our calendars filled with social engagements, which means we need to maintain our newly whitened teeth. We'll keep brushing with Tom's of Maine® Luminous White so we can be camera-ready with our authentic, impressively white smiles. You can find Tom's of Maine® and try it for yourself at your local Whole Foods and many natural health stores. 
Find Tanya on Instagram and The Vegan Potluck Podcast. 
Related on EcoSalon
5 Natural Tinted Moisturizers With All the SPF You Need
5 Natural Lip Glosses All About That Shine (Sans Stickiness)
Yes You Can DIY Pore Strips For Clean, Blemish-Free Skin Naturally